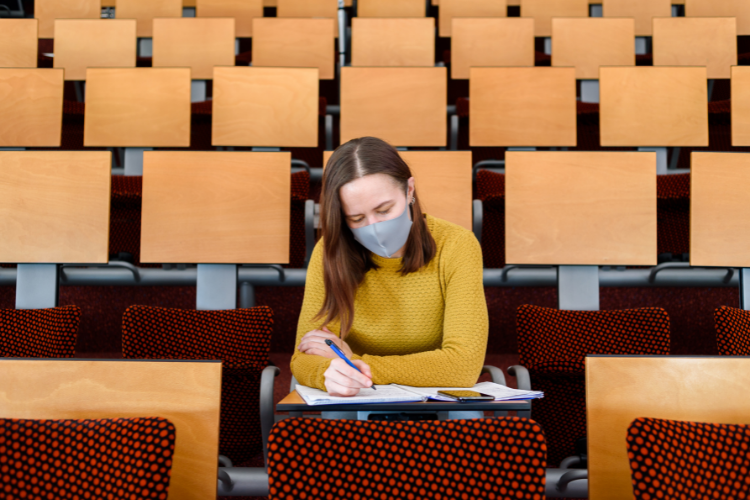 This article was contributed by Ema Perez, a student at Emory University
Many college students have not attended class in person for over a year. As COVID-19 vaccination distribution progresses, campuses across the U.S. have announced full reopenings for the Fall 2021 semester¹. Administrators are developing safe onboarding processes, and we students are preparing for another drastic change. Here are a few ways to ensure that your transition is as seamless as possible. 
1. Build Enjoyable Extracurricular Activities Into Your Schedule
During the class scheduling process, extracurriculars rarely take priority. By the time classes actually start, we are too busy and ready to settle for four hours of binge-watching as a brain break. This type of break usually doesn't leave us feeling rejuvenated. Try adding things you like to do into your regular semester schedule in advance. Otherwise, discover a new activity through a service like Groupon² or Meetup³. You might be surprised how much you will anticipate and appreciate this type of active break mid-semester!
2. Employ New Organization Tactics
Many online courses are self-paced. The switch back to in-person learning means a sudden re-introduction to due dates and deadlines. Consider purchasing a planner to fill at the beginning of each week. Checklists are another classic, time-tested way to break large tasks down and maximize motivation. If you've never been into stationery, try a large whiteboard or download a class planner app that can notify you like myHomework⁴ or mystudylife⁵.
3. Practice A Structured Routine
Getting back into a diurnal routine all at once can be rough. To make the shift less abrupt, try practicing your schedule at least a month before classes start. Wake up, eat, exercise, relax, and sleep at the times you plan to during the semester. This will give your body time to adjust without affecting your academic and social activities. Additionally, you will have a better sense for how much time you will have in the day and can edit your routine as needed.
4. Plan For New Costs
Aside from the new costs of increased tuition, food, and housing, make sure you add "random" expenses like eating out, parking, or ride service fees into your budget. Be informed and organized about your monthly expenses before they accrue. If you need help, consider visiting your university financial office. Many offices provide free financial counseling to students.
5. Be Honest With Yourself
Returning to in-person classes is a huge shift. It is natural to feel uncertain and uncomfortable. Allow yourself time to evaluate how you are handling the change emotionally. Remember that all aspects of your health are important. Nurture your body as well as your mind; they are interdependent!
Resources 
1.https://www.bestcolleges.com/blog/college-campuses-covid-19-guidelines-fall/
2.https://www.groupon.com/ 3.https://www.meetup.com/ 4.https://myhomeworkapp.com/ 5.https://www.mystudylife.com/