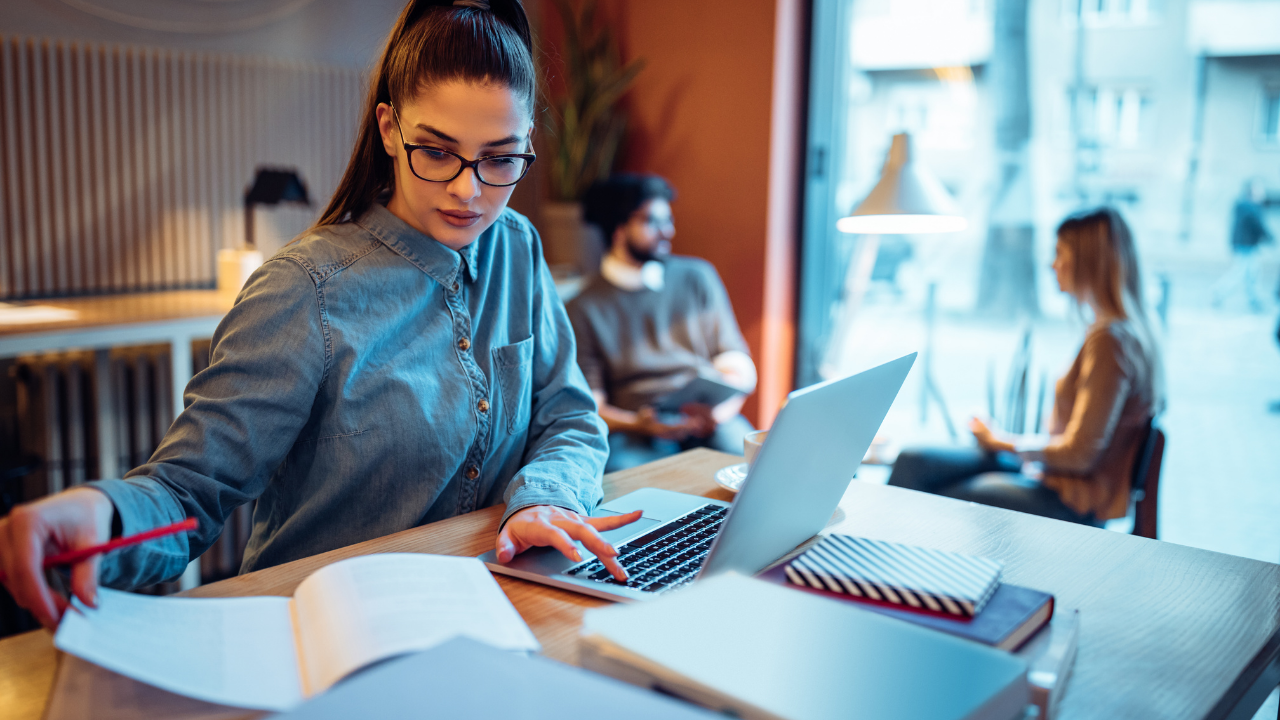 This article includes affiliate links – universities.com receives a small percentage of the sales.
When you hear the word "school supplies", you may envision colorful protractors, three-ring binders with animals on them, and rows of glue sticks. But school supplies aren't just for elementary or high school students, even college students need school supplies!
Read on for our list of top-rated essential school supplies for college.
Buy these pens on AMAZON starting at $7.99
These colorful pens are perfect for taking notes and studying. If organizing important lecture information by color is your thing, having a supply of colorful pens will help you with your note taking and information retention.
Buy these sharpies on AMAZON for $8.49
The trouble with highlighters was always that you could never see exactly what you were highlighting. Well, not anymore! These highlighters have an opaque tip, which allows you to highlight things more clearly.
Buy these notebooks on AMAZON for $14.99
Not only will having cute, colorful notebooks make you smile, they're also handy for color-coding your subjects.
But this tear-off planner on AMAZON for $10.99
Having a day-to-day planner can help you take things one day at a time and focus on what's the most important task each day.
Buy these tab-divider sticky notes on AMAZON for $4.29
These will be extremely helpful for organizing lecture notes and finding what you need easily when studying or writing a term paper.
Buy this pencil case on AMAZON for $14.99
This pencil case not only has room for your pencils, pencils, and highlighters, but also has room for other essential items, such as lip balm, car keys, face wipes, and a small snack!
Buy this planner on AMAZON for $24.99
The ability to plan out and prioritize assignments, tests, and projects week by week and monthly is great for keeping on top of everything. It can be super helpful to put all of the important due dates and test dates in your planner as soon as you get each syllabus.
Buy this mouse on AMAZON for $39.99
Long gone are the days of having a million cords tangled together, thank goodness! A wireless mouse is essential for working on the go, whether you're in class or studying in the library.
Buy this laptop cooling pad on AMAZON for $29.99
Laptops tend to get pretty hot after many hours of use, so protect your most valuable electronics with a cooling pad. This will also save your lap, table, bed, or other surface from burns.
Buy these wireless earbuds on AMAZON for $129.99
Essential for listening to music, drowning out your roommate's TV show, and calming down with a sleep meditation, wireless earbuds are a must. These are super portable, lightweight, and can connect to phones and laptops. No more cords!
Buy this vintage laptop backpack on AMAZON for $25.99
Everyone will need a backpack or messenger bag to carry all your books, electronics, writing materials, printed papers, and laptop.
Buy this 4-pack white-out on AMAZON for $5.48
When you make a mistake on a project or writing notes, having white-out can help get you back on track.
Buy 500 sheets of paper on AMAZON for $9.98
Having extra loose leaf paper can always come in handy. Reload your binder, use it as scratch paper while taking a test, or working out math problems while working on homework.
Buy 4-pack binders on AMAZON for $16.99
I would recommend having a binder for each class. That way you can keep all of your handouts and notes for each class together.
Buy 12 count Sharpies on AMAZON for $6.97
Sharpies are useful for all sorts of things, from decorating posters for a group project to labelling your items. You never know when you might need one!
Buy mechanical pencils on AMAZON for $3.99
Mechanical pencils are especially beneficial for math or engineering courses and for working with graph paper. Whether you choose to take notes in pencil or pen is up to you- it just depends upon if you'd rather erase a mistake or scratch it out!
Buy this reusable notebook on AMAZON for $27.98
A reusable notebook is more environmentally friendly and can be use over and over again, without much waste. All you need to clean it with is a damp cloth. You're able to upload your handwritten notes to any cloud service, such as Google Drive. Evernote, Dropbox, OneNote, or email. And share them directly from the notebook for easy collaboration.
Buy this portable hard drive on AMAZON for $59.99
Sometimes your Google Drive, OneDrive, or DropBox storage just won't cut it. You'll have a lot of files to store and share with classmates and a portable hard drive is a great place to keep your files from last semester, in case you need them. This way you'll be able to keep your most current files on your desktop or in cloud storage.
Buy this 24 pack of notebooks on AMAZON for $23.99
Sometimes you just need a smaller notebook that you can take with you from class to class without the hassle of bringing an entire backpack full of notebooks and other supplies. A little notebook is perfect for taking notes during group projects or for meetings with your advisor.
Buy these dry erase markers on AMAZON for $21.78
Most of the time if you're using a dry erase board in an empty classroom or in the library for studying or collaborating, there will be a few dry erase markers…but not all the time. It would be helpful to keep one or two with you in your school bag or pencil case just in cas