59% of Millennials Are Switching Careers, Going Back To School
It's official — the world is burned out from talking about COVID-19. We're all understandably eager to put the past several months behind us and get on with our lives. However, COVID's impacts have permanently changed the world we once knew and forced many of us to reprioritize. It threw our work lives into turmoil, as many employees were laid off or required to work from home. 
Curious about how COVID specifically affected such workers, we launched a study on Survey Monkey to hear from people aged 30-45, who would be considered "adult students". The results we got back offer an insightful look at exactly how the pandemic is reshaping the workforce and causing workers to rethink their education and career paths. It also provides a preview of things to come.
Workers Over 30 Are Returning To College In Droves
Of 535 surveyees, an astonishing 239 responded that they're planning to return to college soon. That is a truly unprecedented rate of employees heading back to school, especially for the age bracket of 30-45!
As a prior survey by New America pointed out, there's been a tendency to perceive college students as being roughly 20 years old or so. However, the reality was that the average student was 26.4. Now the average age is moving even higher. We're beginning to see a noticeable uptick as older students flood the system. 
59% of surveyees returning to school confirmed COVID-19 influenced their decision.
Asked why they're planning to seek higher education after age 30, 59% of surveyees returning to school confirmed COVID-19 influenced their decision. Long story short, out of all the U.S. workers aged 30-45 who responded, 26% feel compelled to go back to college due to the impact the coronavirus had on their lives.
COVID's Impact On Jobs Is A Leading Factor For Continuing Education
A related nugget our study uncovered is that 44% of people planning to return to college had to change their job because of COVID-19. The effects of the pandemic swept over every aspect of our lives, savaging several business sectors and forcing many companies to close their doors. Those who managed to hang on often did so by laying off workers or cutting down hours so drastically that workers had to look elsewhere.
Meanwhile, as workers were losing jobs or getting hours reduced, high school and college graduates entered the workforce to compete for increasingly scarce openings. Facing the reality that they might never get their jobs back, older workers scrambled for alternatives, with many opting to use the downtime to skill up and be more competitive once things normalized.
As noted by AP News, the economy is rebounding quickly as restrictions are lifted and more people get vaccinated. But many workers are already committed to going back to school, using federal benefits or other aid to help them stay financially afloat until graduation or completion of a certification program. 
Education Degrees Are HOT!
Diving deeper, our survey honed in on some intriguing specifics. Perhaps the most surprising statistics we discovered pertained to the degrees that older workers wanted to pursue. 33% of them stated their intention to pursue a degree in education!
We knew from previous research that education degrees are hot. But what's driving ⅓ of these survey respondents to go after an education degree? Is there a correlation between education and the impact of COVID-19? Yes, there is!
As mentioned, during the height of the pandemic, businesses were shuttering doors, and many never reopened. But one sector that was able to adapt quickly? Education!
Colleges and universities were already familiar with offering distance learning options, but public and private K-12 districts had an uphill battle. While plenty of mistakes were made along the way, these schools managed to implement effective distance teaching models for their students. Some of the changes made during this "massive national experiment" are permanent, leading to new online employment opportunities for qualified educators. 
Other than education degrees, 25.1% of respondents cited business or finance as their area of study, and 19.2% were focused on STEM fields. 8.4% were keen on learning a skilled trade profession. 
Online Learning Is High Demand
Perhaps not coincidentally, most of those rushing to pursue education degrees are planning to enroll in online programs. In our survey, 74% of college returnees expressed interest in earning their degree online, compared to only 9.2% who said they "weren't interested" and a mere 2.1% claiming they'd "never consider" online education.
Decades ago, when distance education was first introduced online, resources were limited. At the time, many (perhaps rightfully) questioned whether such educational methods could compare to in-person learning. But times and technology have changed drastically.
Today, colleges and universities have spent millions building sophisticated online curricula on par with their traditional programs. They've also hired or trained professors and instructors well versed in proper online teaching pedagogy. Oftentimes, it's the same professor teaching the online class that also teaches on-campus students. Online learning is big business, with the global e-learning market worth over $144 billion (and estimated to reach $374+ billion within the next five years). 
Online learning offers numerous benefits, with the most obvious being flexibility.  When geographic and time barriers are removed, students enjoy significantly increased access to education. That's an important factor contributing to solid online education retention rates, which research shows tend to be higher (up to 60% in some cases). 
Suffice it to say, any lingering stigma about online learning was shattered long ago in the minds of most potential students. But COVID clearly did its part to push the concept even further into the mainstream. When asked in our survey if COVID had changed their perception of online learning, 64% of returnees admitted it did.
Summary
The key takeaway — COVID-19 disrupted the economy and the world of education, causing many workers to return to college via online programs to gain new skills and be more competitive in the job market. To meet the increased demand, colleges around the country have renewed their commitments to offering top-quality online degree programs tailored to the needs of distance learners.
As the country opens back up for business, savvy students will take heed of the lessons learned during the pandemic, and seek careers with job security and adaptive business models.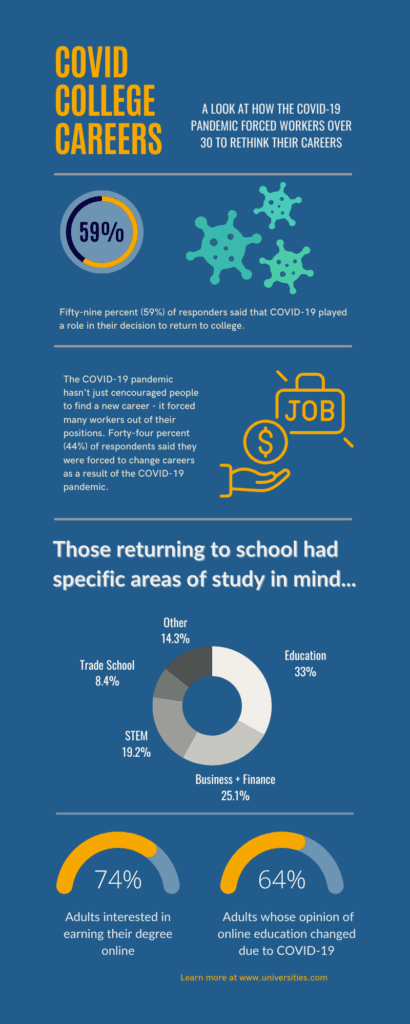 Sources: