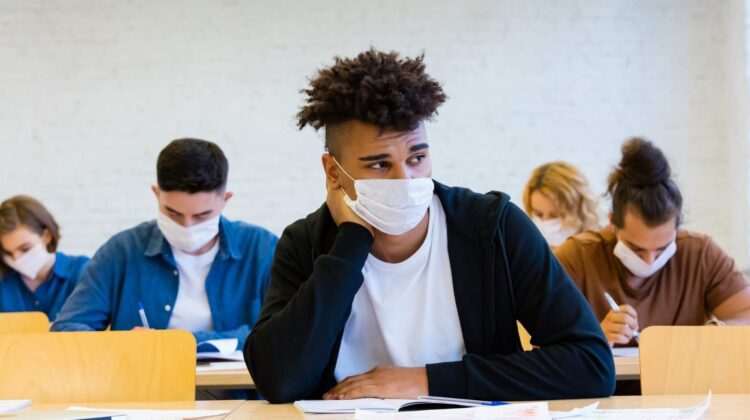 College, on its own, can be stressful enough. Add a global pandemic to the mix and you have a recipe for anxiety. After many students spent that past year taking virtual classes, colleges around the country are opening back up for in-person classes.
While this is a welcomed change, it is also a source of anxiety. Even if students have been vaccinated and continue to follow CDC guidelines, there is no way to know whether classmates are being as cautious. School leaders are trying to take all these factors into consideration and prepare for an increase in mental health problems this year.
According to cognitive psychotherapist Niro Feliciano, this generation of students was facing an increase in anxiety and mental health challenges even before the pandemic affected the world. Now students have to worry about their own health and safety, whether a spike in cases will lead to another campus shut down, and how all these circumstances may be shaping their education and professional future. 
Many students are returning to school and being paired with roommates who are strangers. They simply have to hope that their new roommate is going to follow the same protocols and prioritize health and safety.
School leaders recommend that students try to avoid conflict with clear communication. It can be helpful to establish "house rules" so that everyone is clear about expectations. Students will want to discuss who is allowed to visit, figure out rules around socializing in public to help reduce risk, and create a cleaning and sanitizing schedule, especially for high-touch areas.
4 Tips for Dealing with COVID Related Anxiety
First of all, keep in mind that anxiety is perfectly normal and understandable considering the current state of the world. The best way to deal with anxiety is to do something. Sitting around and worrying about "what ifs" and ruminating on the COVID-19 is not going to do any good. Instead, taking action can free up your mind and body. Here are some suggestions:
1. Breathe Deeply
Anxiety is not just a mental state. It is something you can feel throughout your body. You can tap into your parasympathetic nervous system by taking a deep inhale as you count to four and slowly exhale to a four-count. This simple act can create a sense of calm.
2. Stay Connected
Isolation is a significant contributing factor to stress and anxiety. While it may not always be safe to hang out in public spaces, make sure that you can safely stay connected with friends and family. It is impossible to completely remove the risk of acquiring COVID-19, but you can make smart decisions about who you hang out with and where.
3. Get Moving
You don't have to live at the gym to enjoy the mental and emotional benefits of exercise. Just ten minutes of exercise can help your body release dopamine and serotonin, improve sleep, and prevent panic attacks.
4. Take Advantage of Resources
Colleges and universities provide mental health resources for students. Take advantage of these resources by signing up for therapy, counseling, and other support services.
Admittedly, these are stressful times. While returning to campus is probably mostly a positive change after almost two years of restrictions and a global pandemic, it does come with added anxieties. Facing these anxieties head-on and finding the right coping mechanism can make this school year more productive and enjoyable.