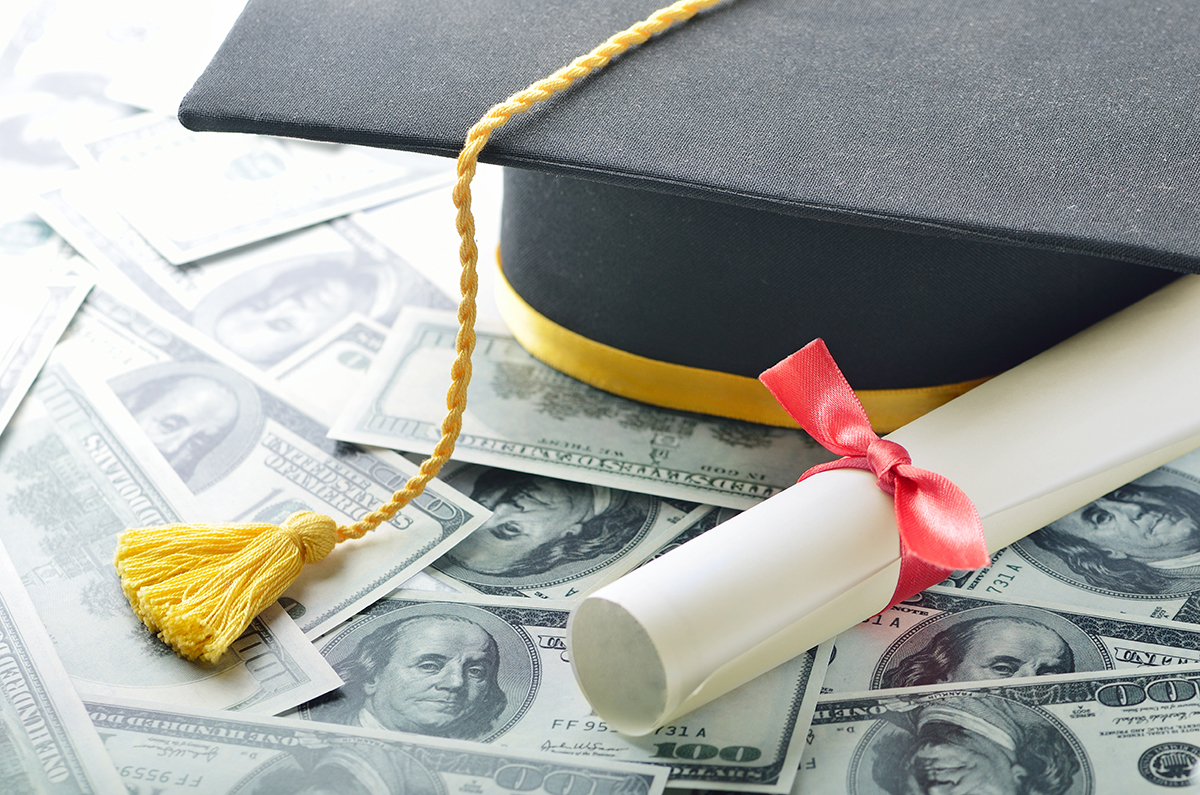 People go after advanced degrees for a variety of reasons: to become a college professor or adjunct instructor, prove themselves as a subject specialist, hide away in school until figuring out life's true calling, ride out some personal hard times or the economy.
Usually batting cleanup or higher on this list of intentions is the ability to support one's self — or, as it's more commonly known, money. And so begs the everlasting question: Will I make more money with a master's, doctoral, or professional degree?
Having a graduate degree is moving toward basic employment necessity
Many times, the answer is yes, according to Don Martin, a former admissions and enrollment administrator for several universities and author of Road Map for Graduate Study: A Guide for Prospective Graduate Students. In fact, he said, having a graduate degree is moving away from extra plus and toward basic employment necessity.
"A master's degree, in my opinion, is now doing for people what a bachelor's degree used to do 20 years ago," he said. Often, prospective students can tell how much they should expect post-graduation based on the program's cost, like in the cases of top-end MBA programs charging up to $200,000 and law and medical schools priced even higher.
"If you're going to invest that time and money," he said, "I do think people are going to want some assurance this is really going to produce results when they finish."
One thing to keep in mind, though, is that additional diplomas don't always put you above your peers, said Alison Green, author of How to Get a Job: Secrets of a Hiring Manager. "In most fields, they'd absolutely (like to) see more work experience and less school," she said. "Work experience tends to be far more relevant."
To explore grad school's financial promises further, let's look at the hard numbers. Pew Research Center figures compiled from 2009, the most recent, show that the per-month salary average for a bachelor's degree is $3,836, $4,772 for master's, and $5,799 for professional or doctorate.
Feel free to share our infographic on your blog or site.
How much can you expect to make based on your degree level?
Breaking the numbers down even further is gradsense.org , which shows you how much you can expect to make based on your degree level and what field you choose. And, perhaps most importantly for some, the website calculates the average debt coming out of college.
Someone with a master's degree in Mechanical Engineering, for example, should expect to accrue about $27,000 in debt getting that degree — but they should be excited about the $103,000 annual salary.
Gradsense's maker, the Council of Graduate Schools, "believes that all qualified students should be able to attend graduate school and enjoy the benefits it brings," said Julia Kent, CGS's communications director. In terms of the benefit of salary gains, the GradSense estimator helps "empower students to make informed decisions when deciding to pursue a graduate degree in a particular field of study," Kent added.
Another good source in investigating grad school's dough promises is the PayScale Index. It ranks Medicine, Technology, Engineering, Law, and Business and Finance as the most profitable types of graduate degrees.
Foremost among the medical fields is Nurse Anesthesia, listed by the index at $162,800 mid-career for a master's degree. That makes the profession PayScale's second highest graduate-degree earner behind only a Petroleum Engineer. "Nurse anesthetists earn high salaries because they provide critical services to hospitals at lower costs than doctors performing the same duties," PayScale explains.
The next most lucrative medical jobs, according to mid-career earnings, are: Biomedical Engineering ($136,400, doctorate), Biomedical Engineering ($118,400, master's), Acute Care Nurse Practitioner ($106,400, master's), and Psychiatric Mental Health Nurse Practitioner ($101,200, master's).
The various technology and engineering degrees are too numerous to list, but the top hitters, behind Petroleum Engineering ($187,600) are: Computer Engineering ($150,000), Electrical and Computer Engineering ($145,000), and, you guessed it, Electrical Engineering ($141,000).
Law — in other words, that grueling investment called a juris doctorate — rakes in only (emphasis on the only) $66,100 to start out with but climbs to $139,000 mid-career.
And finally, for our friends thinking about the aforementioned expensive MBA route, you've got: Strategy ($145,000), General and Strategic Management ($140,700), Entrepreneurship ($138,300), Marketing Management ($135,300), Economics ($131,800), and a lot of other words you might recognize from your business minor.
But if there's a top, there must also be a bottom
Down there you'll find the likes of master's degrees in Teaching, Counseling, Religion, Art, Exercise Science, and Anthropology.
At last and, unfortunately, least on the index is the 232nd-ranked early childhood education, which climbs to $46,300 mid-career. You've also got: teaching English as a second language ($51,600), Elementary Education ($55,000), and Higher Education Administration ($57,400).
The degrees of Religion, Divinity, Pastoral Ministry, and Theology — ranging from $53,700 to $56,300 — were beat out by Exercise Science's $54,600. Studio Art ($56,800) dug a little below Art History ($64,900) and Fine Arts ($65,100). And all the various counseling master's degrees — Counselor Education, Community Counseling, Mental Health Counseling, Counseling Psychology, School Counseling, and Counseling  — go from $48,200 to $59,800.
Whether the financial prizes are small or big, one important grad-school tip is to remember to factor in is the money you would've made just working. The easy way to figure this out: Multiply your current annual salary, plus anything from promotions, by the number of years you expect to be in graduate school.
Certainly, in the end, money isn't everything — but it's definitely somethin'. So I hope these salary pointers, if anything, help you know what to expect.