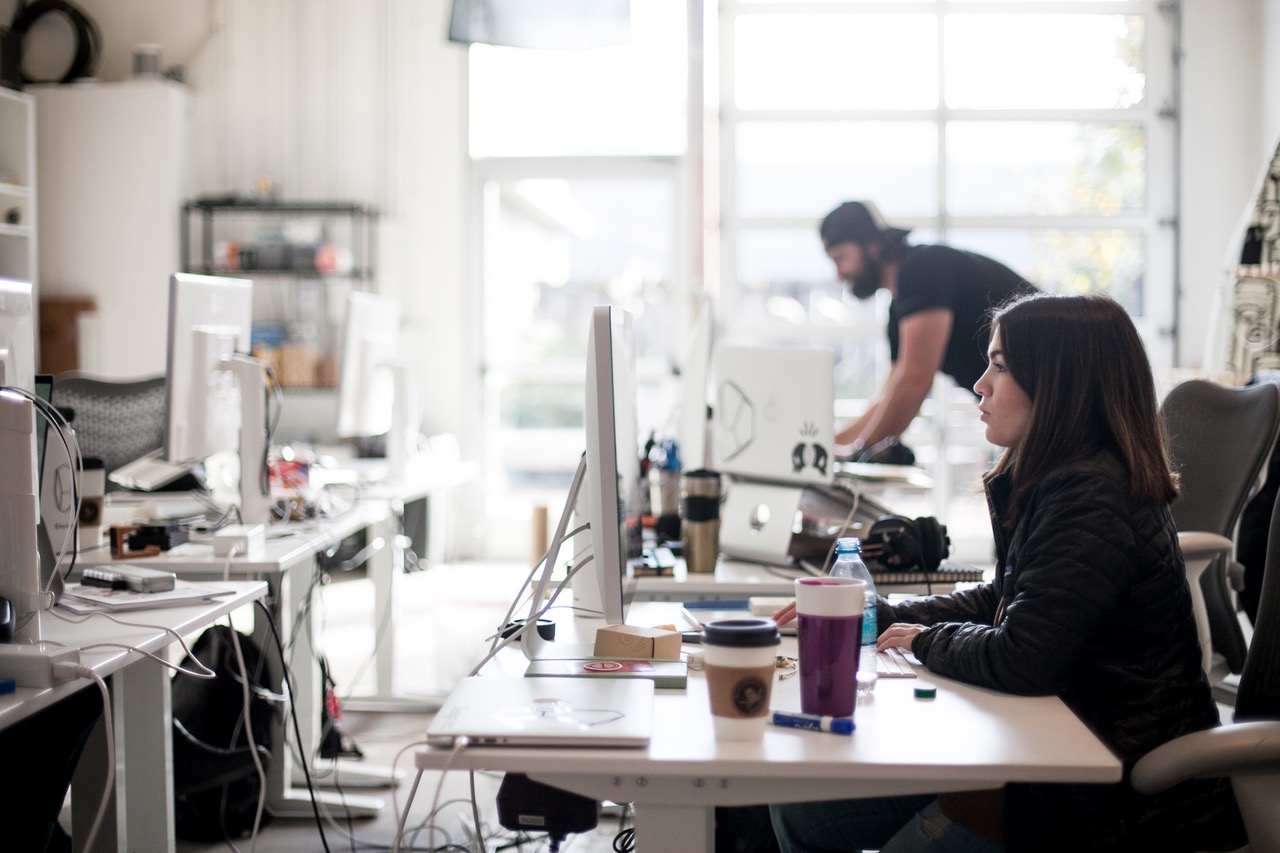 What is an internship you may ask? And why is it important to find the perfect one while in college? An internship is a work-based learning experience that provides professional, on-the-job training to students. They are very popular in the summer but can also be completed during the school year or through an internship class. Completing an internship can provide students a competitive edge in their field when applying for jobs during and after graduation. It shows initiative, hard work, and relevant work experience. If you're not yet familiar with all the benefits of an internship, not to worry. Help is on the way.
Anatomy of a Good Internship
Internships by definition can be paid or unpaid work experience at a professional organization where a student may wish to seek employment following graduation. Internships can even lead to job offers prior to graduation.
So, what makes a good internship?
Internships that shadow professionals with a career in your field of interest are the best choice to gain a greater perspective of what a career in your chosen field will really be like. It's always better to find out early in case you find it's not what you expected, or it could be further proof you're on the right path. If you can secure a position under a mentor in your chosen field, this is also highly desirable. Internships can be paid or unpaid, but your decision shouldn't solely be based upon the almighty dollar. Finding a balance between time invested and financial need is always a good idea. Think of it this way, a low or unpaid semester could be worth it if your internship gets your foot in the door to a great company and lands you a better job with a higher salary afterwards.
Types of Internships Available
You can find internships in almost every field imaginable. Some are created for undergraduate students while others require that you attend graduate school and be enrolled in a PhD program. Full-time, part-time, and international internships are available. If you want to apply to an international internship, you'll often need to have a second language under your belt, and you should expect to spend four to six weeks in that country during summer or spring. Many competitive internships require that you apply six to twelve months in advance, so don't wait until the last minute. However, if you're just looking for a position close to home, you can generally find a variety of internships every semester. Availability of internships can also depend on the career field. For example, if you wish to become an intern for a political party, the party will offer internships at all of their headquarter locations, such as Los Angeles, New York, or Washington, D.C. However, your window to apply is small. Like scholarships, you should start researching offerings in your subject area right away in order to get a jump on the competition.
Developing a Career After Graduation
Investing in the right opportunity will help lay the foundation for your future success. The good news, employers often recruit new hires directly from internship programs. So, as an intern, you have the opportunity to get your foot in the door with a company early. One of the most important reasons to have an internship is to gain real-world experience from an insider's perspective. Think of it this way, every student is looking for work after graduation, right? Well, potential job recruiters are more apt to hire potential employees who have experience in the industry they are seeking. So not only will you gain knowledge, perspective, and hands-on experience, an internship will supply you with a stronger resume.
Internships also give you the opportunity to attend meetings and work-related events where you can network and meet a whole host of potential employers. Networking in your internship is one of the single most important ways you can leverage the experience into job-creating opportunities. By interacting with professionals, you gain new connections and learn how to communicate in a professional environment. Acquiring references, finding new career opportunities, and securing a mentor are all important professional development goals for an internship. These relationships are indispensable when you begin your post-graduation job search.
Finding an Internship
There are myriad ways to secure a good internship, and with a little time and diligence you'll get the one that fits your future career path. First, it's important to have a clear goal in mind as to which field you are interested in pursuing. Once you've secured the field, the easiest way to begin your search for opportunities is on the Web, of course.
Here are some resources:
Internshipprograms.com – This web site lets you search by employer, field, date and location.
GoAbroad.com – This web site shows opportunities in different countries.
Idealist – This website allows you to search for internships at nonprofits.
You can also look on job search sites like Monster and Indeed for internships. Another option is working with the career counselor at your university. Many colleges have digital databases where students can look up internships or partner companies who they work with every year. Your career counselor might have top-notch information on who is hiring within your field and can offer you good insight on applications and deadlines for the programs. Your counselor will also have access to databases that contain information on students or alumni who have worked at a particular company in the past, giving you the opportunity to network. If given the opportunity, set up informational interviews to learn more about their experience at a company you're considering.
Also, professors in your subject could be useful resources, as many of them still have connections with hiring managers in your field. A professor who is familiar with your core work habits and knowledge of the field could write a letter of recommendation or steer you in the right direction. Take advantage of every connection and opportunity you can; your future depends on it.
Applying
Once you've developed a list of potential internships, you'll want to gather the information and materials needed to properly fill out the applications. Most applications will require a cover letter, which is an introduction to your skills and an opportunity to showcase what will make you the best candidate. Cover letters that stand out from the crowd include information that succinctly matches your qualifications to the job description while also giving a personable impression. Some resume experts suggest using bullet points to highlight how your qualifications match or compliment the job requirements. You'll also need a resume, showing your relevant work experience, skills, and education. You'll want to tailor these documents to each application. There are many resources online and available through your career counselor to help you with these tasks. Depending on your field, your application may require additional materials such as a portfolio of work. If they do, be sure to understand exactly what is required and provide everything they request. Failure to follow basic directions can be a huge red flag for employers.
As you're applying, you should also be looking at housing options. This is especially important if you are searching for internships not surrounding your college or hometown. Once you narrow down your choices for companies, begin checking out housing in those cities early to determine if they're truly viable options. For example, if the internship is paid, you might want to consider if you can cover your own housing based on your proposed salary. Or maybe you don't actually see yourself having a future in this city or state – in which case it might be more valuable to intern and network in a more realistic location. It's better to find out early whether certain locations are manageable, rather than realizing after you've committed to an internship offer that you've made a mistake. You should check to see if relocation costs, housing, or travel reimbursements are covered with your internship. One option for housing can be the universities in the cities you're considering as options. Many universities in larger metropolitan areas open up their housing facilities for interns during the summer. Costs and housing should definitely be an important factor in your final application decisions.
Overall, the internship application process is all about staying diligent and organized. Stay on top of all your applications, due dates, required materials, and timelines when you'll learn your status in order to avoid stressing out during this process.
Success
Congratulations! You've applied for the position and received confirmation that the program wants to hire you. Now what? Aside from making sure you have secured housing, if necessary, here are some important tips:
Know the correct office location, especially if they have multiple offices.
Show up to work on time or even 10 minutes early. .
Know the dress code. When in doubt, it's better to be overdressed than underdressed.
Know what supplies, materials, software, etc. you should you have with you on the first day. First impressions are very important, as are maintaining good ones.
It is important for you to dress, speak, write, and generally behave like a professional.
Be sure to shake hands upon meeting, make eye contact, smile, and be friendly and confident. You should always carry something to write with to take appropriate notes and for any training you may need.
Is there anything the company wants you to know ahead of time so you can hit the ground running? Take advantage of the transition time at the beginning of your internship and ask lots of questions. You are not expected to know what is going on right away, but the faster you learn the ins and outs of daily life on the job, the better off you'll be.
To make the most of your experience at your internship, focus on learning all you can learn. In the beginning stages, clarify expectations about the internship — both the employers and yours — and agree upon your job responsibilities in writing.
Internships are all about gaining practical experience in real-life situations. Remember that you are an employee of that organization and should conduct yourself according to the expectations of that organization's culture. On the flip side, the organization should treat you with the same respect and expectations that they do with other employees. Not every organization will be the same, so be observant and ask questions about appropriate behavior at the workplace if needed. Focus on proper communication skills, both written and verbal. It cannot be emphasized enough that you are embarking upon a learning experience, so absorb as much as possible. Overall, just bring your talents and enthusiasm for learning, and show them how great of an asset to the company you can be!
When you leave, be sure to ask your supervisor for a letter of recommendation, and keep in touch. Your supervisor or professional mentor could very well be the key to achieving your future career goals.
Sources
https://www.gooverseas.com/blog/10-paid-internships-abroad-in-summer
https://www.glassdoor.com/Intern-Salary/Forbes-Internship-Salary-E4384.htm
http://www.internships.com/student/resources/basics/what-is-an-internship
http://www.vault.com/internship_program/internet/forbes/overview
https://www.forbes.com/sites/susanadams/2015/01/30/the-10-best-websites-for-finding-an-internship/#4b1421a01b44
https://www.monster.com/career-advice/article/students-benefits-internships
http://www.snagajob.com/resources/reasons-why-an-internship-rocks/
https://www.monster.com/career-advice/article/land-a-great-internship
https://www.themuse.com/advice/the-ultimate-timeline-for-landing-the-summer-internship-of-your-dreams