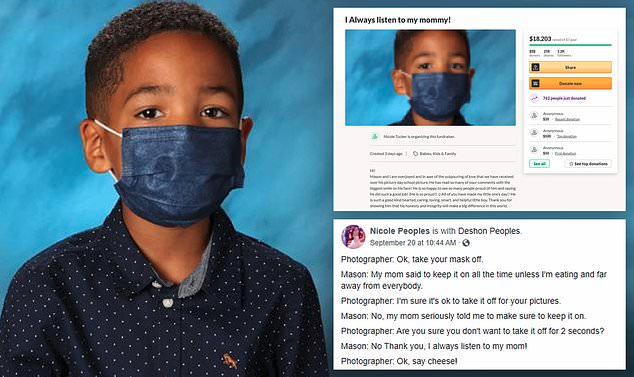 Not every viral story is a positive one but in the case of this first grader Mason Peoples, his time in the spotlight has been nothing but heartwarming.
It all began on school picture day. Mason took his seat in front of the camera and the photographer from Dorian Studios asked if he would like to remove his mask to show off his smile. Mason replied, "My mom said to keep it on all the time unless I'm eating and far from everybody."
The photographer gently reminded him that the mask would only be off for a quick second, but Mason held his ground and said, "No, Thank you, I always listen to my mom!" The photographer happily took the picture and everyone went on about their day.
It wasn't until Mason's mom, Nicole Tucker, shared an account of the encounter on her Facebook page that things really took off. Family, friends, and perfect strangers were impressed by Mason and his composure during what could have been a tough decision. For him, there was no question about what he had been told and he wasn't about to disobey his mom.
People wanted to do more than just comment and compliment Mason and his mom though. They started to reach out and ask about how they could help or support the family. Eventually, Nicole started a GoFundMe account so that people could donate. Now, Mason has collected around $39,000 for his college fund. 
Mason is clearly on the right track and, with some help from the community, he has a nice savings to put towards his education. It is an all-around feel-good story and we'll have to see what Mason does next.