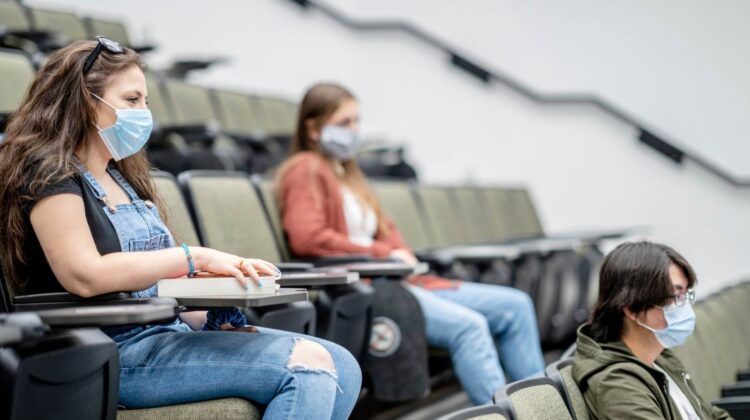 Preparing for a new semester is a busy, sometimes stressful time. Now, we have to think about how COVID has changed and will continue to change the college experience. Here are a few tips as you prepare to jump back into campus life. 
1. Masks 
This may be the single most obvious COVID tip, but it's worth repeating: buy masks in advance. Multiple states currently have indoor mask mandates for everyone, regardless of vaccination status, and many universities have their own guidelines. Cloth masks are an environmentally friendly option, and you can even make your own with materials you probably already have (directions here). Also, keeping a mask hook by your door is a great way to make sure you don't forget it as you rush to class.
2. Be Aware Of What's Open
Businesses are still recovering from the pandemic, and it's important to realize that your favorite late-night spots might not be open during their normal pre-COVID hours yet. Many malls, stores, libraries, and coffee shops also have adjusted their hours, so make sure to check online or call before you go. Uber and Lyft are still operating, but under "no mask, no ride" policies. 
3. Try "Going Out" Outside 
College students are social creatures. To be social safely, try swapping large indoor gatherings like clubs and frat parties for outdoor ones like music festivals or theme parks. Even opting to meet with friends and classmates outdoors is better than finding a small study room.
4. Use Your Advisors
Feel lost in your academic or career path after virtual semesters? Your university's career center or major advising office can help you plan for the next few pivotal years. Resume building and writing tutoring are other services that are indispensable during the job, professional, or graduate school application processes. Meet with an advisor to track your progress at least once a semester. This will not only help you stay organized but also give you confidence about the bigger picture of your future in a COVID or post-COVID world. 
5. Make Personal Connections With Your Professors
Virtual learning has deprived students of more organic networking opportunities. Now is the time to make up for it! Ask lots of questions and regularly visit office hours. In large lecture classes, the professor usually only knows some students by name. You want to be one of them! Introduce yourself in a smaller setting and consistently reach out about the class or any overlapping shared interests. 
6. Make A Plus-Delta Chart
The Coronavirus pandemic has changed the paths of most students in some way or another, and a Plus-Delta chart is a great way to clarify how it has affected you and how you can move forward. Under the plus (+) category, write/draw some advantages or opportunities that you have had during the past year and a half that you may not have had otherwise. Under the delta (Δ) category, write/draw some ways the pandemic has shifted the plans you had for the last year. Listing missed opportunities alongside gained ones can give valuable perspective. Think of how you can reschedule, revise, or replace things that you wanted to do safely in the upcoming school year.
Sources