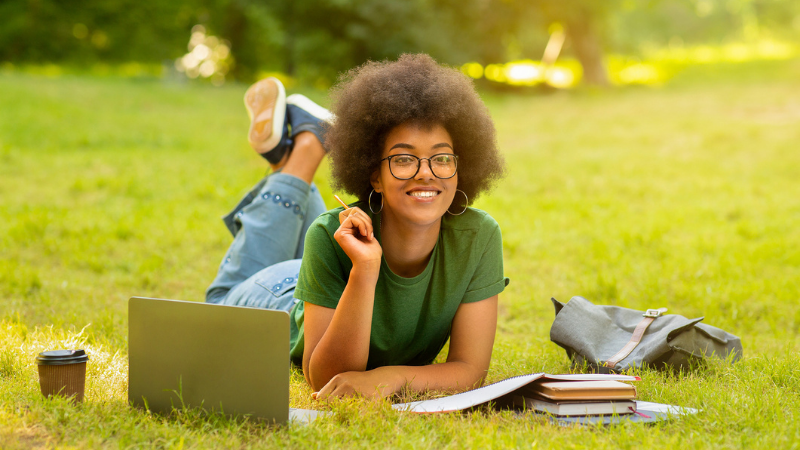 Ultimate Guide: College Summer Classes
When spring semester ends, the last thing most students want to do is read another textbook or hear another lecture. Some students, though, find summer school a great way to further their educational goals.
Summer classes vary significantly by institution. Some places offer a wide number, while others focus mainly on general education requirements.
Structure often differs from the traditional school year, too. To pack the same amount of material in a shorter time frame, summer classes tend to meet for more hours each day or more times per week. Students may experience a faster pace and a greater homework load in a college summer class compared to regular semesters.
Is summer school a good idea for you? Let's take a look at all the details.
Why Do College Students Take Summer Classes?
With fun in the sun beckoning, why would someone choose to attend summer classes? The answer varies by individual, but common reasons include:
Faster degree completion
For those trying to reduce the amount of time it takes to earn a diploma, summer school enables fulfilling graduation requirements quicker. The sooner you graduate, the sooner you can get to work…literally!
A lighter course load
Need to take a class you know will be very challenging? Opting to focus on, say, only a chemistry course by itself over the summer rather than taking it alongside others during the school year may make sense.
Similarly, maybe you'd simply prefer to lighten your class load during fall, winter, or spring. Or you do better taking fewer classes at a time. Taking a general education class or two over the summer allows such a reduction.
Repeating a course or doing remedial work
Just like in elementary or high school, students in college sometimes benefit from summer instruction. If you need to take a course again, doing so in the summer gets you back on track to graduate on time. Likewise, committing to getting up to speed in a certain subject during the summer can ensure you possess the credentials to enroll in a regular class come fall.
Exploring an interest
Always wanted to take a philosophy class but can't work it into your school year schedule? Try summer instead. Students contemplating changing majors also may look at summer classes as a way to test the waters in a different concentration before deciding on their next move.
Pros and Cons of Summer School in College
Before committing to summer school, it pays to weigh the negatives and positives of doing so. Note that some factors can be both pros and cons depending on the person and the situation.
Pros
Progression towards goals – Whether you're trying to graduate sooner or improve competency in a certain area, summer classes keep the momentum going.
Remaining on campus during the summer – While probably not bustling with activity as much as other semesters, many schools remain quite busy during the summer. Students may enjoy spending their summer on campus around others their age rather than returning home. Additionally, some student housing leases last the full year, so it makes sense to make good use of that time by taking classes if you're already paying for a place to stay anyways.
Alternate format – Taking fewer classes at once or accelerating the pace of material appeals to some students. Or if you're looking to do a double major, you might not have time to take all the required classes during the traditional semesters. Or maybe it's time to just get that math requirement quickly out of the way once and for all!
Saving money – Depending on what you take and where, summer classes may end up costing you less per credit hour than during the regular school year. Students returning home may opt to take summer classes at their local community college, which might be cheaper than at their regular school. Distance learning over the summer also could prove a financial bargain. Always ensure beforehand, though, that credits earned elsewhere will transfer to your school and program.
Cons
Time commitment – Enrolling in summer classes reduces the amount of time available for other endeavors. Students who depend on summer income to pay for college may find it especially difficult to get in enough work hours while going to school.
Potential burnout – Remaining focused on academics year-round can be hard. Many students benefit from time away during the summer to refresh so that they'll be ready to go full-throttle again in the fall.
Remaining on campus during the summer – College towns can feel like ghost towns when the majority of the student body isn't around. On-campus summer students also may miss seeing relatives or not getting the opportunity to reconnect with high school friends.
Alternate format – Some students find the quicker pace of summer classes too challenging or dislike being in class for longer periods of time each day.
Cost – Instead of getting a financial rest period, taking college summer classes makes paying tuition and perhaps associated fees a year long endeavor.
How Much Do Summer Classes Cost?
The answer to this question depends on a variety of factors:
The first consideration is the school itself, as some places charge more than others.
The method of delivery also factors in. Staying on campus (and its associated room and board costs) may be more expensive than enrolling in community college courses near your house for the summer or doing distance learning.
Residency also can play a role in cost. In-state tuition or a local college will obviously be cheaper than an out-of-state university.
The type of class taken is also important as things like lab fees or art supplies could increase costs.
In many instances, comparing the cost of summer classes to regular school year tuition can be tricky. Institutions tend to charge by the credit hour during the summer, while traditional semesters often have set prices organized by range (one price for 1-5 hours, another amount for 6-10, etc.). You'll need to break the numbers down to see if what you're interested in costs more or less.
See if your school's website has a cost estimator where users enter information and receive a calculation. Let's run the numbers on this example to see why taking these seven credits in the summer is a good idea: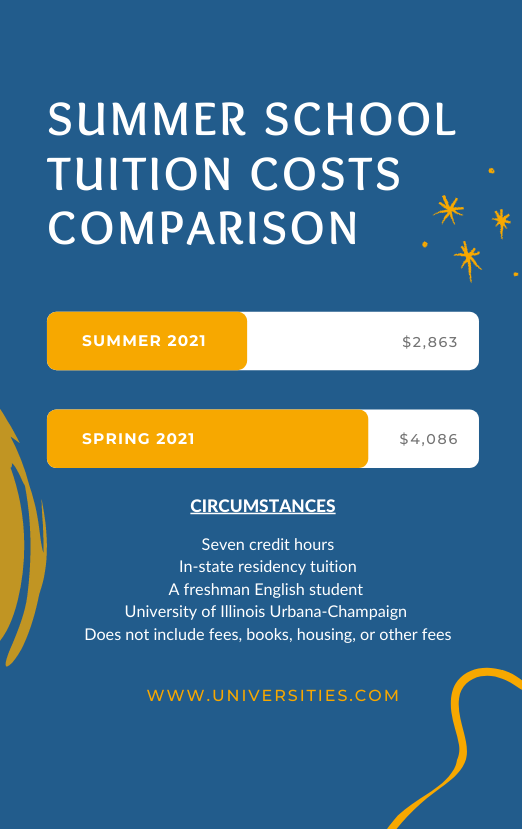 Some schools encourage summer study by offering a discount. Colorado State University, for instance, reduces its base tuition on all summer credits by 30 percent regardless of delivery method.
Students concerned about paying for summer classes should consult their institution's financial aid office before signing up. Don't assume your regular financial aid package will cover summer expenses. But, on the other hand, don't assume it won't.
Get specifics regarding enrollment requirements, the amount of money you've already used from your award, and what forms you may need to fill out to receive financial assistance for the summer. The office also may have information on summer scholarships, grants, and work-study opportunities.
How Long Are Summer Classes in College?
Again, here's a question with no simple answers. Length really depends on the school, the subject, and the chosen pace.
In general, summer classes tend to run for fewer weeks than their traditional school-year counterparts. You'll learn information in a shorter time frame but at a faster pace. Depending on your style and motivation, such a presentation can be either exciting or scary.
Let's take a look at a few examples:
| University | Class | Time Frame | Schedule |
| --- | --- | --- | --- |
| Northwestern University | Music Performance | 1 week long | Students attended Monday through Friday from 10-12:30 and again from 2:30-5 with final concerts given on Saturday |
| Northwestern University | College Physics: Meghanics | Several weeks | Mon-Fri 9am-noon + lab time |
| Florida State University | Most of their offered courses | 6-/8-/12- week increments | Mid-May through the end of July 2021 |
How to Be Successful in Summer School
If you're going to invest the time and money to take college summer classes, you might as well do it right. Use these tips, which also help during other parts of the year, to stay on the right track:
Create a central calendar – Whether you choose an online planner or a good old-fashioned pen-and-paper version, designating one place in which to record all your commitments will keep your summer organized. Write in due dates for assignments and papers. Note dates for tests and quizzes. Include personal obligations such as dentist appointments or lunch with friends. Not only will you minimize the risk of forgetting something important, you'll discover pockets of time great for studying or squeezing in a nap!
Get in a routine – Even though you're still taking classes, summer life may look very different than what goes on during other semesters. Developing a routine reduces stress, enhances organization, and promotes confidence that you've got things under control.
Take a break – You (and your brain!) need an opportunity to relax, so look for times you can schedule in some downtime. This might mean reserving certain nights of the week to chill out or meet with friends. Or, perhaps it involves only taking courses during the second summer term in order to first enjoy a few weeks off. Don't discount the value of taking a break. Failure to refresh can leave you exhausted and resentful – and could affect your academic performance come fall.
Remain serious – Don't bother signing up for summer classes if you don't intend to give them your all. Knowledge presented can be critical to advanced classes and your future career, and the grade will still appear on your transcript.
How Many Classes Can I Take in the Summer?
Ambitious students certainly can take a significant number of courses over the summer. Many places, however, set restrictions in order to keep studies manageable.
For instance, Arizona State University imposes a summer session credit load limit of seven credit hours for each six-week session and nine credit hours for its eight-week sessions. Students cannot exceed 14 credit hours for any combination of sessions.
Prospective summer students also should realize that they may not have as vast of a selection to choose from as during the regular school year. Classes that satisfy core requirements dominate the summer schedule at many places. Niche courses may be few, difficult to get into, or cancelled if there is not enough interest.
FAQ
Are summer classes harder in college?
Summer classes often employ an accelerated format, meaning students cover material at a faster pace in a shorter amount of time than in a traditional semester. What's being taught isn't necessarily harder, but students may need to up their game to keep up with course expectations.
Is summer school worth it?
The answer depends on the individual. Summer classes offer a great opportunity to make progress toward a degree, explore new subjects, relieve some of the load of a regular semester, or take classes you can't get into during the regular school year. Many students, however, prefer to use summer as a chance to refresh, pursue other interests, or earn income.
What is the benefit of summer school?
Taking classes over the summer can speed up progress toward a degree. Some students thrive on the typical summer format of covering material at a faster pace in less time. Completing some classes over the summer also can provide more course load flexibility during the regular school year.
Are summer classes cheaper?
Cost comparison is tricky, and it's best to try to compare by credit hour. Consult your institution for specifics regarding on-campus summer study and whether or not your financial aid package covers it. Some students save money by living at home during the summer and taking classes at a community college or through online studies. Always be certain, however, that these credits will transfer to your degree program.
Sources: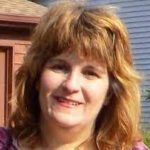 Beth Braccio Hering is an honors graduate of Northwestern University and has been a freelance writer for more than 25 years. In addition to extensive contributions to various Encyclopaedia Britannica products, her work has been published by outlets such as Business Management Daily, CareerBuilder, Walt Disney Internet Group, and Chicken Soup for the Soul.