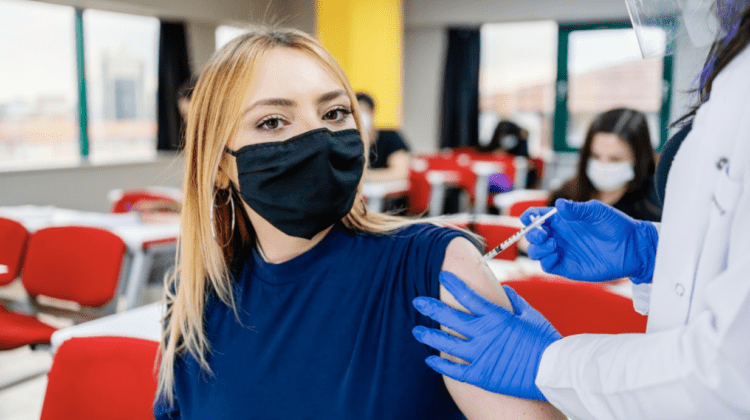 As COVID cases continue to rise and college students across the country are returning to campus for the fall semester, many colleges are either mandating the vaccine or hitting students with hefty fines and consequences.
Louisiana is one of the latest states to require vaccination for all students at four-year universities. Now that the FDA has approved the Pfizer vaccine and Johnston & Johnson and Moderna are expected to earn approval shortly, Louisiana felt more confident about implementing a mandate.
Requiring Vaccine
More and more colleges throughout the U.S. are mandating the COVID vaccine.
Students at Nevada universities will have to be fully vaccinated by November 1, 2021, in order to register for the spring semester.
Incentives For Vaccine
Some schools are taking a different approach and trying to incentivize getting the vaccine.
Auburn University is offering prizes that range from a $1,000 scholarship to a Yeti cooler in order to encourage students to get vaccinated.
The University of Kansas is handing out $40 gift cards to the first 4,000 students who get vaccinated on campus. Fully vaccinated students can also enter a raffle for the chance to win a semester of free tuition and $5,000 prizes.
Fines, Fees & Loss of Privileges
Another approach is to hit students with additional health fees, fines, and loss of certain privileges.
Fees can range from $50 to over $2,000 and are supposed to go towards covering the cost of testing.
At Quinnipiac University, located in Hamden, Connecticut, students who haven't been fully vaccinated by September 14, will lose access to campus WiFi and be charged $100 per day.
Pandemic Causes Rise in Higher Education Enrollment
Colleges and universities are taking decisive action because more people are returning to higher education to improve job security in the wake of the pandemic. At the same time, people in the 18-45 year old demographic are reporting the lowest rate of vaccination along with the highest number of infections.
Many people lost their jobs during the pandemic or realized they want to continue to work from home. This has caused a surge in enrollment as workers try to update their skills and make sure they are relevant in the new work environment. However, there is a real hesitancy amongst young people to get the vaccine.
Younger Demographics Still Hesitant
A full 20% of students have decided against getting the vaccine. The majority (32%) are worried about the vaccine's side effects. Another 17% aren't sure about the effectiveness of the vaccine while 16% are waiting for FDA approval. Finally, 10% have already had COVID and believe that they are now immune.
The reality is that many young people who have been hesitant about getting the vaccine may now have to choose between attending classes and getting immunized. With Pfizer's FDA approval, schools are feeling more empowered to require the vaccine. Surveys also show that the mandates are effective in motivating students to get vaccinated and that most students support mandates. Schools and universities are hoping that more students will voluntarily receive the vaccine so that classes and campus life can return to normal as soon as possible.