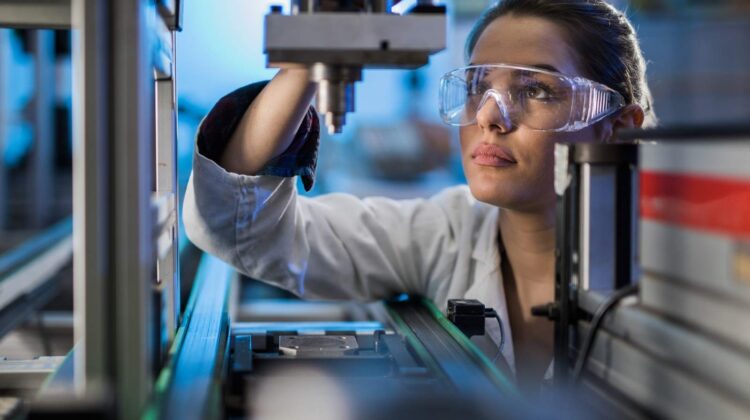 What is Mechanical Engineering?
The principles and problem-solving techniques employed by mechanical engineers can be used in virtually every major industry today. A mechanical engineer's expertise in force, energy, design, and motion helps organizations and businesses develop safe, reliable, and efficient ways of operating on a daily basis.
Mechanical engineers also help improve our quality of life through advancing technologies we use every day. The job outlook for workers in this valuable field looks bright, too. The Bureau of Labor Statistics (BLS) projects a 7% growth in available positions by 2030, equivalent to 20,900 new jobs.
How Do I Become A Mechanical Engineer?
For entry-level positions, mechanical engineers need a bachelor's degree which takes about four years to complete. Depending on the role or employer, you may need a master's or doctoral degree.
Master's degrees often take full-time students two years to finish, while a doctoral degree can take up to five or more years depending on your graduation requirements. Whatever the level of your education, many colleges and universities today offer dedicated majors for mechanical engineering or mechanical engineering technology.
How Much Do Mechanical Engineers Make?
Professionals in mechanical engineering roles also earn salaries that are well above the national average. According to BLS, mechanical engineers earn a median annual wage of $90,160. That's more than double the median salary of all other occupations in the U.S. The top 10% of earners in this field earn more than $141,060 per year.
The 10 Best Mechanical Engineering Schools in the U.S. 2022
Located in Cambridge, Massachusetts, MIT is a private research institution and one of the leading schools in technology and science. The school was established in 1861 and serves approximately 11,600 students. Its Department of Mechanical Engineering offers two undergraduate programs: a BS in Mechanical Engineering and a BS in Mechanical Engineering and Ocean Engineering. Graduate students choose from an MS in Mechanical Engineering and a Mechanical Engineer's Degree (ME).
Established in 1865, Cornell is a private Ivy League institution in Ithaca, New York. Its Sibley School of Mechanical and Aerospace Engineering offers both a bachelor's and master's in mechanical engineering. Undergraduates must maintain a 2.0 or higher GPA to remain in good standing. Learners need a C- or higher grade in all major required classes. Master's students must complete 30 credit hours with a 2.5 or higher GPA for graduation.
UC Berkeley is a public research institution with approximately 42,400 students. Established in 1868, UC Berkeley's mechanical engineering program features three undergraduate and two graduate degree programs. Learners can also pursue a dual BS/MS in Mechanical Engineering. While applicants for fall 2022 do not need to submit GRE scores, the mechanical engineering programs require prospective master's students to submit three letters of recommendation that can speak to their likelihood of success in a rigorous program.
Established in 1891, Stanford is a private research school in California. The school serves about 17,300 students and offers BS degrees in Mechanical Engineering, Product Design, and Biochemical Engineering. Graduate learners can pursue a general MS in Mechanical Engineering or follow a specialized track in biochemical engineering, design impact, or an individually designed, customized master's degree.
A private research university in Houston, Texas, Rice offers a BA and BS in Mechanical Engineering. Graduate learners can also pursue a non-thesis master of mechanical engineering. Research-focused master's students can earn an MS, which includes the writing of a traditional master's thesis. Rice also offers a highly selective PhD program in the field, which requires a doctoral dissertation for graduation.
Located in Evanston, Illinois, Northwestern is a private research institution with about 22,000 students. Learners can follow concentrations in diverse areas including microfluidics, tribology, composite materials, and biomimetics. The BS in Mechanical Engineering requires 47 courses, including foundational topics like statics, dynamics, and differential equations. Graduate students can earn both an MS and PhD, including cross-disciplinary programs in robotics and product design and development.
Founded in 1838 in Durham, North Carolina, Duke is a private institution with approximately 15,700 students. The school offers bachelor's, master's, and PhD degrees in Mechanical Engineering. The school prides itself on immersive experiential training in areas including hands-on design, research, and entrepreneurship. Doctoral students choose from specializations in aerospace engineering; dynamics, controls, and robotics; materials science and biomaterials; mechanics, design, and computing; thermal fluids and energy; or AI materials.
Located in Baltimore, Maryland, Johns Hopkins is a private research institution established in 1876. Undergraduate mechanical engineering students can choose from tracks in aerospace engineering or biomechanics. Johns Hopkins also offers full- and part-time master's programs, along with a PhD in Mechanical Engineering. The part-time master's program is designed for working professionals and features both hybrid and fully online learning formats.
Undergraduates can pursue a BS degree in Mechanical Engineering. This 128-credit program allows students the freedom to choose a variety of specialization or technical electives to tailor the degree to meet their needs. UM's graduate learners can earn both a master's and PhD. Learners pursuing a master's degree can choose from UM's coursework-only, coursework plus final research project, or coursework plus thesis tracks.
A private Ivy League school established in 1754, Columbia serves approximately 33,500 students. The university offers mechanical engineering students degree programs at the bachelor's, master's, and doctoral levels, including PhD and Eng.Sc.D. degrees. The school boasts 6,000 square-foot teaching laboratories and fabrication facilities for students' personal projects and class assignments.
How Do I Pay for My Mechanical Engineering Degree?
For just about any student today, paying for a mechanical engineering degree can be a serious undertaking. Thankfully there are many financial aid options out there to help you offset the cost of your education. Additionally, there are many mechanical engineering programs that offer some kind of internal funding for their students, often at the graduate level.
One of the best ways to gain financial support for your mechanical engineering degree is through scholarships and grants. Unlike loans, scholarships and grants offer your free money for school that does not need to be repaid.
Alternatively, many degree-seekers today take out federal or private loans to help pay for school. Federal loans usually offer better interest rates than private loans. Bear in mind that whatever amount you borrow must be paid back plus interest.
Scholarships for Mechanical Engineering Students
American Society for Mechanical Engineerings Scholarships: ASME offers more than a dozen awards for mechanical engineering students at all levels. Awards range from $2,500-$13,000. Prospective recipients must be members of the society to apply.
Lewis C. Hoffman Scholarship: Offered by the American Ceramic Society, this $2,000 award is for undergraduate learners studying ceramics/materials science and engineering. Applicants must be juniors or seniors at the time they apply and need to submit one letter of recommendation from a faculty member with other required materials.
ExxonMobil Engineering Scholarship: Worth up to $20,000, this scholarship is for academically outstanding Hispanic freshman students pursuing a degree in engineering. Applicants must reside in an eligible area (listed in the link) and possess a 3.75 or higher GPA.
General Electric Foundation Scholarship: This award is reserved for learners from minority populations who are enrolled in an engineering or business program. Worth up to $5,000, applicants need to be U.S. citizens or legal residents and enrolled full-time with a 3.25 or higher GPA.
Lockheed Martin Vocational Scholarship: This scholarship offers up to $6,600 to as many as 150 recipients per year. Applicants must be U.S. citizens enrolled in an undergraduate program, majoring in a qualifying field of study such as engineering. 
To find more scholarships for mechanical engineering students, check out our scholarship search.