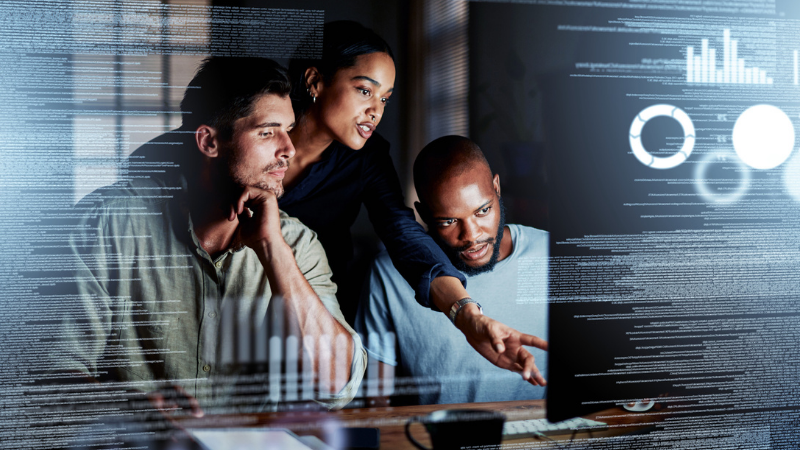 What Is An Information Technology Degree?
From software development to computer systems support, information and computer technologies play an essential role in business, education, and our everyday lives. By earning an IT degree online, you can develop in-demand tech skills for an exciting and lucrative career in several major industries.
If you're looking for a high paying career path, you're in the right place. Online IT degrees can prepare you for high-earning careers in as little as two years. If you have a creative eye, you'll be happy to hear that web designers may only need a two-year associate degree and can make a median annual salary of $77,200 per year. Comparatively, master's degree-holders in the same industry stand to make six-figure salaries! For the more analytical students, computer information research scientists earn about $126,830 per year.
The good news is that you can earn an IT degree online without having to set foot on a college campus. This is especially helpful for working adults and parents who want to pursue a flexible degree around other life obligations. Read on to learn more about some of the best IT degrees online for 2022.
Top 10 Schools Offering an Online IT Degree
Here's a closer look at our top 10 schools that offer online IT degree programs. These rankings are based on our own methodology for quality and affordable online education. The best fit for you, however, will be one that meets your personal, academic, and financial needs. This list will help you get started as you begin your search for an IT degree online.
A public research institution founded in 1885, ASU offers a variety of undergraduate and graduate IT degrees online. In addition to a more traditional bachelor's degree in information technology, the school also offers the following bachelor degrees:
Graphic information technology
Graphic information technology with an emphasis on web development
Software engineering
Graduate students at ASU can also complete online master's degrees in information technology, information systems management, and graphic information technology.
This private online institution, established in 1987, offers several IT degrees online. Remote students enjoy access to a bachelor of science degree in information technology, as well as IT management, data management, and software development. WGU learners can also pursue master of science degrees in information technology management, cybersecurity and information assurance, or an MBA in information technology management.
As part of the Purdue University system, PG is a public, online institution serving approximately 30,000 students. Just like campus students, remote learners enjoy access to its online certificate and degree programs in information technology. Students choose from bachelor of science degrees in information technology, cybersecurity, analytics, and more. The school also offers an associate of applied science in information technology and several related certificate programs.
IT degree-seekers at SNHU can take advantage of associate and bachelor's degrees entirely online. This private institution offers an associate of science in information technology and related programs such as cybersecurity and computer science. SNHU also delivers bachelor's IT degrees online, including both a bachelor of science and bachelor of arts in information technology.
Established in 1902, Franklin is a private institution in Columbus, Ohio. Remote students can earn IT degrees online, including a bachelor of science or master of science in information technology. Learners can also pursue IT associate programs remotely, including associate of science degrees in information technology, cybersecurity, or computer science.
Established in 1848, UW is a public research institution in Madison, Wisconsin. The school offers an IT degree online for bachelor's degree-seekers. Students can enroll in and pay for one class at a time. Remote learners can also save on tuition by taking advantage of its "all-you-can-learn" option, which allows online IT students to take two or more classes at a time, with no limit on how many hours they can take, for the total price of two individual classes.
UA is a public research university located in Tucson, Arizona. Founded in 1885, the school today offers bachelor's and master's degrees in information technology online. In addition to these degrees in information technology, IT degree-seekers can also choose from programs in related areas such as a bachelor of arts in business information systems, bachelor of science in computer software technology, or master of science in technology management.
Located in Adelphi, Maryland, UMGC is a public institution established in 1947. The school today serves approximately 60,000 students and offers a variety of IT degrees on campus and online. Remote students can choose from bachelor's degrees such as information systems management, computer science, and digital media and web technology. UMGC also offers master's in information technology degrees with seven available concentrations.
LU is a nonprofit school with more than 79,000 students. The school today offers an entirely online bachelor of science in information technology. Learners choose from specializations in application and database development, data networking and security, gaming design, and web and mobile programming. Doctoral degree-seekers can also pursue a Doctor of Business Administration in Information Systems online.
Established in 1839, Mizzou is a public research institution with approximately 32,000 students. IT degree-seekers can take advantage of online certificate, bachelor's, and master's programs. Mizzou's offerings include a Bachelor of Science in Information Technology, a Master of Science in Information Systems and Technology, and a Graduate Certificate in Information System Project Management.
What Can I Do With An Online IT Degree?
An IT degree online is one of the best ways to prepare for a career in a computer or information technology-focused role. Depending on your education, you'll be able to find employment in several career paths:
Systems analyst
Network administrator
Web or software developer
IT security specialist
Much more
Many IT students develop a specialty in a particular area of the field and hone in on specific careers paths. You may be able to develop these specialized skills within your degree program or through additional skill-oriented certifications, such as Cisco certified internetwork expert (CCIE), project management professional (PMP), or certified ethical hacker (CEH).
Professionals with doctoral degrees in information technology typically pursue careers in research or education. Most colleges and universities prefer applicants for professorships to possess a doctorate. The same goes for research institutions.
What is the Expected Salary of Someone with an IT Degree?
Information technology is one of the higher paying industries you could choose from. Of course, the level of IT degree that you earn will affect your career options and earning potential when you graduate. Professionals with a master's degree in information technology possess a more specialized skill set and typically qualify for higher-paying jobs.
Computer and information research scientists, for example, usually need a master's degree. However, according to BLS, the top 10% of earners in this area of the field make a median annual wage of $194,430, which may make the extra two years of schooling worth it.
Some of the top-earning bachelor's degree-holders in the IT field work as computer network architects. These professionals often make about $116,780 per year, and BLS states the top 10% in this area can make about $175,570 per year.
Associate IT degrees take less time to complete than the above degrees and help learners develop a strong foundation in the field. While these professionals typically earn less per year, they still manage to earn a salary that's almost double the national median wage for all other occupations. Web developers and digital designers with an associate degree still earn a median annual wage of $77,200.
Information Technology Job Projections
The job outlook for IT professionals is promising. Those working in popular career paths like computer and information research scientists, computer and information systems managers, and computer support specialists can expect much faster than average job growth.
BLS projects a 31% growth in available positions for information security analysts by 2029. That's almost eight times faster than the average projected growth for all other occupations in the U.S. Bear in mind that even though information technology careers show promise for healthy growth, it is not guaranteed.
Potential Career Paths with an Information Technology Degree Online
Each school's degree program will have particular strengths based on its faculty members' expertise and the school's access to resources. In this way, all IT programs are a little bit different. Many programs, however, will offer you the chance to specialize in a particular area of the information technology field that will help dictate your career path.
You can expect both bachelor's and master's in IT degrees online to offer specializations in areas like information security, business intelligence and analytics, data management, and project management. There are also programs today that offer concentrations in data science, game design and development, and cloud computing.
Upon graduation, your career prospects will rely on what particular skills you've developed and your specialty area. If you studied cloud computing, for example, you'll qualify these types of
Computer systems manager
Computer network architect
Cloud administrator.
IT degree-holders who studied information security can seek out these roles:
Database administrator
Computer security specialist
Computer systems administrators
Many more
Here are a few different IT career path examples:
| | | | |
| --- | --- | --- | --- |
| Career | Salary | Projected Job Growth (2019-2029) | About the Position |
| Computer Network Architects | $116,780 | 5% | Computer network architects build and maintain different types of communication networks. This work includes managing intranets and cloud-based systems that support their employer's business operations. |
| Computer Systems Analyst | $93,730 | 7% | These analysts, also known as systems architects, are computer technology problem-solvers. They combine business knowledge and technical IT skills to help companies run more smoothly. |
| Information Security Analyst | $103,590 | 31% | These professionals develop and execute a variety of security measures to ensure the safety of computer systems and networks. With the increasing number of cybersecurity risks for organizations today, information security analysts are in high demand. |
Earning An Online IT Degree
Whether you're looking for a two year associate program or committing to a doctoral degree, here are some common IT degrees that you can earn at each degree level. Each degree falls under the IT field but has specializations in different areas.
IT Associate Degrees
Associate of science in information technology
Associate of applied science in computer information technology
Associate of science in information technology security
IT Bachelor's Degrees
Bachelor of science in information science
Bachelor of applied science in information technology
Bachelor of science in software engineering
IT Master's Degrees
Master of science in information technology
Master of science in data analytics and information systems management
Master of business information management and systems
IT Doctoral Degrees
Doctor of philosophy in information technology
Doctor of information technology
Doctor of philosophy in technology management
IT Degree Coursework
Similar to varying concentrations or specializations among IT degree programs, some of the curricula will be different depending on the particular program and its faculty members. Many of the foundational classes remain the same, especially in associate and bachelor's IT programs.
No matter which college or university your choose, you can expect to take classes similar to the following:
Introduction to system networks
Data analysis
Introduction to operating systems
Programming languages
Data management
Spreadsheets
Web development
IT management in business
Skills Learned in an Online IT Program
When you complete an associate or bachelor's IT degree online, you possess foundational IT skills that prepare you both for employment in IT roles and additional education. Whether you're ready to pursue a career in the competitive job market or a master's or doctoral degree, earning your undergraduate IT program will be helpful.
Depending on your program and area of interest, you'll learn highly desirable skills:
Coding
HTML
JavaScript
Information architecture
Cloud computing
Metadata design
Web services security
So many more
Additionally, you'll hone several essential soft skills, including written and oral communication, active listening, and collaborative teamwork abilities.
Accreditation
Explain the importance of accreditation and choosing a regionally accredited school. If this position program often comes with programmatic accreditation, then also mention the value of choosing a degree with programmatic accreditation.
It is important that you attend an IT degree program at a school that possesses regional accreditation. While national accreditation is a valuable credential, programs that offer you the most valuable credentials and training that will advance your career will also possess regional accreditation.
Additionally, the best online IT degree programs will likely possess programmatic accreditation from the Accreditation Board for Engineering and Technology (ABET). While not all programs that possess regional accreditation will have programmatic accreditation, the top programs dedicated to this field, however, will likely possess the ABET credential.
How Much Does an IT Degree Cost?
The cost of your IT degree depends on several factors. You'll find that tuition rates vary among schools, with some being quite a bit more expensive than others. Additionally, the overall cost of your IT degree online depends on how long it takes you to finish the program and how much funding you've secured. The Imagine America Foundation reports that the annual cost of IT degrees ranges between $4,000-$30,000.
Bear in mind that tuition rates at private institutions tend to be higher than public colleges and universities. Additionally, you might also be able to save some money by applying to schools where you qualify as an in-state or resident student. And lastly, don't forget scholarships and grants!
How Long Will it Take to Get an IT Degree Online?
Undergraduate certificate: Depending on the program, you can earn an undergraduate certificate online in 6-12 months. The good news is that the credits you earn in these programs might transfer toward an associate or bachelor's degree in IT, saving you time and money down the road.
Associate degree: IT associate degrees often take full-time students two years to complete. If you have transfer credits from a certificate program, it could take less time, but two years is the average.
Bachelor's degree: Full-time students typically finish a bachelor's IT degree online in four years while part-time learners may need up to six years to complete their degree. Transfer credits from a certificate or associate degree program may help expedite the process.
Master's degree: An online master's degree in IT usually takes full-time students two years to complete. Incoming master's students are typically not eligible to transfer undergraduate-level credits toward this graduate degree and must complete a full master's program.
Doctoral degree: Some IT programs allow you to earn a master's degree en route to the doctorate. In other cases, a master's degree may be required to apply. Depending on your program requirements and level of education, full-time students can expect to spend 3-5 years completing a PhD or DIT. Because doctoral programs require so much time and energy over a long period of time, most programs require students to be enrolled as full-time students.
Scholarships for IT Students
If IT is the field you're looking to pursue, take a look at these five scholarships specifically for technology-related studies.
FAQ
Can I get an IT degree online?
Yes. Many schools offer IT degree programs 100% online. If you prefer attending campus occasionally, there are also hybrid programs available
Is an online IT degree worth it?
Yes. With so many high-paying jobs in this field, there is a good chance you'll receive a healthy return on your educational investment.
How long does it take to earn an IT degree? 
Associate and master's IT degrees online typically take full-time learners about two years to finish. A bachelor's degree in information technology often requires four years of full-time study while doctorate degrees can take up to five years to complete.
How much does an online IT degree cost?
The total cost of your education depends on which IT degree you pursue, how long it takes you to finish, and how much financial aid you've obtained. The Imagine America Foundation reports that the annual cost of IT degrees is $4,000-$30,000.
Which IT jobs are in demand?
BLS reports that some of the fastest growing careers in this field include information security analyst, computer systems analyst, computer and information research scientist, and database administrator. All show strong job outlooks that are growing much faster than the national average.
Sources: