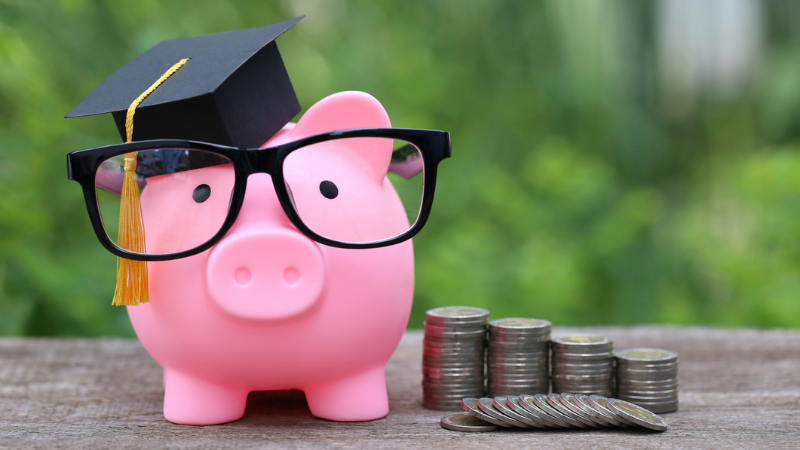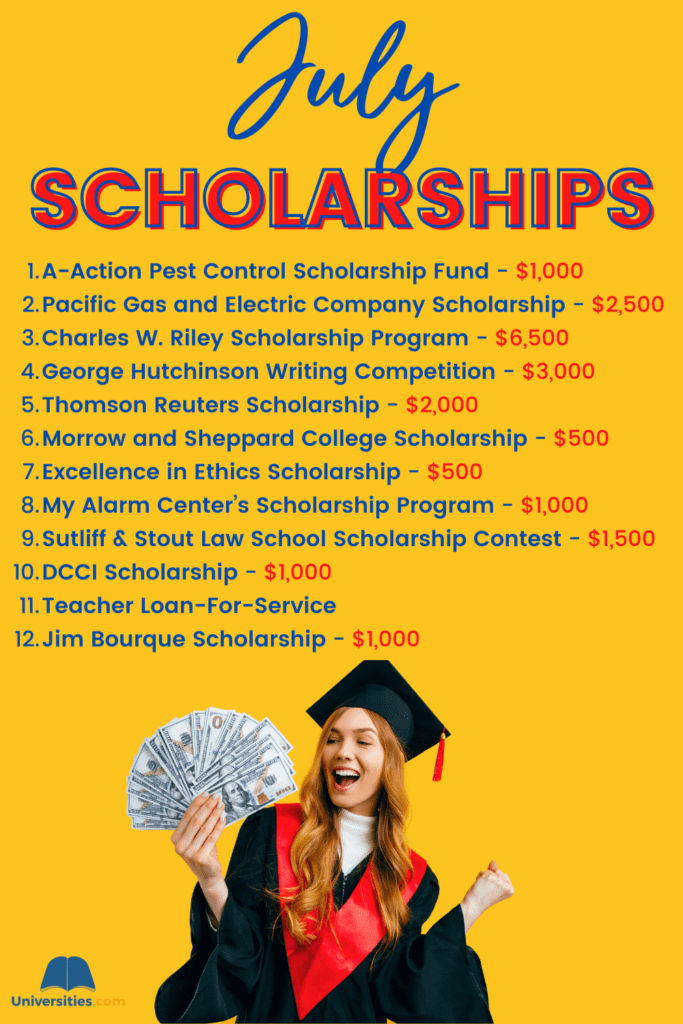 July Scholarships Overview
College tuition rates never go down; they only get more expensive! No wonder the vast majority of students are forced to apply for financial aid each year.
While a large portion of that funding comes in the form of federal aid, savvy students explore additional sources to cover their educational expenses. Private organizations top the list, with many local, state, and national businesses and groups giving away free money to qualified applicants.
There's a bit of legwork involved to find and apply to these scholarships, but that effort pays dividends if you win a fat monetary award! We've cut down your research time by putting together a list of scholarship opportunities with July application deadlines. Go get 'em!
Tips When Applying To These Scholarships
Before diving into the list, here are a few tips to consider when applying:
Make sure you qualify
It can be frustrating to see a scholarship that looks amazing, only to discover that you never qualified in the first place. Scan for eligibility requirements before reading the other details.
Tailor your application
Meeting general eligibility requirements is only the first step. Read the sponsoring organization's scholarship web page carefully. Tailor your application to show you've taken the time to understand who they want to grant scholarships to, and never send a generic application to multiple organizations.
Meet the application deadline
This list contains opportunities with July application dates, but don't assume you have until the end of the month. Look for the actual cutoff date before starting your application to ensure you have sufficient time to meet the deadline.
12 Scholarships Due July 2021 You Should Apply For
The A-Action Pest Control Scholarship Fund in Memory of Jacqueline Duty is awarded by A-Action Pest Control, an Illinois and Wisconsin-area company offering treatments against ants, spiders, and other pests.
Awards of $1,000 go to students working toward careers in business administration and management. Applicants need to be either enrolled or about to enroll in an accredited, relevant program at an Illinois or Wisconsin college.
The Pacific Gas and Electric Company Better Together STEM Scholarship Program is awarded by PG&E, a San Francisco-based natural gas and electric energy company. Awards of $2,500 up to $10,000 go to students attending California colleges and pursuing their first undergraduate degree in a science, technology, or engineering major. Preference is given to underrepresented STEM minority groups.
The Charles W. Riley Firefighter and Ambulance and Rescue Squad Member Scholarship is offered by the Maryland Higher Education Commission. Awards of up to $6,500 are given to Maryland firefighters, ambulance operators, and members of other rescue organizations. Applicants must be studying one of the following:
Fire service technology
Emergency medical technology
Fire service management
Public safety administration with a minor or concentration in fire service technology or fire service management
The George Hutchinson Writing Competition is sponsored by the Federal Circuit Bar Association, a renowned forum dedicated to facilitating dialogue amongst bars, courts, and counsels. Awards of $3,000 go to law students enrolled in ABA-accredited schools. Applicants will submit an essay related to "the substance, procedure, or scope of jurisdiction of the U.S. Court of Appeals for the Federal Circuit."
The Thomson Reuters Scholarship is given out by the National Federation of Paralegal Associates Inc., the not-for-profit "national voice and the standard for excellence for the paralegal profession." Scholarships of $2,000 and $3,000 are given to full- or part-time students in either an accredited paralegal program or program that emphasizes paralegal studies. Applicants must hold at least a 3.0 GPA, and winners will earn paid travel to a convention where they'll accept their award.
The Texas-based law firm Morrow and Sheppard LLP gives out an annual $500 legal scholarship to high school seniors or college students pursuing a law degree in the US. Applicants will submit a 750- to 1,500-word essay explaining why they want to pursue a law degree and how they "intend to make a difference." Winners are selected based on writing skills, academic qualifications, plus any listed extracurricular activities.
Texas-based personal injury law firm Simmons and Fletcher, P.C. also offers an annual Excellence in Ethics Scholarship to law students in amounts of $500 and $1,000. Interested applicants must submit an essay discussing the importance of pro-bono legal work, focused on "providing free legal services to those who cannot afford it, and why this is beneficial to the community at large."
As part of its philanthropic efforts, home security service provider, My Alarm Center, offers a $1,000 essay-based scholarships to students studying law, law enforcement, criminal justice, or similar areas. Applicants will submit an essay of up to 1,000 words based on one of two questions related to their law enforcement career goals.
The Sutliff & Stout Law School Scholarship Contest awards $1,500 to legal students enrolled or admitted to an ABA-accredited law school. Applicants submit an essay describing why they want to study law. There is no listed word count; the award goes to the most compelling essayist!
Disability Credit Canada Inc. (DCCI) offers a $1,000 scholarship to Canadian high school students who 1) have a documented disability; 2) are pursuing a degree related to healthcare, criminal justice, or community and social services. Applicants must attend a Canadian school and send in a 500- to-700 word essay outlining how their disability made them want to study their particular field.
The Teacher Loan-For-Service program offers awards from the New Mexico Commission on Higher Education. Its purpose is to incentivize and enable New Mexico public school teachers to pursue their educational goals. There are several general and specific eligibility requirements, including these two major ones:
Must be a New Mexico state resident
Must be a licensed teacher with three years of teaching experience
Granted by the Arctic Institute of North America, the $1,000 Jim Bourque Scholarship is given to Canadian aboriginal students pursuing majors in education, environmental studies, traditional knowledge, or telecommunications. Applicants will submit a short paper describing their field of study and reasons for pursuing that field. Determinations are based on financial need, relevance of study, achievements, perceived return on investment, and overall presentation.
Has July come and gone, and you're still looking for scholarships and other financial aid? Don't worry, our scholarship and awards search tool can help you browse over 5,000 different awards and filter through to meet your individual needs. Check it out!
Data Source: Peterson's Databases copyright 2021 Peterson's LLC All rights reserved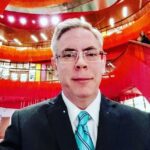 Matt is a retired Air Force veteran and former courtesy faculty at Oregon State University's AFROTC department.
As a freelance copywriter and content creator, he's written for over 250+ companies around the world. Matt specializes in career and higher education topics, with the aim of helping students find the best college programs for their career goals.