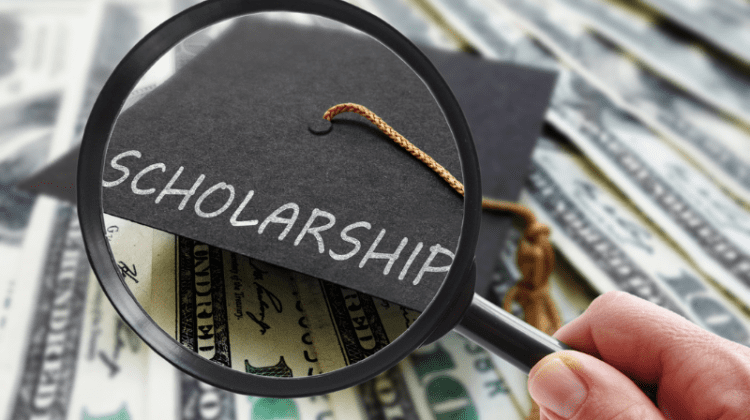 Feeling overwhelmed when starting your scholarship search? You're not alone! There are over one million scholarships available to students in the United States!
According to debt.com, $46 billion in aid is awarded every year to students in the form of grants and scholarships from colleges, universities, and the U.S. Department of Education. An additional $3.3 billion is awarded by private sources, such as service clubs, non-profits, churches, professional groups, foundations, chambers of commerce, and many other organizations.
Where should you start? How do you find scholarships that you qualify for?
There are many ways to find both national and local scholarships, from asking your school counselor and calling up your nearest Chamber of Commerce to blindly Googling "college scholarships" and hoping for the best. Your time is valuable, so why not use a tool designed to find the scholarships you're the most uniquely qualified for?
What is a Scholarship Search Engine?
A scholarship search engine is exactly like what it sounds: a searchable database that houses information on millions of available scholarships.
Find scholarships based on your financial need, religious affiliation, disability, academic merit, community service, heritage, gender, life circumstance, language, birthplace, and more! You can also use scholarship search engines to find scholarships that are based on your one-of-a-kind hobbies (duck calling, anyone?) and unique challenges (like constructing your prom attire out of Duct Tape).
Scholarship search engines are particularly helpful because they match you with scholarships you actually qualify for. When you sign up for an account, these websites can even send you matching scholarships straight to your email! Some of these search engines have a mobile app, but all of the search engines mentioned in this article are mobile-friendly, so you can check them out from anywhere.
There are plenty of search engines out there that give you access to millions of scholarships. Here are Universities.com's top seven college scholarship search engines to jumpstart your search!
7 Top Scholarship Search Engines To Help Your Scholarship Search
The scholarship search engine on Universities.com allows you to find the perfect scholarships for you based on a multitude of factors:
Application requirements (transcript, financial need analysis, essay, application form, etc)
Ethnicity
Disability
GPA
Tear in school
Minimum award size
Specific keyword searches like "single mom" or "graduate school"
And many more
You can even sort the filtered results by application deadline and dollar amount. With Universities.com's scholarship search engine, you'll have access to over 5,000 awards ranging from $10 to $100,000+ totaling $16 million in aid. The chances of you finding a few scholarships to apply for is very high!
Another great and unique feature about Universities.com's scholarship search engine is that you don't have to sign up for an account just to use their free tool! A lot of other sites require you to create an account and give up personal information just to do an initial search. Well, not here!
Universities.com houses way more than just a great scholarship finder. You'll find articles covering everything from colleges with the best dorms to the best colleges for your specific major.
2. Scholly
Scholly is both a scholarship search engine and a mobile app. You'll be matched with scholarships based upon your location and activities you're involved in. Scholly has about 20,000 scholarships on their site and is super customized to your unique experience. Once you input your information, you'll get a list of scholarships you're eligible for. Each scholarship on the list is ranked by "Scholly Score", which indicates how strong of a match you are for any given scholarship.
The downside? Scholly isn't free to use. Subscriptions run from $4.99 per month, 6 months for $24.99, and 12 months for $34.99. This may seem like a lot of money, but you do get a free 3-day trial when you sign up for the 6 or 12 month subscriptions.
3. College Board
The CollegeBoard website has been a leader for providing valuable information to college-ready students and families. According to their scholarship search engine, CollegeBoard claims to have access to 2,200 aid programs offering about $6 billion in awards. This search engine has a number of filters to help you find one that fits your unique qualifications best. You can search for specific scholarships or enter in personal and academic information such as GPA, gender, ethnic background, and potential college major to find scholarships. Some scholarships prefer applicants to have participated in certain extracurricular or volunteer opportunities, while others may have a minimum GPA to ACT/SAT score to apply.
CollegeBoard also aggregates all of the important information about each scholarship, including contact information, application deadline and requirements, award amount, and where to find additional information about the organization offering the scholarship. The search engine is just one of the great features on the College Board website. The site also features a wonderful college and university matching tool and lots of information on testing, career paths, finding scholarships, and more. College Board is currently the only place to access your AP test and SAT scores online, so it's an excellent site to bookmark. The CollegeBoard website and all of their tools are also free to use.
4. Cappex
Cappex has a large scholarship database, with over $11 billion in available aid. You can view scholarships by zip code, gender, current enrollment, application deadline, and ethnicity without logging in. You will have to create a free account for more personalized results though.
Also, by filling out your profile, Cappex will provide a list of colleges that best match what you're interested in studying, and you can read student reviews of colleges you're interested in. Cappex can even tell you your chances of getting into your dream school with their "What Are My Chances" calculator. The website gives advice on the college application process and provides overviews of various majors.
5. Scholarship Owl
With Scholarship Owl, you are able to match with scholarships you qualify for, but you have to sign up for a paid account (or cancel within the 7-day free trial) to apply via their website. Scholarship Owl is a great search tool to then encourage students to take the information from the search results to apply on their own. Scholarship Owl only has a few hundred scholarships on their website, which may make it just a good jumping off point in your scholarship search. The search tool allows students to filter by deadline and amount but may not offer as personalized results as other websites due to their lack of filters.
6. Chegg
Chegg boasts having access to over 25,000 different scholarships for students. To get started, simply fill out your age, GPA, and current level in school or type in a keyword to start your search. For more detailed scholarship matches, you'll have to create a free account. Filter by your interests, location, and ethnicity. You can even filter scholarships by ones that do not require an essay!
Chegg is also a one stop shop for renting college textbooks, among other tools. Additionally, Chegg offers a three-day free trial of their plagiarism and grammar checker tools.
7. Fastweb
FastWeb's scholarship finder is user-friendly and super easy to use. After creating an account, you're able to sift through over one million scholarships on the site. According to FastWeb, the scholarships listed on their scholarship search engine amount to over $3.4 billion. FastWeb's tool matches you to scholarships based on your strengths, extracurricular activities, interests, and skillset. You're even able to search for scholarships offered by a specific college or university you're interested in! 
A cool feature of FastWeb's scholarship search engine is the list-making ability. You can create lists to keep yourself organized while researching scholarships to apply to, such as one list of scholarships because you live in Virginia, another for your volunteer experience, and another for your potential college major. FastWeb will even send you emails with new scholarships that match your qualifications and reminder emails when a deadline is coming up- it's like they're doing some of the work for you!FastWeb also provides information on FASFA, financial aid, and a part-time job search board powered by Monster.com. FastWeb is free to use, which leaves more money to save for college!
FAQ
Ready to start applying for scholarships? Check out Universities.com's Ultimate Scholarship Guide first on the best tips when applying for scholarships!
How do I find scholarships?
A good place to start finding scholarships is online with a scholarship search engine, like the one on Universities.com. Talk to your school counselor or principal about local scholarships for students graduating from your high school. A lot of the time the local Chamber of Commerce or Parent-Teacher Association will have a few! Your local library may also be a good spot to ask about scholarships.
How do I apply for scholarships?
Each scholarship has its own set of requirements. Once you've made sure you meet the application requirements and have assembled all of the materials (transcripts, essay, application form, letters of recommendation, etc), it's time to apply! Although you cannot apply directly from one of the scholarship search engines listed in this article, most of the websites have a link to the application form and a contact person for the organization.
Is there a limit to how many scholarships I can have?
There is no limit to how many scholarships one student can have! When you're awarded a scholarship, you must report it to the school you plan to attend. The school will adjust your financial aid package to accommodate your scholarships. If you end up with enough scholarships to cover your college tuition, room and board, and books and have more left over…you would be considered "overawarded" and may graduate with money in your pocket.
How many scholarships should I apply for?
Long story short, you should apply to as many scholarships as you can, as early and as often as you can. Treat this like a part-time job! Try to apply for a few per week and pace yourself. You don't want to burn out! It may only seem worth it to apply for the large scholarships, say $5,000 and up- but every little bit helps. You may have a better shot at winning a local scholarship for $250 (that may cover a semester of books) than a $50,000 scholarship that thousands of students are applying for.
Are there any free scholarship apps?
Definitely! RaiseMe is a great free app to use, and you earn scholarship money from schools you're interested in for grades, clubs you're involved in, volunteering, and more. Going Merry is another free app that allows users to search for scholarships, view your eligibility, see the approximate application completion time, track your submissions, and apply directly from the app, among other features. FastWeb and Scholarships.com also have their own free scholarship apps.