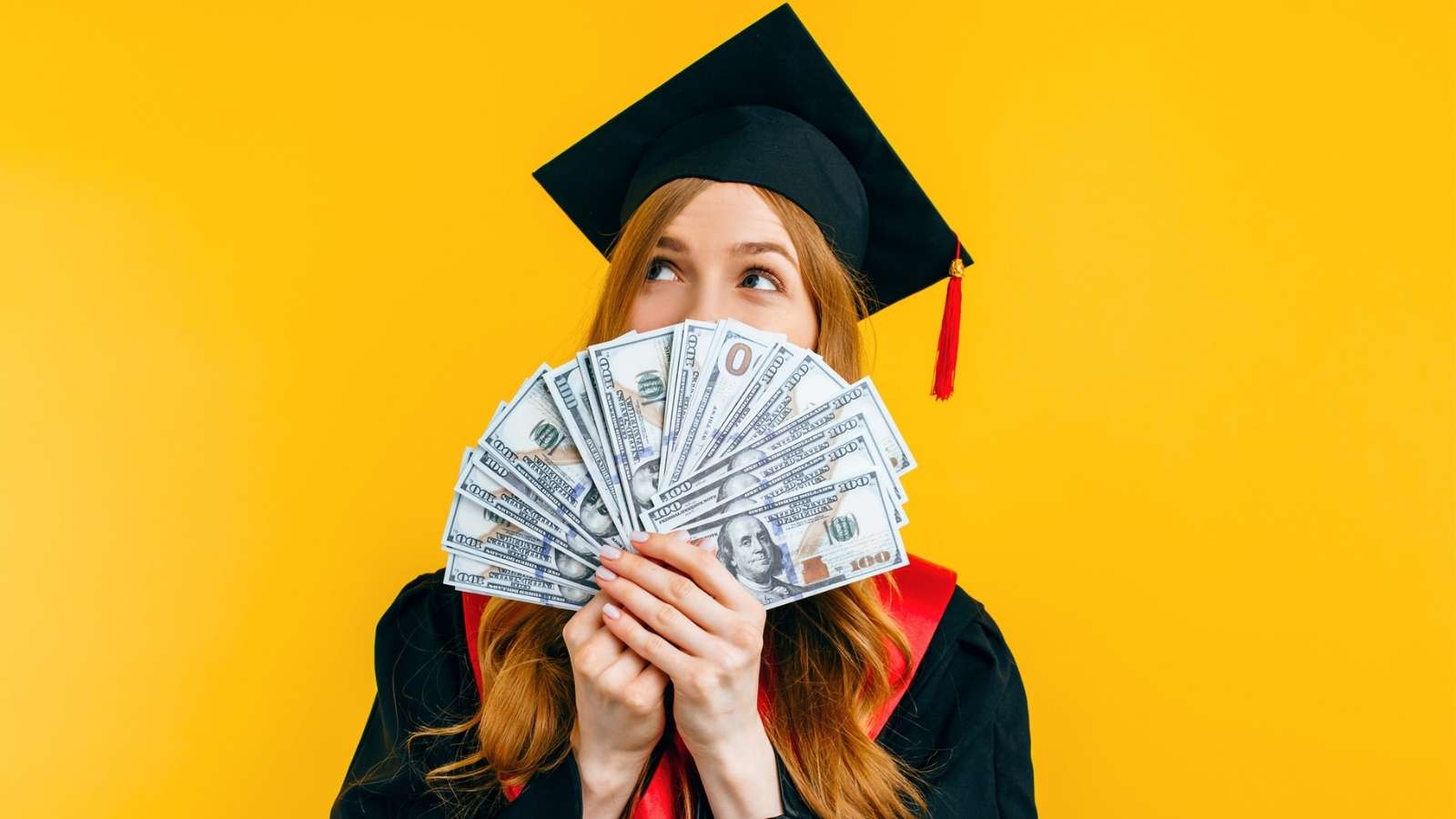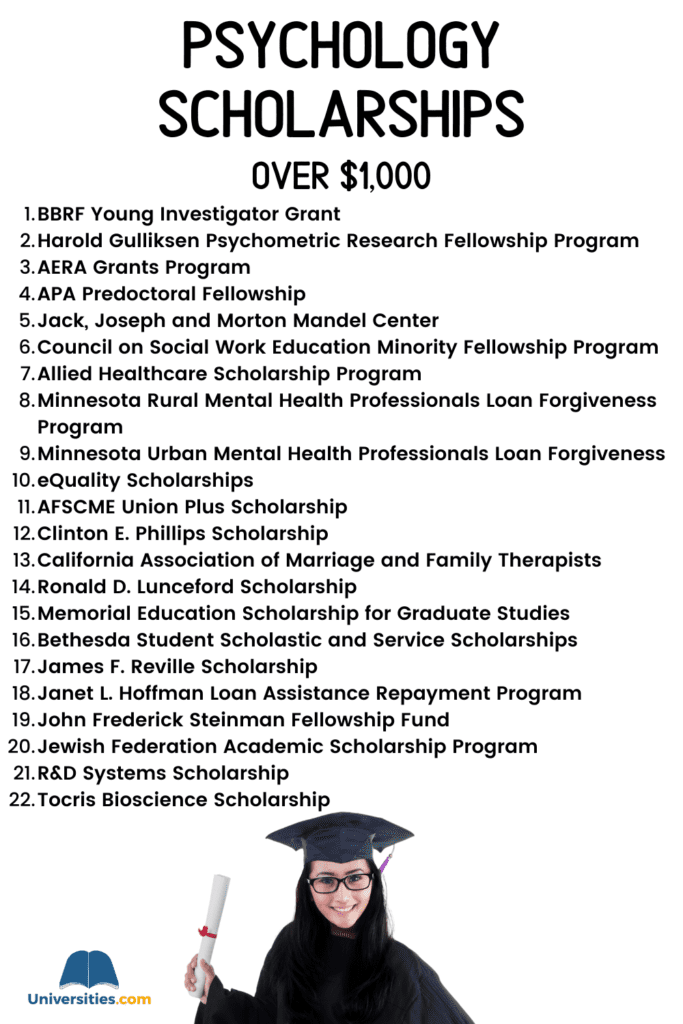 According to the American Psychological Association, Psychology is one of the country's most popular college majors. Graduates with degrees in Psychology have a diverse range of public and private sector employment opportunities, with job markets projected to keep growing over the coming decade.
Meanwhile, university tuition rates keep growing, which is why the vast majority of students seek financial aid. Federal aid is often the first place students apply for, while smaller organization-sponsored scholarships are easily missed. That's good news for you, since competition may be lower for such scholarships, making your odds better if you apply!
With that in mind, here's our list of the best Psychology scholarships over $1,000!
Tips When Applying To Psychology Scholarships
One key thing to remember when trying to get a Psychology scholarship is that you have to be fully qualified when you're submitting your application. Read the eligibility requirements carefully and ensure you meet all the listed criteria. Otherwise, you'll be wasting time better spent on other opportunities.
Another important consideration is to put yourself in the shoes of the reader. Organizations list their basic scholarship eligibility requirements, but some criteria are subjective. For example, many want to see an essay outlining your career goals. They won't specifically tell you what to say or what they want to see. It's your job to understand their motivation for offering a scholarship in the first place, then persuade them that you're worth investing their money in.
The last crucial tip is to watch out for those application deadlines. If you plan on applying for several Psychology scholarships, it might be worthwhile to create a tracking system, so you don't miss a due date.
22 Best Psychology Scholarships Over $1,000
Applying for private organizational scholarships can be time-consuming. Many students don't have enough free time to apply for small scholarships, so they focus on only applying for ones offering at least $1,000. We've saved you even more time by putting together such a list for you!
The Brain and Behavior Research Foundation is a non-governmental, donor-sponsored organization funding research in critical psychiatric areas. In keeping with their mission, BBRF offers annual Young Investigator Grants, providing up to $35,000 (up to 2 years) to "promising investigators to either extend their research fellowship training or to begin careers as independent research faculty." Applicants must have a doctoral-level degree and on-site mentor or senior collaborator.
Educational Testing Service (ETS) is a nonprofit striving to "advance quality and equity in education for all people." Every year ETS offers its Harold Gulliksen Psychometric Research Fellowship, which includes a Summer Internship Program for graduate students in Psychometrics or a related field. Fellowship continues at the student's university, and awardees receive a $20,000 stipend, $8,000 for tuition and other expenses, plus a small research grant.
Founded in 1916, the American Educational Research Association sponsors research and dissertation grant programs to "stimulate research on education issues using large-scale, national and international data sets." Research grants of up to $25,000 for one-year projects (or $35,000 for two-year projects) are offered to higher ed faculty, postdoc researchers, and doctoral-­level scholars in various fields, including Psychology.
The American Psychological Association's Minority Fellowship Program offers renewable financial awards to full-time doctoral students via its Predoctoral Fellowship in Mental Health and Substance Abuse Services. To be eligible, students must be either an "ethnic minority underrepresented in the field or show commitment to a career in psychology related to ethnic minority populations." Eligible Psychology programs need to be accredited by APA.
The US Holocaust Memorial Museum's Jack, Joseph, and Morton Mandel Center for Advanced Holocaust Studies offers visiting scholar fellowships-in-residence to post-doctoral researchers, senior scholars, or students working on dissertations within several areas of study including Psychology. Awards feature a monthly $4,000 stipend and average five months in length. There are also Summer Graduate Student Research Fellowships and Digital Humanities Associate Fellowships available.
Founded in 1952, the Council on Social Work Education represents over 800 social work education programs around the country. CSWE offers a Minority Fellowship Program aiding full-time graduate students who "identify mental health and/or substance use disorder service delivery to racial/ethnic minority populations as their focus" and who intend to seek related work to assist affected target populations. The master's-level award grants $10,000 to recipients.
The Health Professions Education Foundation offers one-time awards of up to $8,000 to California students via its Allied Health Scholarship Program. Applicants must be residents of the state and hold at least a 2.0 GPA.
Sponsored by the Minnesota Department of Health, the Minnesota Rural Mental Health Professionals Loan Forgiveness Program may repay eligible licensed practitioners of Psychology-related professions. Applicants must work in or intend to work in rural Minnesota locations for 3-4 years and should have at least 75% of their required 4,000 supervised experience hours completed. Annual repayment amounts range from $18,000 for Psychologists to $9,300 for LICSWs, LMFTs, and LPCCs.
The Minnesota Urban Mental Health Professionals Loan Forgiveness Program may repay eligible licensed Psychiatrists who agree to work in specific underserved areas (Health Professional Shortage Areas or Medically Underserved Areas) for 3-4 years. Applicants should have at least 75% of their required 4,000 supervised experience hours completed. Annual repayment amounts are $29,000.
The eQuality Scholarship Collaborative provides financial aid to California students serving the LGTBQ+ community. Their $6,000 medical scholarships go to students pursuing a "medical degree at an accredited medical school in California or as a California resident attending an accredited medical school elsewhere in the United States." To date, eQuality has given out over $1,600,000 in aid to qualified students.
A national public service employees union, the American Federation of State, County, and Municipal Employees (AFSCME) issues scholarship awards to eligible union members and their family members. Applicants may be enrolled in a trade school, community college, or university program and should demonstrate "academic ability, social awareness, financial need, and appreciation of labor." Awards range from $500 up to $4,000. AFSCME offers additional scholarships with differing criteria.
Through its Clinton E. Phillips Scholarship, the California Association of Marriage and Family Therapists Educational Foundation awards up to $4,000 to "licensed marriage and family therapists pursuing advanced training in an accredited or approved degree program in marriage or family therapy." Preference may be given to current or future association members.
The California Association of Marriage and Family Therapists also offers both an Educational Foundation Scholarship and Educational Foundation Grant to deserving candidates. Scholarships are given in the amount of $4,000; grants are issued for $2,500, and applications will be assessed for evidence of financial need. Preference may be given to current or future association members.
The Ronald D. Lunceford Scholarship is a third type of aid bestowed by the California Association of Marriage and Family Therapists Educational Foundation. Scholarships are given in the amount of $4,000. Candidates must be a member of an ethnic or racial minority and enrolled in an approved/accredited program leading to a relevant degree or certification.
The General Federation of Women's Clubs of Massachusetts offers Memorial Education Scholarships of at least $3,000 to female grad students who live in the state and are studying mental health counseling, public health, or related subjects. Applicants should submit transcripts, proof of residency, a letter of reference, and a 500-word personal statement. Note, eligible fields of study are subject to change each year.
The Bethesda Auxiliary of Bethesda Lutheran Communities sponsors annual scholarships for active Lutheran college students planning to work "in the field of ministry with people living with intellectual and developmental disabilities." Applicants must hold a minimum 3.0 GPA, be a junior or senior at an accredited college, and will need to submit four letters of recommendation, proof of 100 hours of applicable service to relevant populations, and a brief personal essay.
Based in New York, The Arc is an organization dedicated to helping people with intellectual and developmental disabilities. Their $3,000 James F. Reville Scholarship is given to New York resident students going to New York colleges or universities. Applicants must be full-time students preparing for a career related to "behavioral sciences, social work, nursing, healthcare administration, and management or psychology," with the intent to help persons with intellectual and developmental disabilities.
Funded by the Maryland Higher Education Commission, the Janet L. Hoffman Loan Assistance Repayment Program helps state residents struggling with college debt. Applicants must be full-time employees of nonprofits or governmental agencies and must work in one of the listed employment fields (which includes Licensed Clinical Counselors). Award amounts vary depending on the total debt of the applicant.
The John Frederick Steinman Fellowship Fund provides awards up to $6,000 to students pursuing advanced training in Psychiatry, Psychology, or Social Work. This fund is limited to residents of or individuals serving residents of Lancaster County, Pennsylvania.
JVS Chicago runs the Jewish Federation of Metropolitan Chicago Academic Scholarship Program, which offers scholarships to Jewish students in Chicago and the local area. Applicants must be working towards a career in a "helping profession" and should state their intent to remain in the area after graduation.
The R&D Systems Scholarship is awarded by Bio-Techne (formerly Novus Biologicals), a supplier of tools for Life Science research, manufacturing, and clinical diagnostics. Awards of $1,500 go to students majoring in a science-related field, including Medical Science and Health Science. Applicants must submit a 500-word statement explaining why they are studying their chosen field, plus a personal statement explaining the impact they hope to achieve.
Bio-Techne's Tocris Bioscience Scholarship also awards $1,500 to students majoring in science-related fields such as Medical Science and Health Science. Recipients may receive $1,500 in both spring and fall terms. Applicants submit two 500-word statements, one explaining why they chose their field and the other outlining the impact they hope to achieve.
If psychology isn't your area of study or you want to find even more financial aid to find your university or college education, then you're in the right place. Our scholarship tool can help you browse over 5,000 different scholarships, grants, fellowships, and awards, with the ability to filter through to find the ones that meet your individual college scholarship needs. Check it out!
Data Source: Peterson's Databases copyright 2021 Peterson's LLC All rights reserved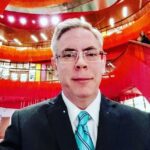 Matt is a retired Air Force veteran and former courtesy faculty at Oregon State University's AFROTC department.
As a freelance copywriter and content creator, he's written for over 250+ companies around the world. Matt specializes in career and higher education topics, with the aim of helping students find the best college programs for their career goals.