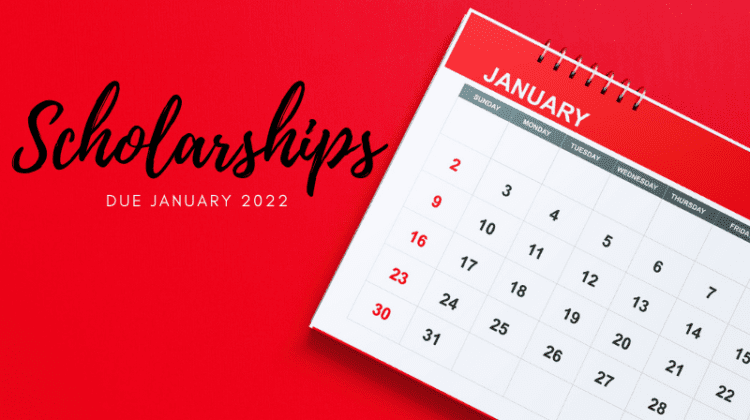 New Year, New Scholarships!
Scholarships are a great way for students to finance higher education since scholarships do not need to be repaid. With thousands of scholarships available from a variety of organizations, chances are high that you'll find several scholarships that meet your criteria.
While the 2022-23 academic year may seem far away, it's definitely not too early to start thinking about ways to pay for your education. In fact, a variety of great scholarship opportunities possess deadlines at the start of the new year in January. The scholarships listed below have thousands of dollars waiting to be handed out to some very deserving candidates!
Tips When Applying to These Scholarships
Each scholarship has its own submission criteria for what candidates need to submit in order to be considered for the money. Follow the guidelines perfectly, as incomplete applications are usually immediately denied regardless of how qualified or deserving the applicant is. Furthermore, if you do not meet all of the requirements, your application likely won't even be considered. So, it's very important to only apply for scholarships if you meet ALL of the eligibility requirements.
Maximize your chances to win against scholarship competition with these tips:
Proofread and spell-check everything. Errors reflect poorly on you as a potential student as well as a representative of the scholarship.
Put effort into the essay, if one is required. Competition can be fierce. An outstanding, thoughtful piece of writing may be the deciding factor when there are many well-qualified candidates.
Some scholarship opportunities require one or more letters of recommendation. Choose wisely and very specifically. Find someone who will rave about you but also has relevant professional experience or holds a reputable position. If the person you select seems hesitant, pick someone else. Also, don't wait until the last second to request recommendations. Give people enough time to think it through and write them properly.
Submit your material by the deadline! Not only does this show that you are conscientious and really want the scholarship, but most committees also will not even bother to look at applications that come in late. Because most applications are submitted online, they will probably be time-stamped. If they are strict on the deadline, the website could stop allowing applications at the submission deadline.
The scholarships listed below all have due dates in January, so hop to it. If you're interested in applying for any of them, take action now and start applying!
15 Scholarships Due January 2022 You Should Apply For
For residents of Hawaii, this annual scholarship of $5,000 is for undergraduate college students who maintain a GPA of at least 3.0 and must participate in canoeing, surfing, kayaking, swimming, diving, water polo, sailing, or volleyball, with a record of accomplishments and intention to compete in college. The deadline for this scholarship is January 31st.
The Duke Award is another scholarship from the Aloha State. This one-time award of up to $15,000 was created to recognize an outstanding Hawaii high school senior who exemplifies the character and personality traits of Duke Kahanamoku. This scholarship will help raise awareness about Duke and inspire individuals to emulate his character. The deadline for this scholarship is January 31st.
The Army Women's Foundation Legacy Scholarship Program provides grants to women soldiers, past and present, and their lineal descendants to help them attain their educational goals. There are currently four separate scholarships available to eligible applicants. The AWF Legacy Scholarship Program offers financial support in four areas:
Certificate Programs
Community College coursework
Undergraduate Degrees
Graduate Degrees
Scholarships are awarded only for coursework from accredited institutions. Scholarships are based on merit, academic potential, personal essay, community service, letters of recommendation, and financial need. Women must meet the following service guidelines:
Have served or are serving honorably in the U.S. Army, U.S. Army Reserve, Army National Guard
Are the child of a woman who served honorably in the U.S. Army, U.S. Army Reserve, or Army National Guard
The deadline for this scholarship is January 21.
The Diller Teen Tikkun Olam Awards honor Jewish teens who demonstrate remarkable leadership and engagement in community service projects that embody the values of tikkun olam – "repairing the world." Up to 15 recipients will be awarded $36,000 each to further their project or for their education. Individuals must be between 13 and 19 years old, identify as Jewish, and be residents of the United States. The deadline for this scholarship is January 7th.
The Women's Club offers 14 different scholarships for the 2022-2023 academic school year. There are scholarships specific to music, theater, dance, education, writing, STEM, and veterinary medicine. Applicants must be legal residents of, or full-time registered college students in Polk, Boone, Dallas, Jasper, Madison, Marion, Story, or Warren County. The deadline for all of the scholarships is January 18th.
The deadline for this scholarship is January 1st. Two awards are offered in the amount of $500 and one awarded in the amount of $1000. Applicants may apply for this scholarship if they are rising junior or senior undergraduates at one of the University of Michigan campuses with a major in the English Department. Individuals must submit a poem as part of the application process.
The Garden Club of America (GCA) Board of Associates Centennial Pollinator Fellowship provides funding to a current graduate student to study the causes of pollinator decline, in particular bees, bats, butterflies, and moths, which could lead to potential solutions for their conservation and sustainability. The deadline for this $4,000 scholarship is January 15th.
This scholarship is more of an annual competition dedicated to the work of Activist Artists all over the world. All applicants will be challenged to examine the influence of a particular Activist Artist and show how that artist used his/her medium to influence, inform, and inspire action on human rights during their lifetime or beyond. Alternatively, applicants can choose to create and submit their own piece of activist art. The Lantos Foundation for Human Rights & Justice is proud to offer this scholarship opportunity to those New Hampshire high school seniors with an interest in human rights and activism through the arts. The deadline for submission is January 19th.
The NJCPA Scholarship Fund provides one-year college scholarships to accounting students at New Jersey colleges who are currently in their second year (community college), sophomore or a junior year, or in their senior year and entering an accounting-related graduate program in New Jersey. The scholarship award amount for sophomores is $2,000, and the scholarship award amount for the junior and senior awards is $6,500. The deadline for submission is January 7th.
The Tempe Diablos provide numerous scholarships each year to college students to attend Arizona State University or a Maricopa County Community College who are residents of Tempe, Arizona, demonstrate excellence in the classroom, are involved in extracurricular school or community activities, possess strong leadership abilities, and strong communication skills. Financial need is considered during the application process. The application deadline is January 14th.
The Presidential Scholarship is a $10,000 award given to selected Washington residents who show exceptional leadership, community engagement, and promise. It is renewable for up to four years making this a VERY lucrative scholarship. Washington residents are considered automatically with their application to UW. The application deadline is January 15th.
The Jonathan D. Lewis Scholarship is awarded to exemplary individuals who show great promise as future progressive leaders. Awarded to enrolled students at an accredited college or university, this scholarship is only for a person who identifies as a member of the LGBTQIA+ community and is "out" according to the eligibility requirements. Students studying at community colleges, online programs, or trade schools, are NOT eligible. The application submission deadline is January 18th.
The Hamilton Award recognizes young people for their academic, personal, service, and entrepreneurial accomplishments. Forty college students across the country are selected and awarded two cash prizes of $500 as well as a laptop prior to starting their college program. The application deadline is January 26th for the Hamilton Award.
The Golden 1 Credit Union awards scholarships to California students. There are several scholarships available and the number awarded varies from year to year. Currently, up to $1,000 annually to full-time students who plan to attend an accredited, nonprofit, two-year community college in California as well as up to $5,000 annually to full-time students who plan to attend an accredited, nonprofit, four-year college or university in California. The application deadline for both scholarships is January 31st.
The Anhelo Project Dream Scholarship will be awarded to eligible high school seniors, undergraduate, graduate, and/or vocational training students who demonstrate leadership, academic competitiveness, community involvement, and financial need. Applicants must have a minimum GPA of 2.5 and commit to 20 hours of volunteer time to the Anhelo Project events during the school year. The application deadline for this scholarship is January 31st.
Search More Scholarships
If these 15 scholarships don't match what you're looking for, you can still search over $16 million in awards with our "Fund Your Perfect U" tool. Filter through all kinds of options to find the best college scholarships that fit exactly who you are.
Data Source: Peterson's Databases copyright 2022 Peterson's LLC All rights reserved
Kathleen (nee Colduvell) is currently a Pediatric ICU nurse at Children's Hospital of Philadelphia. She has been a nurse for ten years and specializes in ICU care. She has an extensive ICU background having formerly worked in the CICU and NICU at several major children's hospitals in the Philadelphia region. Nursing is a second career after having worked as a journalist for many years and becoming nationally published. She is Trauma certified, a Certified Breastfeeding Counselor, and Total Body Cooling Certified. Kathleen lives with her husband and her two German Shepherds. She recently earned her MSN from Loyola University of New Orleans.