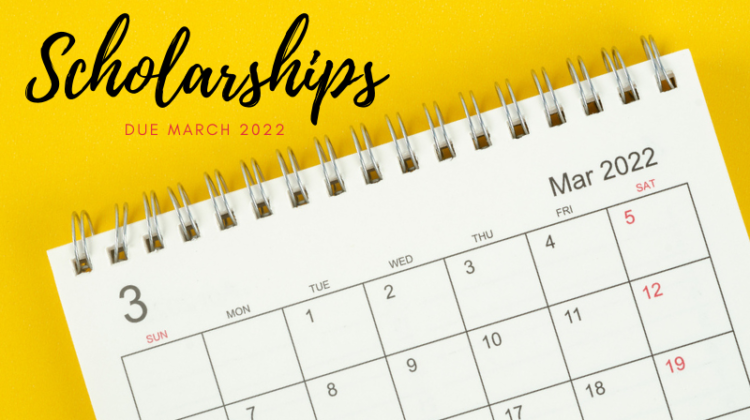 March 2022 Scholarships For College Students
When it comes to getting financial aid for college students, it's important that students exhaust all of the possibilities. In addition to filling out the FAFSA for federal aid considerations, students should also apply to as many scholarships as possible. Unlike student loans, scholarships are essentially free money for college that you do not have to pay back.
There are many different types of scholarships out there, and you should be prepared to take a deep dive into all of them to find the most funding. Some awards are reserved for students pursuing degrees in particular fields of study. Many are based on financial need or academic excellence. Additionally, you'll find many college scholarships that are looking for applicants with particular self-identifying qualities, such as race, ethnicity, and gender.
Bear in mind that almost every scholarship requires you to submit application materials by a certain deadline! Here's a list of some of the top college scholarships that are due in March 2022.
Scholarship Tips When Applying
While you should apply for as many scholarships as you are a competitive candidate for, you'll want to take enough time to put together quality application materials. Be sure to check out our college scholarship tips for a closer look on how you can put your best foot forward. Here's a quick list of things to keep in mind:
Are you a good fit?
Search for scholarships that are a good fit and match your field or demographic. For example, if you're a STEM student, there's much less of a chance that you'll find scholarship opportunities from organizations that typically support students in the humanities.
Stay Organized
Whether you keep a running spreadsheet or handwritten list of college scholarships you'd like to apply to or have already applied for, it's important to stay organized and have all your information in one place.
Pay attention to the details
Each scholarship will have specific guidelines for the materials you'll need to submit. While they may seem similar across the board, there are often subtle differences. Incomplete applicants do not receive consideration, so make sure you cover all your bases.
Tailor your materials for each scholarship
It's important that you write a thoughtful essay (if it's required) for each scholarship. Be sure to address specifics in your written materials and how you're the best choice for each award you apply for. Don't try to recycle your application materials verbatim for each one.
10 Scholarships Due March 2022 You Should Apply For
Here are 10 scholarships due in March 2022 that you may want to apply for today.
Amount: $5,000
Due Date: March 1
Overview: Offered by the American Legion Auxiliary (ALA), there are five awards available through the Spirit of Youth Scholarship program. ALA program participants who are junior members, honorary national junior division vice presidents, or members in the girls nation program may apply. Applications must include copies of official transcripts, ACT/SAT scores, four letters of recommendation, and a personal essay. 
Amount: $1,000 
Due Date: Postmarked by March 31
Overview: The Slovak Gymnastic Union Sokol of the USA is a membership organization for adults, children, and teens. Membership benefits include access to health and fitness programs and scholarship opportunities for students attending two- or four-year programs. Recipients of the Milan Getting Scholarship can reapply for three years and receive $500, provided they maintain membership and a 2.5 or higher GPA. 
Amount: $2,500-$12,000
Due Date: March 1
Overview: The National Italian American Foundation offers scholarships for students of Italian American ancestry, with at least one ancestor who has immigrated to the U.S. from Italy. Applicants must be NIAF members with a 3.5 or higher GPA, be a U.S. citizen, and be enrolled full-time in an accredited college or university. The NIAF awards upwards of 200 scholarships per year.
Amount: $500, $600, and $1,000
Due Date: March 15
Overview: The Italian Catholic Federation is a national organization composed of members of Italian ancestry and practice Roman Catholicism. Scholarship applicants are reviewed based on their GPA and transcripts, financial need, leadership, extracurricular activities, and a personal statement. Applicants must have at least a 3.2 GPA and live in the Roman Catholic Dioceses of California, Arizona, Illinois, or Nevada.
Amount: Varies
Due Date: March 15
Overview: This academic achievement award is available to Tau Kappa Epsilon fraternity members. Applicants must be juniors or seniors with a 2.5-3.0 or higher GPA. The scholarship review committee expects applicants to have proof of extensive leadership activities on campus and have successfully increased alumni engagement in fraternity activities.
Amount: $3,000-$6,000
Due Date: March 1
Overview: Students pursuing a Bachelor's or Associate Degree in Welding or a closely related area are eligible to apply. Applications must include contact information for two references and official transcripts. Individual AWS scholarships have their own GPA requirements. Some of the programs also accept applications from graduate students.
Amount: $1,000
Due Date: March 21
Overview: Incoming freshmen who are U.S. residents and pursuing an engineering or related science degree may apply. Applicants should have a 3.75 or higher unweighted GPA and experience in leadership roles outside of school. Applicants must include two letters of recommendation and a personal statement detailing engineering career aspirations.
Amount: Varies
Due Date: March 15
Overview: Founded in 1963, the Automotive Recyclers Association (ARA) scholarship fund awards $30,000-$50,000 in award money to over 40 students per year. Applicant must be a high school senior or enrolled in a degree or trade program. Applicants enrolled in a college or university should have a 3.0 or higher GPA, while trade or vocational school students need at least a 2.0 GPA. Applicants must also have a parent or guardian who is a current employee of a Licensed Direct/Branch Recycler Member of ARA.
Amount: Varies
Due Date: March 1
Overview: Students who complete one application receive consideration for more than 80 need-based scholarships. The majority of the awards are reserved for applicants who reside in Michigan's Kent County. Applications must include a list of volunteer service, family responsibilities, extracurricular activities, and any awards received. Applicants must also submit a transcript, a personal essay, and their family's financial information.
Amount: $2,500-$5,000
Due Date: March 9
Overview: SHRM offers scholarships for both undergraduate and graduate students. Applicant needs to be a current SHRM member and enrolled in an undergraduate or graduate program at an accredited institution to apply. Undergraduate and graduate student applicants must have a 3.0 and 3.5 or higher GPA, respectively. Applicants must include a current resume, transcripts, one letter of reference, and an outline of volunteer activities and career aspirations.
Want More Scholarships?
Check out our full scholarships search filters to find the best college scholarships that are right for you. Search over $16million in awards to help fund your college education.
Data Source: Peterson's Databases copyright 2022 Peterson's LLC All rights reserved