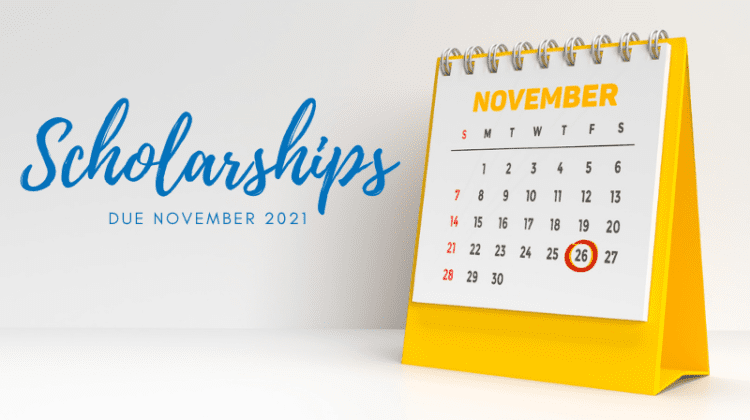 Scholarships are a great way to finance higher education because students do not need to repay this money. With thousands of scholarships available from a variety of organizations, chances are high that you'll find several scholarships that meet your criteria.
While the 2022-23 academic year may seem far away, it's definitely not too early to start thinking about ways to pay for your education. In fact, a variety of great scholarship opportunities possess deadlines falling in November. The scholarships listed below have thousands of dollars waiting to be handed out to deserving candidates!
Tips When Applying to These Scholarships
Each scholarship has its own instructions for what candidates need to submit. Follow these guidelines perfectly, as incomplete applications usually get tossed. Furthermore, if you do not meet all of the requirements, you're application will not be considered.
Maximize your chances in every scholarship competition with these tips:
Proofread and spell-check everything. Errors reflect poorly on you as a potential student.
Put effort into the essay, if one is required. Competition can be fierce. An outstanding, thoughtful piece of writing may be the deciding factor when there are many well-qualified candidates.
Some scholarship opportunities require one or more letters of recommendation. Choose wisely. Find someone who will rave about you but also has relevant professional experience or holds a reputable position. If the person you select seems hesitant, pick someone else. Also, don't wait until the last second to request recommendations. Give people time to write them well.
Submit your material by the deadline! Not only does this show that you are conscientious and really want the scholarship, but most committees also will not even bother to look at applications that come in late.
The scholarships listed below all have due dates in November. If you're interested in applying for any of them, take action now!
15 Scholarships Due In November 2021
Each year, over 1,800 high school seniors from across the country in the nation's oldest and most prestigious science competition compete for over $3.1 million in scholarship money. The top prize is $250,000, which is currently the largest academic scholarship in the country. This contest provides an important forum for original research that is recognized and reviewed by a national jury of professional scientists. The deadline for this is November 10th.
The Society for Health Systems Scholarship is a $1,000 scholarship awarded to undergraduate students enrolled in the school's industrial engineering program or equivalent that is accredited by an agency or organization recognized by IISE. Furthermore, the students must be nominated by IE department heads, IISE student chapter advisers, IE faculty or by SHS board members, SHS diplomats, or SHS senior members.
A $10,000 one-time scholarship is awarded to a Black or African American student who represents the next generation of legacy-makers – future leaders who are dedicating time and energy to creating a lasting, social impact. The scholarship is intended to help an individual achieve their greatest ambition. The deadline for this scholarship is November 5th.
The Linda Thompson Memorial Scholarship, named after Linda Thompson owner of Cappa and Graham, Inc. in San Francisco, CA, and was a driving force in the development of the Destination Management Company Network. is open to university students pursuing a degree in the hospitality industry. A minimum 250-word essay is required for a chance at one of two $1,000 scholarships. The deadline for this scholarship is November 1st.
Application packages are due November 15th for this $3,000 scholarship awarded annually at the National Collegiate Landscape Competition. Students are eligible for this if enrolled in landscape contracting or horticultural programs at two- and four-year colleges and universities. Scholarships are funded by "Ambassadors" who are passionate about supporting the next generation of landscape professionals.
Open only to students that are visually or hearing impaired, this $6,000 scholarship has a deadline of November 30th. It is awarded to students to recognize their academic achievement, outstanding leadership, and service to others.
7. Sportsmanship in eSports Scholarship
The All-Star eSports League offers the Sportsmanship in eSports Scholarship to high school students involved in esports, such as League of Legends, Teamfight Tactics, or Overwatch. All high school students who play esports and competitive video games are eligible to apply for the Sportsmanship in esports Scholarship, and extra consideration is given to students who play League of Legends and/or Teamfight Tactics. $2,500 is awarded to several students who meet the qualifications. The deadline for this interesting scholarship is November 2nd.
This organization awards $200,000 in scholarship funds annually so there are plenty of opportunities for qualifying individuals. Stantec is committed to providing support to the next generation of leaders in our industry, and we are focused on growing diversity within the science, technology, engineering, arts, and math (STEAM) fields. One major requirement in order to qualify is individuals must belong to a historically underrepresented population/groups such as BIPOC (Black, Indigenous, and People of Color) and/or members of the LGBTQIA+ community, people with disabilities, veterans, or first-generation college students. The deadline for this scholarship is November 18th.
The Soroptimist Live Your Dream Awards are awarded to women who are considered the primary financial caregivers of their families. This $16,000 scholarship is awarded to help ease the burden of paying for a degree while supporting a family. Due on November 15th, individuals that meet the vague criteria have a great chance at earning a high-value scholarship.
A $2,000 scholarship will be awarded annually to a female college student in the United States who is interested in pursuing a career in business and entrepreneurship. The goal of this scholarship is to continue to promote women to pursue higher education and degrees in business. Applicants can be high school seniors or students already enrolled full-time in a business program. Applicants are expected to answer several questions in essay form. The deadline for this scholarship is November 8th.
This fellowship is awarded once a year and goes to a writer of either African or Caribbean descent. Individuals must be starting the Solstice Low-Residency MFA in Creative Writing Program at Pine Manor College in Massachusetts during the winter residency/spring semester. Interested candidates must submit a writing sample, and a winner is awarded $1,000 to help pay for the first semester. The application deadline is November 4th.
Since 1928, The Lincoln-Lane Foundation has been committed to assisting deserving students in Virginia. Several scholarships are awarded annually to
students from the Tidewater area of Virginia to pursue full-time study at accredited post-secondary four-year schools, colleges, and universities located in the United States. Scholarships range from $500-$3,000 per year and are renewable for three additional years. The application deadline is November 15th.
The James Alan Cox Foundation for Student Photojournalists is a very interesting scholarship, because it not only offers monetary scholarships but also awards five deserving high school students digital SLR cameras. Other scholarships include five $2,500 scholarships that are awarded to college or technical school students and one $2,500 scholarship to a graduate student. Applicants must submit examples of their photojournalism that "tells a story". The deadline for this scholarship is November 15th.
The Lagman Foundation was established for the purpose of granting scholarships to a new generation of diversely talented high school students who have overcome adversity, given back to their communities, and demonstrated a commitment to turning their life around through an interest in academics or creative pursuits. The Foundation identifies and rewards high school seniors who have experienced hardship, and then demonstrated resilience in changing course. Applicants can be awarded $500-$1,500 and the deadline for application submission is November 30th.
The Prudential Spirit of Community Awards honors students in grades 5-12 for making meaningful contributions to their communities through volunteer service. This is one of the few scholarships open to students in the younger grades.  These awards are the United States' largest youth recognition program based exclusively on volunteer community service. The application deadline is November 10th. Individuals can be awarded up to $5,000. 
We've created a tool where you can search over 5,000 scholarships worth over $16 million to find the right financial aid for you.
Data Source: Peterson's Databases copyright 2021 Peterson's LLC All rights reserved
Kathleen (nee Colduvell) is currently a Pediatric ICU nurse at Children's Hospital of Philadelphia. She has been a nurse for ten years and specializes in ICU care. She has an extensive ICU background having formerly worked in the CICU and NICU at several major children's hospitals in the Philadelphia region. Nursing is a second career after having worked as a journalist for many years and becoming nationally published. She is Trauma certified, a Certified Breastfeeding Counselor, and Total Body Cooling Certified. Kathleen lives with her husband and her two German Shepherds. She recently earned her MSN from Loyola University of New Orleans.