The Pentagon is one of those places you see in movies but otherwise rarely think about. It's like a mythical creature, often referenced in news reports as its own entity — "According to the Pentagon," they say, as if it were a person and not simply a building with "17.5 miles of corridors and a total floor area of 6.6 million square feet."
To be honest, I never expected to work there. But like ~26,000 other people, that's what I did for two years as a Senior Non-Commissioned Officer assigned to Headquarters US Air Force. Also like many of those folks, my office was essentially a windowless vault, and my day-to-day work put me in proximity with some of the nation's top military brass.
There were plenty of pros and cons to the job, but it's an experience I'll never forget. Also, it's not much like the movies portray it!
How did I get to work at the Pentagon? What was it like? Let me start by answering some common questions.
What is a Senior Non-Commissioned Officer (NCO)?
The military is composed of officers and enlisted personnel. Enlisted troops make up the majority (around 82% of the military workforce), but officers carry authority over the enlisted force.
All military members carry official grades and ranks, which show their place in the overall organizational hierarchy. On the enlisted side, I started with the Air Force grade of E-0 — the rank called Airman Basic. Over time, and after completing On-The-Job training and my distance learning Career Development Course (CDC), I became an Airman, Airman First Class, then Senior Airman.
After the Airman rank category came the Non-Commissioned Officer (NCO) ranks. Don't get confused by the word "officer" because these are still enlisted ranks. To become an Air Force NCO, you not only must demonstrate high-quality work performance but also do well on a comprehensive job exam (called the Weighted Airman Promotion System, or WAPS).
Within the NCO ranks, I became a Staff Sergeant, then Technical Sergeant. After these two junior NCO ranks, next is the Senior NCO category. This is the last rank category an enlisted person can enter, but there's still plenty of room to grow! I became an E-7, Master Sergeant — the final rank I achieved before retiring after 21 years.
Other ranks beyond that are Senior Master Sergeant and Chief Master Sergeant. There is also a distinct position known as the Chief Master Sergeant of the Air Force, which "represents the highest enlisted level of leadership, and as such, provides direction for the enlisted force and represents their interests, as appropriate, to the American public and to those in all levels of government."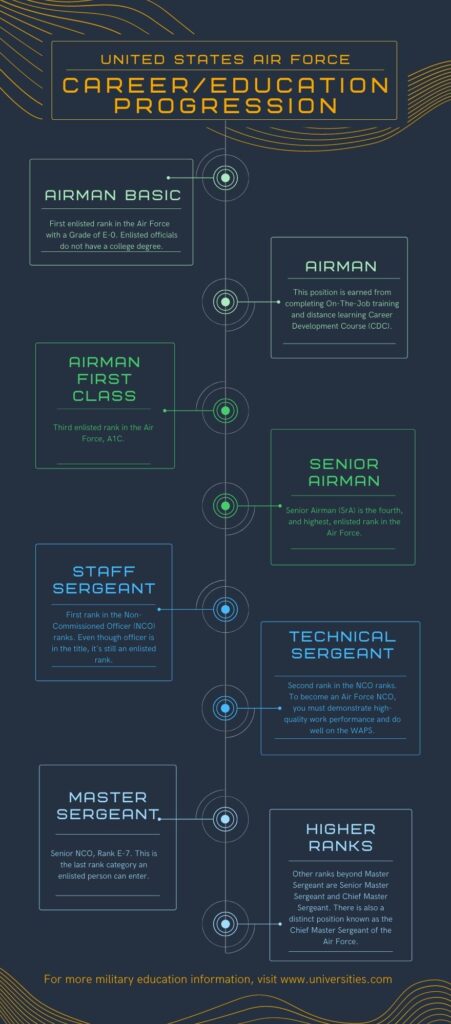 What's a Typical Day Like For a Senior NCO?
Like commissioned officers, non-commissioned officers are leaders and managers. However, the junior-level NCOs are more involved with day-to-day "boots on the ground" work, while senior NCOs are more frequently chained to a desk. That's because they oversee broader aspects of a unit's functions and liaison more with the officer corps.
Military units, no matter how large or small, operate best when people are respected, supported, trained, and in exchange, held to high standards in all areas of their military lives. Senior NCOs are integral to ensuring mission success by keeping people and processes running smoothly — every day!
I spent 21 years in the service, with over half my time spent as an NCO and the final years as a senior NCO. I think I "made rank" at the average pace (for the Air Force, anyway), so I wasn't a "faster burner," per se. But I took my time because, to be honest, I was hesitant to become a senior NCO. In addition to the extra money comes extra responsibilities and fewer opportunities to get the assignments you might want.
That being said, holding a higher rank lets you be more involved with decisions that affect your unit. Being a senior NCO gives you a bit more power to take care of your fellow enlisted troops on a day-to-day basis. This includes ensuring they're getting the training and support they need, as well as being recognized for accomplishments and given extra time (when possible) to devote to their physical fitness and mental well-being. It also covers mentoring and helping them develop educationally and professionally, so they can prepare for promotions and higher degrees of responsibility. Essentially, you're getting them ready to replace you!
What Skills Do Senior NCOs Need?
This is a tough question. It would almost be faster to write what skills a Senior NCO doesn't need because they are truly a jack-of-all-trades.
There is usually an inordinate amount of administrative work to do, which requires:
Analytical thinking
Attention-to-detail
Clear writing skills
Objectivity
Organization
Patience
Sharp reading skills
Time management
Senior NCOs are also tasked with managerial and leadership duties. These are not always as clear-cut; people often have their own styles in these areas. Plus, I'd say this management/leadership portion requires certain internal traits versus hard skills. Essential traits include:
Commitment
Compassion and empathy
Decisiveness
Efficiency
Integrity
Motivation
Objectivity
Persistence
Resilience
Of course, as we grow and learn new things, we can further develop our inherent traits…while developing skills based on those traits, such as the ability to inspire others, build effective teams, and manage organizational change.
In addition to general admin, management, and leadership skills and traits, all NCOs specialize in their particular career fields, too. You have to master those job-specific duties…and since every job is different, the skill sets depend on what job you do.
My first job was as an Information Manager, which later became more IT-oriented and was changed to Knowledge Operations Management. I also did a few tours as a Postal Specialist and Postmaster (yes, military services run their own mail operations around the world).
In addition, I held a couple of one-off jobs as a squadron quality assurance inspector and the Non-Commissioned Officer-In-Charge of an Air Force Reserve Officers' Training Corps (ROTC) detachment. So, while all those roles were more-or-less administrative in nature, each required a few distinct skills.
How Did I Become a Senior NCO?
Well, it was a long and winding road.
Growing up in a small rural town in Oklahoma, I had no clue what I wanted to do after high school. Most of my family had served in the military in one form or another, so that was always in the back of my mind. But first I decided to try something completely different — I moved to California, because I wanted to become a cinematographer working on Hollywood pictures.
The only problem? When I got there, I never enrolled in classes.
Instead, I shifted from one "dead end" job to the next, always procrastinating and saying "one day" I'll get things figured out. Then, that one day came while I was working a night shift at a refinery, shoveling toxic sludge and lamenting my life choices. I realized I wasn't interested in that type of work…nor was I destined, perhaps, to be a cinematographer.
So, with a few weeks' worth of overtime income saved up, I quit my refinery job and went to see a military recruiter.
What Is It Like to Talk To a Military Recruiter?
Before walking into the recruiter's office, my initial thought was that I wanted to go to college and have the military pay for it. After that, perhaps I could get out and do something else.
My uncles — both former Army Airborne Rangers — had advised me against joining the Army based on my personality type. Fair enough, I figured.
My brother, who'd served as an airplane mechanic in the Air Force, suggested I try the "officer route." To be an officer, you must have a college degree, though. If you don't already have one, you can sign up for an ROTC program at a local college. At the end, when you graduate, you can commission as an officer (assuming you make it through the program).
So that's what I decided to ask the recruiter about. The only problem? I went to an enlisted recruiter instead of an ROTC recruiter!
What Did The Recruiter Tell You?
I first went to visit a Navy recruiter at a mall in Fairfield, California. The thought of open seas and global travel appealed to me. The Navy guy loved my ASVAB scores and wanted to put me on a nuclear submarine, which I had no interest in. But he was eager to get me to sign some forms (which hadn't been clearly explained to me).
Skittish, I passed and went next door to the Air Force recruiter. Unlike that Navy gent, the Air Force guy seemed very nonchalant, like a large dog that had just ingested a huge meal and was now sleepily eyeballing a bone.
I mentioned my interest in doing ROTC so I could get college paid for. He yawned. Essentially I was thinking only of myself and my needs, and not the Air Force's needs. The sharp-dressed recruiter quickly pointed out that I was "too old" for ROTC. I was 23, so would not graduate/commission by the age cutoff.
"You could enlist," he said. "Take classes, then apply to Officer Training School after you finish your degree."
That seemed logical, though looking back, I could've applied for an age waiver. Learn from my experience if you're in the same boat! I wasn't too old to enlist, though, and the other qualifications were fairly straightforward. I had a qualifying ASVAB score and knew I would easily pass the basic screening process.
Next, we discussed career options. I explained, since I wanted to take classes, I should take a 9-to-5 "office job." He recommended "Loadmaster," which didn't sound like a desk job to me!
"What about Information Management?" I asked, and so I got my guaranteed job in that field.
After signing my enlistment paperwork to serve four years on Active Duty, I submitted a questionnaire for my background check so I could receive a Secret Security clearance. Then I was off to MEPS!
What's MEPS?
MEPS, or Military Entrance Processing Station, is where I went for my medical screening. My closest MEPS was in Oakland. It was there that I learned, in my early 20s, that my vision was "color deficient." Some military jobs are very strict on this type of medical condition, but fortunately, that didn't interfere with my qualification for the information management job I wanted.
MEPS is an important part of the screening process since military members must be physically, mentally, and emotionally able to perform all their job duties. That also includes working under sometimes harsh conditions, working long hours, or working in stressful environments or extreme temperatures. After MEPS, next up with Basic training.
What Was Basic Training Like?
The Air Force's Basic Military Training program is done at Lackland Air Force Base (AFB), Texas. Back then, the course was only six weeks long and has increased in time since then.
Air Force Basic training is considered the easiest out of all the branches. I can't speak from personal experience and haven't seen the updated version of the AF course. But considering the very different missions of the other branches, it makes sense that those other branches would have more challenging training regiments.
Unlike some trainees at Basic, I wasn't fresh out of high school. I was in my early 20s and had lived on my own for a while. Growing up, I also had a very blue-collar background and was used to physical work, respecting others, and following rules. So, for me, Basic was a cakewalk, but not everyone was able to adapt. We were there over Thanksgiving and Christmas.
Some of the guys in my "flight" had never been away from Mom and Dad during the holidays. The cold weather, daily marching and exercise, lack of sleep, and constant disciplinary shouting combined to do two jobs — filter out anyone who couldn't take it and toughen up everyone else. Other than putting on a few pounds, I didn't feel very changed from the experience personally. But for some, it can be transformative.
Did You Receive any Technical Training for Your Job?
Yes, after Basic came "Tech School!" That's career field-specific training, which I did at Keesler AFB, Mississippi. Since my job was Information Management (i.e., secretary), the training was very short…only a few weeks. Other trainees on base called us "Pop Tarts" because we showed up and left so quickly while they were spending months learning their far more technical jobs.
My time at Keesler was especially short because part of the IM course involved learning how to type — which I luckily had already learned on a word processor in high school (years before computers were a household item). After tech school, I was off to my first base!
How Many Duty Stations Did You Have, and When Did You Start college?
I won't go into detail here, but all told, I had assignments all over the world totaling eight duty stations and two deployments. Plus, lots of short trips called TDYs.
My first assignment was working in a Base Information Transfer Center at Ellsworth AFB, South Dakota, delivering military mail (which was hardly the desk job I'd expected!). I must say, South Dakota, though beautiful, was not where I wanted to be for my first duty station.
In Basic (or maybe it was at tech school), they asked us to fill out "dream sheets" of eight locations we would like to list as our first assignment choices. The idea was that there should be an opening at one of them by the time you finish all your training.
All the bases I selected were coastal, and South Dakota is the opposite of being a coastal state. So that's why it's a dream sheet – you can dream. Still, I made the best of it. Once my CDCs were finished, I decided to use my free time wisely, so I signed up for college classes at night at Black Hills State University.
What Did You Major In?
In high school, I hated history. Our history teacher, believe it or not, had once been struck by lightning. He survived, but it certainly slowed him down. And sitting through his lessons could be torturous. However, Black Hills had an extremely outgoing professor from Oxford who really brought the subject to life. And surprise, surprise. I ended up majoring in History with my degree paid for 100% with military Tuition Assistance.
I won't lie. It took a while to complete that bachelor's! Because after three years in South Dakota, I launched into a series of overseas duty assignments and spent most of my free time having fun after work. Finishing my education was put on the back burner. I loved living abroad. I'd recommend it to anyone because of the valuable cultural experiences you can have.
It was only after I got married that I settled down and put my nose back to the academic grindstone, knocking out the rest of my classes to finish a B.S. in History (with a minor in IT). Soon after, I enrolled in an online Master of Fine Arts in Creative Writing program. Writing, I knew, would help me in my future role as a Senior NCO. But also, I wanted to learn how to write novels. Uncle Sam was still paying the bill, so I went for it.
As a result of finishing both a bachelor's and master's while on Active Duty, I never had to touch my Post-9/11 GI Bill. By that point, I had two kids and was able to transfer that benefit to them (50% going to each). So, thanks to the Air Force, both my kids have half their in-state college tuition paid for (plus a housing stipend to boot!).
Actually, I started my online master's program around the time I deployed to Afghanistan as an embedded trainer, and I finished it while wrapping up a tour in Baghdad, Iraq.
When Did You Become a Senior NCO?
By the time I was on my 7th duty assignment, I was done with higher ed. I'd done the degrees I wanted to do and was settling into what I thought would be my last assignment (at the ROTC detachment). So I got serious about getting my next promotion to Master Sergeant. My performance reports were good. I had a great physical fitness score, plus a graduate degree. All I needed was to study and do well on my WAPS test…which I did!
But as I had long feared, getting promoted put me in a position where I had less control over the assignments I'd be eligible for. As my 19th year of service was approaching, I was at a decision point — to keep going or to drop my retirement paperwork a year in advance of hitting my 20-year mark. You must serve at least 20 years to earn a military retirement pension.
I talked about it with my wife and decided retirement was the best option. We liked the town we were in, and I imagined I could get a civilian job at the university where my ROTC unit was located. I'd also be home more, to spend time with our kids.
That's when I learned the Pentagon had other plans for me.
So How Did You End Up Going to the Pentagon?
While working at the ROTC unit, I received Permanent Change of Station (PCS) orders to report to Washington D.C. for my next job at Headquarters Air Force.
Honestly, I didn't want to go. It threw a monkey wrench in my retirement plans to settle down in the town we were in and get a civilian job at the college. So I contacted the Air Force Personnel Center and explained my situation…that I was just a few weeks from being eligible to submit my retirement request.
Their reply made the choice simple. I wasn't yet in my time window to ask for retirement; I still had a few weeks until that date. So, certainly, they'd let me decline the assignment to D.C. But if I did, I wouldn't be able to reenlist, and my current enlistment contract ended just a few weeks before I'd hit the 20-year mark that qualified me for retirement.
Long story short, if I turned down the Pentagon job, I'd lose my eligibility to retire and get a pension for the rest of my life.
So — we moved to D.C.! I spent my 19th year working for HQ USAF's Intelligence, Surveillance, and Reconnaissance Division, surrounded by high-ranking officers doing top-secret work. Even though I hadn't wanted the assignment originally, I felt honored to have the chance to play a part in the larger scale mission and decided to do one extra year before finally retiring.
Is There Anything You Wish You'd Known Before Joining The Military?
I loved being enlisted. After I finished my bachelor's, I could have applied to Officer Training School. My leadership supported the idea. But by that point, I loved the flexibility I had, plus I felt like I had more in common with my enlisted peers than I did with the officers I'd worked with.
So, sometimes I've wondered what my life would have been like if I'd gone to that recruiter just a year earlier or if I'd asked for an age waiver to go to ROTC. But otherwise, I don't think there's anything I needed to know before joining.
Once you're in, you're part of a massive global network of people. They take care of you, and if you need to know something, all you have to do is ask. Other than Ellsworth and Washington D.C., I personally picked all my other assignments – 6 out of 8. That's because I asked questions to learn how the Assignment Management System worked. I studied how to increase your odds of getting overseas assignments and how to put in competitive packages for special duty assignments.
What Was The Most Rewarding Thing About Being a Senior NCO?
I just loved being in a position where I could watch out for younger troops. I tried to understand everyone's needs, on a personal level and as they related to the work center.
It is vital to make sure people are taken care of — but without being micromanaged. So I wanted my fellow enlisted troops to feel empowered and supported 100%, so they could:
Be happier at work
Be proud of their work and feel motivated to do the best job they could
Work together as effective teams that truly wanted to serve the mission
Look after one another within a culture of mutual respect
Study, exercise, and get competitive for promotions and greater responsibilities
Avoid problems that could turn into headaches for me!