What is an MBA?
Even though MBA degrees have come under scrutiny recently, data clearly shows that MBA grads earn more money than people with only a bachelor's degree in business. Designed for individuals with some professional experience, MBA degrees primarily focus on the analytical and business skills needed to tackle leadership roles in business environments. Additionally, these degrees offer academic concentrations spanning from operations management to healthcare management.
In the following guide, we look at several top schools offering online and in-person MBA programs. Additionally, we consider whether an MBA program is worth it. Keep reading to learn more about standout programs and if they offer an academic track that can boost your career options.
MBA Cost vs. Benefit Analysis
While tuition rates can vary significantly between schools, earning an MBA is a significant investment of both time and money. Is it worth it? In the following section, we compare salaries from different degrees while considering both the investments of time and money accrued while earning an MBA.
MBA Degree Salary
Even though a degree doesn't entirely determine how much you earn, salary data helps to demystify the earning potential of certain business degrees. A recent Fortune Magazine article reveals that individuals with an MBA earn over $29,000 more annually than workers with just a bachelor's in business.
While an MBA doesn't automatically translate to higher pay, students who take advantage of all the academic, professional, and networking opportunities within an MBA program can see serious wage gains.
According to Payscale, graduates with a bachelor's in business administration earn an average base salary of about $67,000 per year. On the other hand, MBA graduates earn an average salary of around $90,000 annually. It's worth acknowledging that business experience goes a long way in determining earning potential, and most MBA programs require that applicants have at least a few years of professional experience.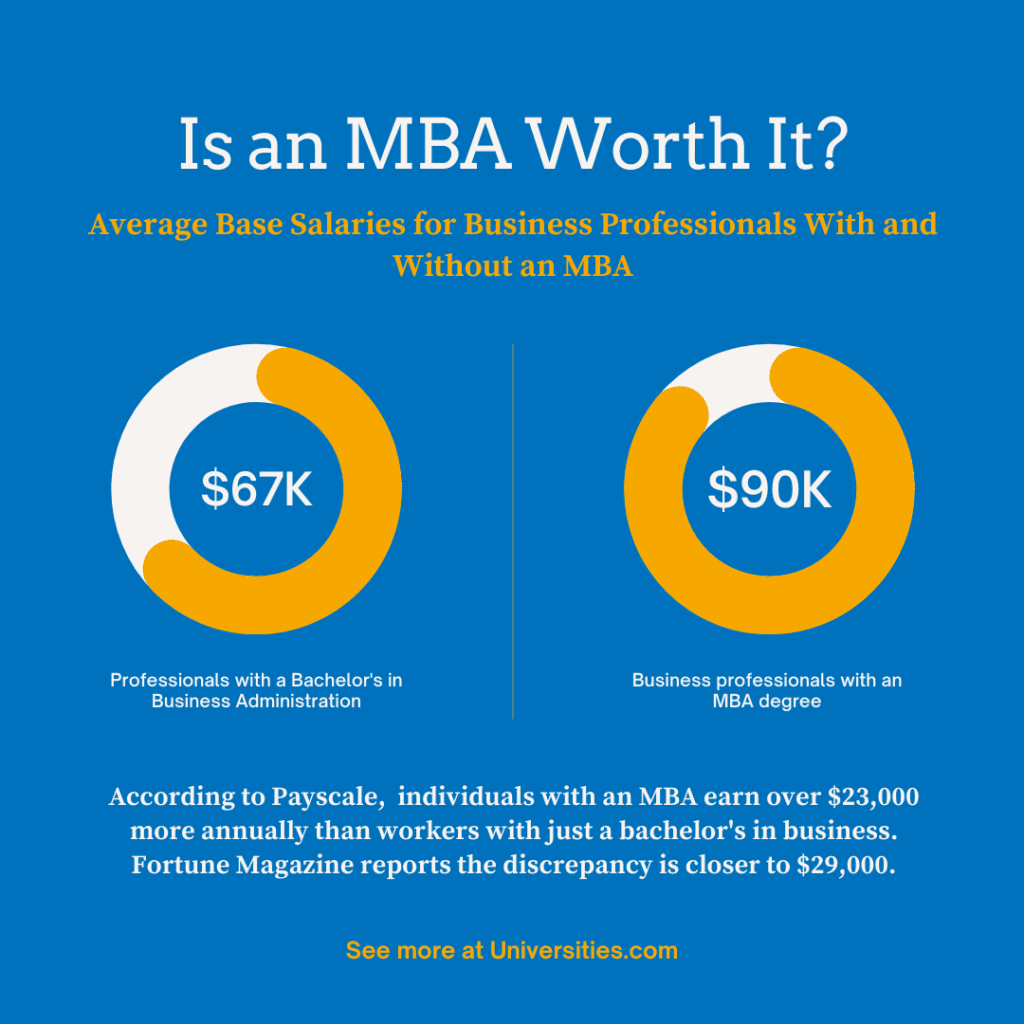 How Long Does It Take to Earn an MBA Degree?
Most MBA programs require students to complete between 30-40 credits before graduation. Full-time learners can often complete these b-school programs in about two years, but part-time degree seekers will take longer to earn their degrees. A part-time online option is often a practical academic choice for students juggling academic, personal, and professional obligations.
Academic concentrations typically don't extend your graduation timeline, but dual degree programs may take longer to complete. Graduation timelines can vary between schools, and some programs offer accelerated tracks.
While full-time students may cringe at a loss of income during their b-school experience, earning an MBA is not an either/or situation. Most online programs are structured with the working professional in mind—many students continue working while completing their flexible online MBA degree.
How Much Does It Cost to Earn an MBA Degree?
Tuition rates for your MBA can vary wildly. USC costs more than $60,000 per year, while Liberty University's online MBA costs just $565 per credit. Some programs charge per year, while others charge per semester or per credit. Before enrolling, be sure to discuss payment plans with financial aid professionals.
Even though an MBA can be a serious financial investment, that doesn't mean you can't mitigate costs. Harvard Business School offers various tuition assistance programs like need-based scholarships, fellowships, and loan repayment assistance programs. Additionally, online MBAs can lessen extraneous costs associated with on-campus learning like travel, food, gas, and campus-based fees. And don't forget to search for scholarships or complete your FAFSA to see if you qualify for other kinds of financial aid.
Pros and Cons of Pursuing an MBA
Pros
One of the most common reasons for earning an MBA is enhancing career options. MBA grads are more likely to secure top leadership and management roles within lucrative companies.
While academic training can shore up leadership and business skills, a significant benefit of b-school is the networking opportunities you'll encounter. In addition to meeting like-minded individuals in your cohort, business schools often have an extensive network of alumni looking for capable, talented MBA grads.
For students wanting to manage personal and professional obligations while completing an MBA, online degrees allow the flexibility working students need for academic success. While no less rigorous, online programs often utilize asynchronous coursework, allowing students the chance to complete requirements at their own pace.
Cons
Earning your MBA often means taking on a significant financial commitment. From $50,000 to $200,000 in base-level tuition rates, other expenses like books and student fees can make those numbers rise even higher. Additionally, a full-time in-person program often translates to a loss of earnings from a former full-time career. Just remember, an MBA usually means serious earnings in the future.
For some business professionals, earning an MBA is just not worth the time. While an MBA can lead to expanded career options, many professionals recognize that professional experience and more targeted skills and specializations can also boost pay.
While big-name programs from Harvard and USC carry serious weight in the business world, earning an online MBA from a lesser-known institution might not have the career-advancing results that learners may anticipate. Reach out to graduates from prospective programs to see if a degree was worth it for them.
Summary
There is no easy way to truly calculate if an MBA degree is worth it, and everyone is different. You have to weight your career and family obligations against your career and financial goals. Are you well equipped to miss out on work for a couple of years for delayed financial gratification? Does your dream job require an MBA, meaning you'll have to get it eventually? If so, it's probably better to earn it earlier than later so you can take advantage of the salary increase early on in your career.
However, if you're looking to calculate the cost vs. benefit of an MBA degree mathematically, first calculate how many years you have left to work times the average increase in salary ($29,000, according to Fortune Magazine). Then take those earnings minus the cost of the MBA and any lost income for the two years it will take to earn your degree. If the salary increase is more than the cost of earning the degree, then it might be worth it to pursue an MBA. You have to do what is best for you!
Top 5 Schools Offering MBA Degrees
If you do decide to pursue your MBA degree on-campus or online, check out our top 5 schools offering both MBA and online MBA programs.
St Louis's Webster University is home to both hybrid and 100% online MBA programs. Designed for working professionals, this flexible b-school program helps students enhance credentials, expand careers options, and increase pay. Alongside a standard MBA, students can tackle a dual master's in business administration and health administration.
Hybrid MBA
If you prefer some in-class interaction, Webster offers a "flipped classroom" option. Students spend two hours per week tackling coursework with their cohort while completing collaborative assignments and hands-on activities.
Online MBA
Requiring 36 credits, students take various online courses, including information support for decision-making, the financial value of capital projects, and quantitative methods for the MBA. Before graduation, learners complete a consulting project, working closely with individuals in the business world.
Based in Lynchburg, Virginia, Liberty University operates as a private Christian institution that provides an extensive roster of online and on-campus degree options. Designed to supply learners with the leadership and business skills needed to compete in professional environments, this program often leads to careers in financial management, executive leadership, and marketing research.
On-campus MBA
Liberty's expansive Center for Entrepreneurship continuously hosts networking events and business programs, introducing students to business leaders from many different cultural and professional backgrounds.
Supplemental to core MBA classes, students can choose from various academic specializations in accounting, criminal justice, finance, and healthcare management. This residential degree comprises 36-credits and takes about two years to complete.
Online MBA
Liberty's 45-credit online MBA helps working professionals build leadership skills while expanding business knowledge. Students tackle a wide-ranging curriculum through classes like operations management, international business, and managerial finance, focusing on essential topics like critical thinking, management skills, and leadership. Additionally, MBA students can select from over 20 academic specializations!
This elite Los Angeles-based institution plays home to the internationally recognized Marshall School of Business. Offering both online and in-person MBAs, USC provides students with rigorous academics and a network of more than 375,000 alumni. Students build core business knowledge while sharpening critical thinking and leadership skills.
On-campus MBA
Students begin their MBA experience through classes such as communication for management, structured analysis for unstructured problems, and foundations for your professional value. MBA learners also take advantage of the school's Career Insights seminars, gaining insight into the career pathways that align with personal and professional objectives. This full-time MBA is also STEM-certified, meaning that you'll approach business problems in a data-driven, analytical way.
Online MBA
Utilizing a curriculum designed by leading business experts, students can complete this part-time online program in about three years. Core online MBA classes include fundamentals of business, the role of the manager, and opportunity recognition and implementation. Taking an interdisciplinary approach, students complete academic requirements both synchronously and asynchronously.
Offered through Purdue University's Krannert School of Management, online and on-campus MBA programs help business professionals master the leadership and analytical skills required for social change and career advancement. Utilizing both STEM-based coursework and corporate partnerships, students often complete requirements in a collaborative environment.
On-campus MBA
On-campus and hybrid MBA options include Weekend MBA, Executive MBA, and dual degree engineering/MBA programs. Students complete these MBA programs in approximately two years and cover core coursework such as micro/macroeconomics, managing behaviors in organizations, and information technology for innovations and competitive advantage.
Online MBA
Purdue's 100% online MBA program offers various academic concentrations, including business analytics, global supply chain management, innovation and technology commercialization, and leadership negotiation and change management. Foundational coursework includes classes such as business analytics, microeconomics, and accounting for managers.
SLU is the largest Catholic business school in the United States. This Florida-based private institution offers both online and campus-based MBA programs. Underscoring professional research and real-world experiences through an international approach, SLU's Tapia College of Business utilizes high-tech facilities and a diverse roster of experienced business professionals.
On-campus MBA
MBA students can tackle several professional development opportunities at SLU, including conferences, internships, and professional memberships. Once enrolled, you'll utilize finance, management, ethics, and human resources to confront practical, real-world business challenges.
Online MBA
Boasting a curriculum identical to the on-campus degree, online MBA students engage with coursework that emphasizes professional research through an international lens. Core MBA requirements include management essentials, professional development, managerial economics, and human capital for organizational performance.
FAQ
How much does an MBA increase your salary?

According to Payscale, the base salary for MBA grads is over $20,000 more than for those with bachelor's degrees. That said, most MBA students also have years of professional experience, and experience often translates to higher pay.

Which MBA has the highest salary?

Not all MBA concentrations are created equal. MBA specializations in areas like business analytics and information technology tend to pay the most. Other high-paying MBA concentrations include entrepreneurship, economics, and finance.

Is the MBA losing its value?

The "MBA is not worth it" narrative is becoming increasingly common, but the value of an academic pursuit is a personal decision based on countless variables. While there may be a surplus of MBA grads, that doesn't necessarily discount the educational value of the degree.

Which MBA is most in demand?

For MBA students, the general management track is typically the most common. That said, concentrations such as financial leadership, entrepreneurship, and marketing are increasingly popular. Take note of your skills alongside career goals and select a program that meets your needs.

Is an MBA worth getting now or later?

The where's and when's of earning an MBA fall on the individual. Financial, professional, and personal concerns all influence your decision to enroll in b-school. When looking at prospective programs, make an informed choice after weighing all the pros and cons.
Get Universities.com's college news, advice, updates, financial aid, and more straight to your inbox.