Congratulations on starting your college career! You are about to embark on an exciting new life and enter a new phase of independence. With new changes comes new responsibilities. There are a few changes you'll need to consider as you step away from high school and onto a college campus or transition from online to campus learning.
Your first day of college will be much different than anything you experienced in high school. You'll probably find you spend more time reading, studying, writing papers, and cramming for tests than you do in the actual classroom. And some of your classes may have 10x the number of students you're used to.
There will be changes outside of your studies, too. You'll finally test out your independence by taking on more responsibilities at home with grocery shopping, cooking, cleaning, and doing your own laundry. And don't forget the new friends that you're bound to make!
Needless to say, significant changes lie ahead. The more you prepare for your first day of college, the quicker you will adjust, and the more successful you'll be. Set yourself up for success with these 10 tips for your journey ahead.
Top 10 Things That Make Your First Day of College Successful
Your first day of college can be so overwhelming that it may seem like a big blur in hindsight. Make sure you have the following things for college in advance to prevent that first-day overwhelm.
1. College Planner
The best way to be prepared for your first day of college is to invest in a good college planner. Get something fun, pretty, motivating, or whatever makes you want to use it. Use it to organize your schedule ahead of time and stay on top of your busy to-do list. You may individualize your college planner however you like, even down to the hour. Just don't forget to add the following:
Classes
Mealtimes
Exercise
Doctor appointments
Work hours
Social time
Study hours
Even naps!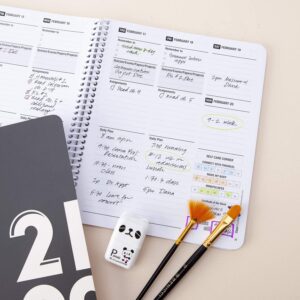 Buy this college planner for your class schedule.
3. Backpack
You'll need a backpack to carry and store your class books and supplies. Choose one per your style and preference. Just make sure it is both functional and durable enough to last you for a few years.
Here is a helpful tip: keep an extra $20-$40 stashed in your backpack at all times. You never know when you will need a few dollars for food, drinks, parking, or some other necessity. It will give you peace of mind to focus on the most important thing - your studies!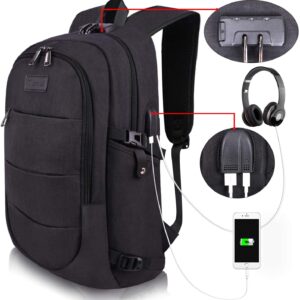 Buy this college laptop backpack.
4. Glasses
It may be a good idea to have your eyesight checked during the summer before you start college. Many students may not realize that their eyesight has declined, partially because high school class sizes are much smaller than college lecture halls. It can take several days or weeks to get an appointment with your optometrist, be fitted for glasses, and have them made. So don't wait and get an appointment early.
If you can't see what your professor has written on the board, then you will be starting your first day of college off on the wrong foot.
And if you are lucky enough to have 20/20 vision, some blue light glasses are never a bad idea with how much time you'll be spending on your computer.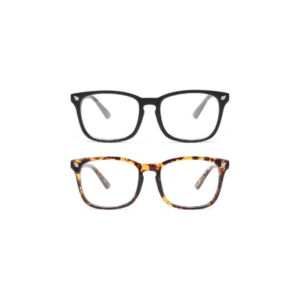 Buy a
pair of blue light glasses
so you always have one handy.
5. A map of the campus
Getting around a new campus can seem daunting, especially on your first day! Consider walking around the campus before school starts with your class locations, so you know the routes and how much time you'll need to get from class to class. The last thing you want to do is show up late on your first day of college because you were lost or thought you had enough time between classes for that latte from the student center.
6. Course Textbooks
Many professors will expect you to have your books with you in class for reference. But since you don't already know who will require it, bring your textbooks with you on the first day. It will also allow you to skim through the material and better understand what the course will cover.
Textbooks can also be expensive, so check your used bookstores near campus or search online catalogs to see if you can find a better deal on books than buying new at the campus bookstore.
7. Laptop
Even if you are not using your laptop to take notes during class, it may still be helpful to have access to your computer if you need it. You may want to look up information during class, or it may come in handy to knock out some homework or take a quick time out if you have a break in your day.
Here are also some of the best computer programs for college students that you may want to consider downloading: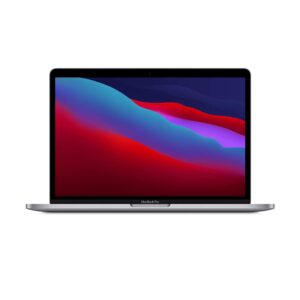 Buy this Apple Macbook Pro laptop.
8. Water and snacks
You will have a hard time paying attention to your professor if your stomach is growling. In addition, dehydration can make concentration more difficult and make you feel more tired than you actually are. Consider purchasing a reusable water bottle, such as a Hydroflask, and keeping protein bars or trail mix in your backpack at all times, so you have something close by when hunger strikes.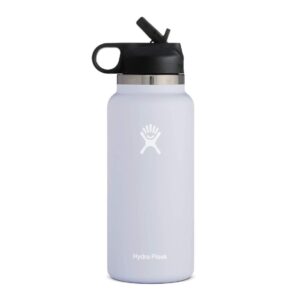 Get yourself a reusable water bottle like this Hydroflask.
9. A sweater or sweatshirt
You would be amazed at how cold a lecture hall can be, even in the middle of summer. The last thing you want is to be so cold that you have a hard time focusing because you want to leave and warm up. Make sure you have something with you in your backpack that you can throw on if the classroom gets unbearably chilly. And what better of an excuse to rep some school pride!
10. Positivity
One study shows that having a positive outlook increases your chances of performing better in your coursework! You are embarking on a whole world of new exciting experiences. Sure, it's scary. But it's also one of the most exciting adventures you will take in your entire life! A positive attitude on your first day of college will help you:
Make a good impression on teachers
Make new friends and expand your social circle
Network with students about campus events/study groups
Brighten your day and the day of those around you
What Else Should I Do On My First Day Of College?
Your first day of college is the time to make a great first impression on professors, students, and roommates.
Consider introducing yourself to professors sometime during the first week so they know who you are. Plan something fun with your classmates or roommates to help break the ice and get to know one another better. After all, they are probably just as nervous and excited as you to make new friends. Best of luck to you on your first day of college!
It is a good idea to bring your computer so you can take notes with it during class. However, it is not imperative as long as you have a notebook and a pen.
The best kind of college planner is the one that works best for you. It must help you optimize and organize your time efficiently. Many students use both a written planner and an online planner that they can sync between devices.
Make sure you get a good night of sleep to not oversleep through your first class. Being late on the first day will make a bad first impression on your professor.
Do not bring negativity and drama from your high school life. You also do not need to bring much more than clothing, sheets, and school supplies if you live in a campus dorm.