As of March 31, 2021, U.S. student loan debt collectively totaled $1.6 trillion, according to the U.S. Department of Education. More than 60% of the Class of 2019 graduated with student debt, and the average amount owed was $28,950.
Given average costs for the 2021-22 school year, this borrowing trend is likely to continue. Public college tuition and fees run about $10,388 per year for in-state students and $22,698 for non-residents. Private colleges sport a price tag of $38,185. For students unable to live at home, room and board substantially adds to the final bill.
Grants and scholarships help ease the financial burden for many students. The fact remains, however, that sometimes this free money is not enough. Taking out a student loan becomes an option for making up the difference.
How Do Student Loans Work?
Student loans allow individuals to borrow money to pay for their education. Some students take one out because they lack sufficient funds to pursue higher education. Others may see a loan as a way to afford a dream school that would otherwise be out of their budget.
Students who prefer not to work while in college may see a student loan as an alternative to holding a job.
Money received from student loans can cover a variety of expenses related to post-secondary studies. Each individual loan states terms, but authorized uses typically include:
Tuition and fees
Textbooks
School supplies
Personal computer
Rent (dorm or off-campus)
Meals (cafeteria plan or purchasing own food)
Childcare (for when you're attending classes or studying)
Transportation (bus pass, maintenance of your own car, etc.)
Students often view taking out a loan as an investment in their future. Earning a degree certainly can raise career opportunities and earning potential. Like any major financial decision, though, people need to think carefully before signing on the dotted line. Thoroughly understanding the terms of a student loan from the get-go enables sound decision-making and avoids unwanted surprises in the years to come.
Unlike scholarships and grants, student loans require repayment. They come with specific terms on what is owed and when. And while student loans generally offer a better interest rate than other types of borrowed money, the bottom line is still paying extra money over the sum taken out.
Types of Student Loans
Student loans fall into one of two categories, depending on who funds them. The vast majority of student loans are federal student loans, meaning the U.S. government issues them. Student loans that are made by lenders such as banks and credit unions are called private student loans.
Federal Student Loans
Experts generally recommend that those who need to borrow money to pay for college first turn to federal student loans. With terms and conditions set by law, they tend to offer better interest rates and repayment plans than private student loans.
Securing a federal student loan begins by filling out the Free Application for Federal Student Aid (FAFSA). This information assists the institution(s) you apply to determine a financial aid package, of which a federal student loan might be included in the offer. The school will provide information on how to accept all or part of the offered loan.
Note that federal student loans are legal obligations, and the government wants borrowers to know their responsibilities. Recipients must complete student loan entrance counseling (oftentimes online) before receiving loan money. They also must sign a Master Promissory Note agreeing to pay back the money according to the conditions stated in the document.
Realize, too, that the government sets federal student loan limits. Students can only borrow a certain amount both per year and as a total for their entire educational journey. People planning to pursue lengthy graduate or professional studies may particularly want to keep this in mind.
The U.S. Department of Education, through the William D. Ford Federal Direct Loan Program, is considered the lender for all federal student loans. Some people may still be paying back money issued under the Federal Perkins Loan Program, but the authority for schools to make new Perkins Loans ended on September 30, 2017.
Modern Direct Loans come in different types:
Undergraduates with demonstrated financial need may be offered this type of loan. A student's school determines the amount available for borrowing, but this number cannot exceed the amount of unmet need (as in if you still require $2,000 after scholarships and grants, the loan won't be for an amount higher than that).
Much of the attraction of Direct Subsidized Loans rests in its interest repayment terms. The U.S. Department of Education pays the interest on this type of loan while you're in school at least half-time, for a grace period of six months after you leave school (graduating or dropping out), and during any periods of deferment (temporary postponement allowed under certain conditions such as returning to school or time of economic hardship).
Both undergrads and graduate students can receive Direct Unsubsidized Loans, with the individual institution determining the amount a person can borrow based on the cost of attendance. Unlike the federally subsidized loan, there is no requirement to demonstrate financial need. However, borrowers should realize that they are responsible for paying the interest on the unsubsidized loan during all periods. There is no federal help with interest.
Students seeking
graduate or professional degrees
can look into this type of loan to cover unmet financial need. Likewise,
parents
of undergraduates may be offered
Direct PLUS Loans
to help pay for the education of their dependent children. Note that credit checks are conducted before issuing these loans, so deal with anything that would adversely affect the score prior to applying. Also, parents should keep the following in mind: Since the parent is the person signing the loan's Master Promissory Note, he or she is the one responsible for repayment — not the child.
Sometimes, people take out more than one loan to finance higher education. Grouping them together might prove advantageous and convenient. A
Direct Consolidation Loan
combines all of a student's federal education loans into one loan with a fixed interest rate and a single monthly payment. While the process does not have a fee, it does require filling out an application and a promissory note.
Private Student Loans
A private student loan is one in which the lender is a party other than the federal government. Banks, credit unions, state agencies, and schools are common sources of private student loans.
The conditions of private student loans are not set by law. Thus, they become a good option for students reaching federal student loan limits. However, these loans also can be more expensive because the lender sets the rate. Repayment terms also may not be as favorable.
Students interested in going this route should research offerings from various lenders.
Lenders for private student loans generally look into the applicant's credit history. Undergraduates may find they need a parent or other appropriate co-signer to be eligible to apply.
Federal vs. Private Student Loans: Which Is Best for Borrowers?
Deciding the type of loan and amount to take out is a very personal decision. Students must evaluate factors such as current financial situation, projected future earnings, eligibility for different loans, and willingness of parents to take on a loan or co-sign.
Borrowers also must contemplate how much debt they're willing to take on and whether or not a given institution or educational path is worth that burden. There's no exact answer.
To help in decision-making, the following chart breaks down some of the basics about student loans: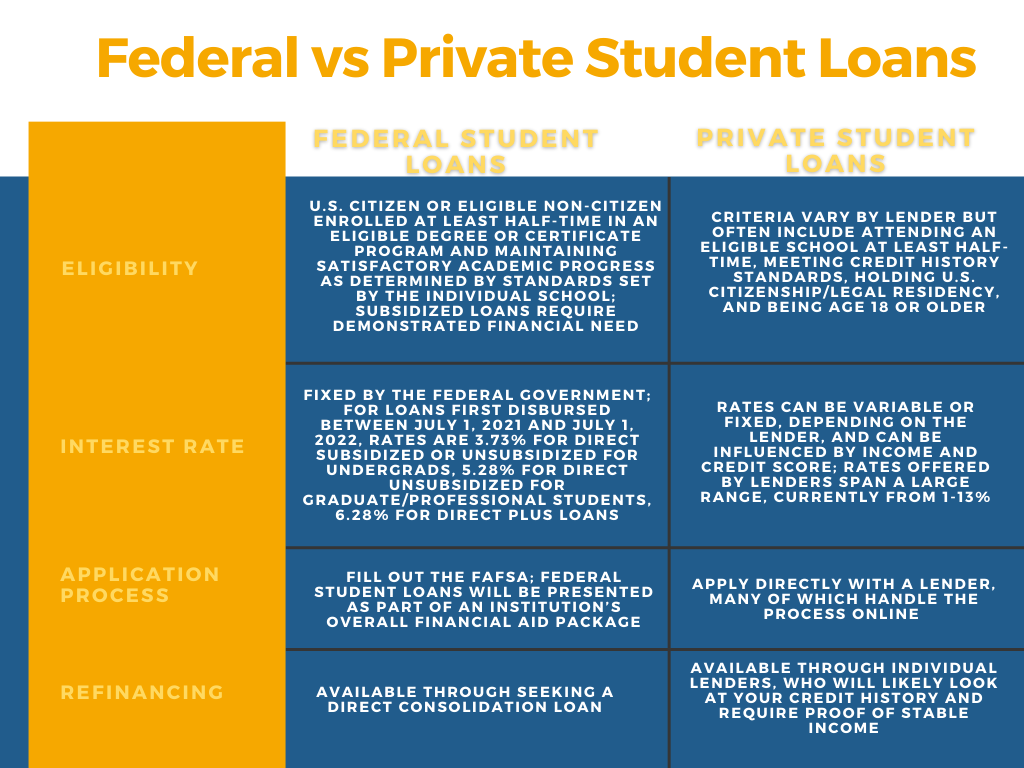 How Do I Qualify for Student Loan Forgiveness?
Some cases exist where federal loans are forgiven. Two common scenarios are based on employment:
Public Service Loan Forgiveness (PSLF) — forgiveness of the remaining balance of Direct Loans after making 120 qualifying monthly payments while working full-time for a U.S. federal, state, local, or tribal government or not-for-profit organization.
Teacher Loan Forgiveness — forgiveness of up to $17,500 for teaching full-time for five complete and consecutive academic years in a low-income school or educational service agency.
Other reasons federal loans may be dismissed include permanent disability, death, or closing of the degree-granting institution.
Student Loan FAQs
Can you get free student loans?


Scholarships and grants are free money, meaning the receiver does not need to pay them back. Whether issued by the federal government or by a private lender, student loans are not free money. The borrower is expected to pay back the sum with interest according to the terms set when signing the loan agreement.

What are the cons of student loans?


The main drawback of using a student loan to pay for higher education is that it must be repaid. Some students and/or their parents are hesitant to take on this financial obligation.

What GPA is required for student loans?


To continue receiving federal financial aid, students must make satisfactory academic progress. Colleges set their own benchmarks, but most places require at least a 2.0 cumulative grade point average.

What is the difference between unsubsidized and subsidized loans?


The difference rests primarily in interest repayment terms. The U.S. Department of Education pays the interest on subsidized loans while the holder is in school at least half-time. It also covers the interest for a grace period of six months after you leave school (graduating or dropping out) and during any periods of deferment (temporary postponement allowed under certain conditions such as returning to school or time of economic hardship). Borrowers are responsible for paying the interest on unsubsidized loans during all periods.Eligibility for a subsidized federal student loan hinges on financial need, and only undergraduates can apply.