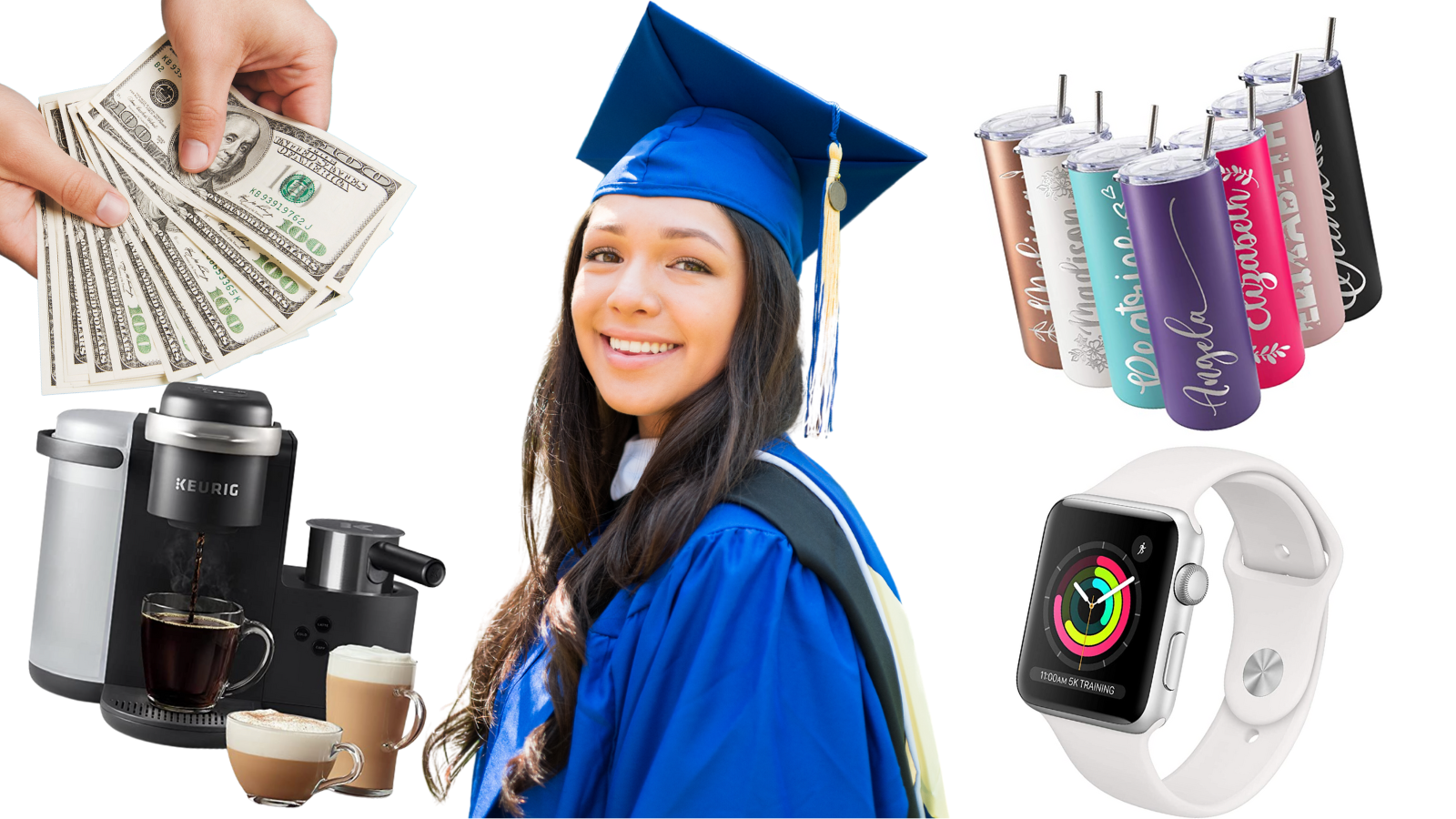 Trying to find the perfect gift ideas for a 2022 college graduate or recent grad?
Here's how a college student who is getting ready to graduate might be feeling right now – a little bit of "fear of the unknown" coupled with "what the heck am I doing with my life!?" and sprinkled with a ton of excitement! College graduates are experiencing a wave of feelings right now as they prepare to close one door and burst through another.
As they prepare to enter the real world a lot of things will be new. Maybe they'll have a new apartment that needs furnishing and essentials. Or, a new job that needs personalized business cards or a custom tumbler.
To help set them on the right path toward the mysterious world of adulthood, we've compiled this list of college graduation gifts ideas that will make a great gift for any budget, 
Cash: The price of living expenses, food, and essentials when compared to an entry-level salary might leave new grads in a bit of a shock. So believe us when we say that NO college graduate will turn down any amount of money.
Meal Kit Subscription: A part of adulthood that we tend to miss is the sheer amount of time that goes into deciding on the million-dollar question, "what's for dinner?" Help a new college graduate out with this question by getting them a subscription to a meal kit company like Home Chef or Hello Fresh.
Instant Pot Air Fryer: The original instant pot already made amazing food in a fraction of the time…now, they've added an air-fryer to it. This is a must-have essential in any young adult's life. It has a 4.5-star rating on amazon and over 20,000 positive reviews!
Keurig Latte Maker: There's really nothing better than a fresh cup of coffee in the morning before work. Help a new college graduate save that money they might be wasting at Starbucks by making their own fancy latte at home – by getting them a good coffee maker.
Roomba Robot Vacuum: With a first apartment comes the realization that you have to keep it clean. This little robot is great for keeping a new pad tidy. Oh, and it has over 40,000 positive reviews on Amazon.
Cleaning supplies: Sometimes the best gift is the most useful gift that will actually get a lot of use. Besides, they can get expensive!
Smart speaker: Amazon Echo with Alexa is a great option and is all the rage and comes with awesome features – from playing music to voice assistants, everyone loves a good speaker.
Cookware: A good dinner set will replace those paper plates and single-use cutlery of the good old college days.
Knife set: This is something that every adult needs, will last for years, and will get a lot of use.
Portable charger: Because there always comes a time when your electronic devices need to be charged – when you're on the go! This one is top-rated on Amazon $18.99 https://amzn.to/2PDIqG1
Tool kit: A complete tool kit is so much better than just having a random hammer and a screwdriver and will get put to good use.
New computer: From applying to jobs to working remotely, every college grad needs a good computer.
Smartwatch: For the tech-lover in your life an Apple Watch or Android smartwatch are a must-have!
Airpods or wireless earbuds: Gone are the days of long cumbersome wires attached to headphones. Bluetooth changed all of that with wireless headphones. Airpods are compact and convenient for a long commute or working on the computer.
Passion Planner: From planning future goals to staying on track with short-term goals, this planner does it all and has thousands of 5-star reviews on Amazon.
Laptop Backpack: Backpacks made specifically for electronic devices are amazing and include all sorts of features from special compartments for laptops and cell phones to built-in charging ports. We like this one – it has over 17,000 positive reviews on Amazon and a 4.5-star rating!
Tote: Not really into backpacks? No problem! A good tote is essential to carry all the things for work and makes a stylish work bag. We love this high-quality one from Amazon or a nice tote from Nordstrom would be swoon-worthy!
Adulting Book: This light-hearted, easy-to-digest is great for the college graduate (who may still feel like a student) and is probably starting to feel overwhelmed with adulthood. It lays a great foundation for all things that come along with "being an adult."
Amazon gift card: If you're trying to buy a gift for the person who already has everything or is super picky – you can never go wrong with a gift card.
Amazon prime membership – free, next-day shipping? Yes, please! Who wouldn't love that?! Even better a prime membership gains access to exclusive Amazon streaming services, try-before-you-buy, and tons of other perks.
Peloton: Finding time to exercise can be a challenge when you're a busy working adult. A new grad can skip the gym and hop on their peloton instead. Even better, a peloton bike is compact and easy to fit in all sorts of spaces.
Graduation Gift Box: It all comes packaged nicely is a box with the quote that reads, "So The Adventure Begins" – makes an awesome gift!
iPhone: The newest iPhone would make a great gift!
Personalized Tumbler: You can find really nice, personalized options on Amazon or Etsy.
Vacation: After putting in all those years of work, a new college graduate deserves some rest and time to recharge before jumping into their new adventures. Or, maybe they want to check out New York or another major city (to scope our new careers or post-grad school.) The gift of a nice vacation as a graduation gift will put a huge smile on any new college graduate's face.