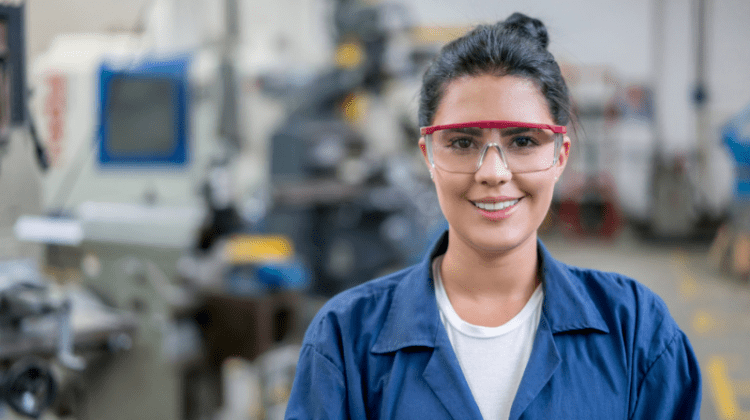 Engineering is a broad field of study with a handful of major types — such as chemical, civil, electrical, industrial, and mechanical engineering — and dozens of subfields falling under each. One thing they have in common is they're all expensive to learn about in college. Many engineering bachelor's degree programs require over four years to complete, which is why engineering students are likely to need financial aid and scholarships. With that in mind, here are 30 engineering scholarships you should consider applying for!
Scholarship Tips For College Students
Before diving into our list, let's review a few common tips to boost your odds of winning!
Screen for eligibility
On their websites, organizations offering engineering scholarships write tons of information about their awards before getting to the eligibility requirements. To save time, skip ahead and see if you're even eligible before reviewing the rest of the content.
Note the deadline
Part of being eligible means being able to apply before the cutoff. Pay close attention to when applications are due. If you missed it this year, make a note in case you want to apply next cycle.
Write a killer essay
If the sponsoring organization wants applicants to submit an essay, put some effort into it! Carefully read requirements regarding word count and what the essay should focus on. Spend enough time to craft a compelling piece that'll win them over.
Review your application
Submitting an application riddled with errors or typos is a sure-fire way to get ignored. After you draft up your materials, take a break, then come back and edit them until they're perfect.
30 Scholarships for Engineers
AFCEA is a nonprofit association serving the military and other groups to advance academic knowledge. Its ROTC scholarships provide up to $3,000 to full-time sophomore or junior ROTC students. Applicants must maintain an overall 3.0 GPA and be enrolled in one of the listed majors:
Aviation Engineering
Computer Engineering
Electrical Engineering
and many more
The submissions window opens in January.
AMAC supports disadvantaged businesses in airport contracting and offers scholarships to students interested in aviation/airport industry careers, including those studying related engineering disciplines. Applicants should be AMAC members and submit a biography and recommendations by March 29, 2022. Award amounts vary.
Offered by the Association for Iron and Steel, this internship is valued at $6,000 with a "premier" option worth $12,000. The application window is open until October 31, 2021. Interested students should be enrolled full-time in an engineering major, have at least a 2.5 cumulative GPA, and be interested in the industry.
ASNE provides $4,000 merit-based scholarships to graduate students as well as junior and senior undergraduates studying engineering, including naval architecture marine engineering, ocean engineering, and several other types. One-semester awards are offered for $2,000. Applications are due in the fall when the window is open.
Dedicated to advancing heating, ventilation, air conditioning, and refrigeration technology, ASHRAE provides $3,000 scholarships to full-time undergraduate engineering or pre-engineering students pursuing a bachelor's that helps prepare them for a career in HVAC&R. There are differing criteria for each chapter scholarship, but all applicants should have a 3.0 or higher GPA. December 1st is the application deadline.
The American Welding Society Foundation offers four National Educator Scholarships, ranging from $2,500 to $4,500. Criteria vary depending on the specific scholarship being applied to, but applicants must be educators pursuing continuing education related to their employment. The application window opens in February 2022.
Sponsored by UNCF, the BASF/Alfred Chisholm Memorial Scholarship Fund provides $2,500+ scholarship awards to sophomore, junior, and senior students enrolled at a Historically Black Colleges and Universitie (HBCU). A brief essay and two letters of recommendation are required. Submissions are due by March 31, 2022.
Offered to children of Bechtel employees, the $3,000 Global Scholars scholarship is given to high school seniors planning to take full-time college courses. 70% of awards will go to those majoring in STEM fields. Financial need is not a requirement; selection is based on academic performance, leadership, school involvement, volunteerism, and other criteria.
Designed for low-income Texans, the British American Foundation of Texas' scholarships come in various amounts and are granted to full-time STEM students. Applicants must have a 3.25 GPA or greater. Funds are paid directly to colleges. Note, the Foundation lists other scholarship opportunities as well.
Each year the SME Education Foundation gives out millions to graduating high school seniors and college students pursuing degrees in manufacturing or engineering. The E. Wayne Kay Undergraduate Scholarship is only one of their many opportunities. Submissions are open from November 1 to February 1, and applicants require a minimum 3.0 GPA.
The Engineers Foundation of Ohio, in partnership with several local schools, offers $1,000+ scholarships to engineering students in ABET-accredited programs. Applicants must meet the following criteria:
Be an Ohio resident
Have a 3.0 GPA or better
Be a full-time student
Have qualifying SAT scores
Submissions are due by January 15, 2022.
The Florida Engineering Society offers many merit-based scholarship opportunities to students studying engineering. 2020's winners received between $1,000 – $3,000. Applicants should meet these criteria:
A senior in high school
3.5 GPA or better
Pass the ACT or SAT
Enrolled in an ABET-accredited engineering program
Created by the Young Radiator Company, this scholarship offers $1,000 to incoming freshmen pursuing an engineering or science degree at an ABET-accredited school. Applications are due by March 15, and submissions should include two letters of reference plus proof of a 3.75 GPA or better.
UNICO, the largest Italian American service organization in the country, provides $1,250 scholarships to students in a wide range of engineering fields. The main requirements are to be a US citizen of Italian descent attending full-time classes and holding a minimum 3.0 GPA. Applications are due by late November.
The Home Builders Foundation was created to help train Oregon's future workforce in the construction industry. Award amounts vary. The Oregon Office of Student Access and Completion allows students to apply to "$10 million in scholarships" via one application. Their early bird deadline is February 15, with a final deadline of March 1.
For students of Cuban descent, the Mas Family Scholarship helps further the education of future leaders who can advance social causes in a free enterprise society. Several majors are eligible, including engineering. Applicants should have a 3.5 or higher GPA and submit their FAFSA SAR, SAT/ACT scores, recommendation letters, and an essay by January 2022. Award amounts vary.
Offered to South Carolina students, the Legislative Incentive for Future Excellence (LIFE) Scholarship helps cover tuition and other costs associated with the first two years of college. Applicants should be in their first program and majoring in mathematics and sciences. Awards will not exceed $4,700, plus a $300 book allowance.
Lockheed Martin's STEM Scholarship offers $10,000 awards to engineering and computer science students each year. Qualified recipients can renew their scholarships three times, making this a massive opportunity, worth up to $30,000! Students must demonstrate financial need, have a 2.5 GPA or better, be enrolled or planning to enroll in an eligible program, and express interest in a paid internship with Lockheed Martin.
Sigma Chi's Mark P. Hersched Engineering Award provides $1,000 to qualified members who are graduate engineering students. Application requirements include two letters of recommendation, one of which must be from a college dean or professor. Submissions are due March 30, 2022. Note, this is only one of many Sigma Chi numerous scholarship options!
Navisite's Next Steminist scholarship aims to motivate women students to pursue STEM careers. Three $10,000 awards are given to eligible US citizens or resident female students age 25 and under who hold a 3.0 GPA or better. Applicants submit a one-minute YouTube video explaining their career goals. Submissions are open in April 2022.
RCI-IIBEC's scholarships are provided to help students enrolled in programs related to architecture, construction, and building sciences. Applicants must have finished 24 credit hours, be enrolled full-time, and hold at least a 2.75 GPA. Award amounts are $2,500 and $5,000 based on financial need, recommendation letters, and applicant essays.
Given by the Georgia Student Finance Commission, this scholarship gives Mercer University students a cancelable loan if they agree to work in Georgia in engineering jobs after graduation. Amounts are $3,500 per academic year. Applications are due by the last day of the student's academic term or withdrawal date.
Shop Texas Electricity awards two $2,000 scholarships to deserving Texas students enrolled in a STEM major. Applicants must have a 3.0 or better GPA and submit a 400-500 word essay related to a personal experience and its impact on the applicant's development. The window to apply opens in January.
The SWE Scholarship Program gives out over $1M to students who identify as a female/woman and plan to major and work in an engineering field. Awards are generally announced by May/July, with payments issued by September. Applicants must attend schools with ABET-accredited engineering programs.
The American Legion Auxiliary sponsors three distinct scholarships for its program participants, including Junior members, Honorary National Junior Division Vice Presidents, and American Legion Auxiliary Girls Nation program participants. Award amounts range from $2,000 up to $5,000. Criteria and application due dates vary, so please check the ALA website for full details!
The USRA Distinguished Undergraduate Award pays scholarships to students in science and engineering majors, particularly space research, space science education, or aeronautics. Awards are up to $5,000 per year. Applicants must be full-time undergraduate students within two years of degree completion and have a cumulative GPA of 3.50 or higher. Applications are due by mid-August each year.
AFCEA sponsors the Vice Admiral Jon Boyes, USN (Ret.) Memorial Scholarship for $3,000. Eligible students must be Navy ROTC midshipmen enrolled full-time in an electrical engineering program. They must have good moral character, demonstrate academic excellence, have a financial need, and have "the potential to serve as an officer in the U.S. Armed Forces."
Another opportunity from the Society of Manufacturing Engineers Education Foundation, this scholarship is for graduating high school seniors and full-time university students studying or preparing to study manufacturing engineering in New Mexico, Arizona, or Southern California. Applicants must be SME student members if they're already in college. Amounts vary, and applications are due by February 1, 2022.
Sponsored by the Wisconsin Society of Professional Engineers, this award is aimed at high school seniors pursuing a bachelor's at an ABET/EAC-accredited engineering program. Amounts are for $2,000 – $3,000. Applicants must possess an ACT Composite Score of 26 or higher. The submission deadline is December 21, 2021.
The Wisconsin Space Grant sponsors many graduate and undergraduate scholarships, including $2,000 scholarships to full-time undergrads studying aerospace, space science, or related topics. Applicants must be Wisconsin residents during the school year, and ideally hold a 3.0 GPA or better. There are several other opportunities, so check out their website for full details!
Believe it or not, this list is only the tip of the iceberg. There are literally thousands of scholarships available to engineering students, and the best way to find them is through our incredibly easy-to-use scholarship search tool. Quickly find and sort through scholarships around the nation by adding filters based on keywords, deadlines, area of study, and more. There's no easier way to find millions of dollars in scholarship opportunities, all through one portal!
Data Source: Peterson's Databases copyright 2021 Peterson's LLC All rights reserved