7 Highest Ranking Careers for Honesty and Ethics Based on Gallup's Honesty and Ethics Poll
Mention any specific career, and we can all draw up certain images in our minds. These perceptions can arise from any number of possible sources – personal experiences, the nature of the job, media portrayals, and common stereotypes, to name a few.
While far from the only consideration when pursuing a career, people generally prefer others to view their profession in a positive light. Thus, it can be helpful to know which jobs fellow citizens tend to hold in high regard for integrity.
To find out where various careers place on this issue in the public's eye, Gallup conducts an annual Honesty and Ethics Poll. It asks respondents to rate the honesty and ethical standards of workers in different fields. Results point to what people think, not actual evidence of conduct.
What is the Gallup Poll?
Gallup is an organization known for its public opinion polls. By surveying a representative sample of people, the polls produce results that reflect the thoughts of the larger population.
Gallup conducted its first Honesty and Ethics Poll in 1976 and has updated it annually since 1990.The most recent poll took place in December 2021. It asked Americans to rate the honesty and ethics of 22 different occupational groups as either "very high," "high," "average," "low," or "very low."
7 Careers Respected for Honesty and Ethics
Gallup's Honesty and Ethics Poll presented respondents with a variety of professions on which to give their opinion. When researchers compiled the results, however, only seven careers tallied a "very high" or "high" ranking from at least half the people surveyed.
Here, we take a look at the best-ranking careers for honesty and ethics and the educational paths needed to enter them: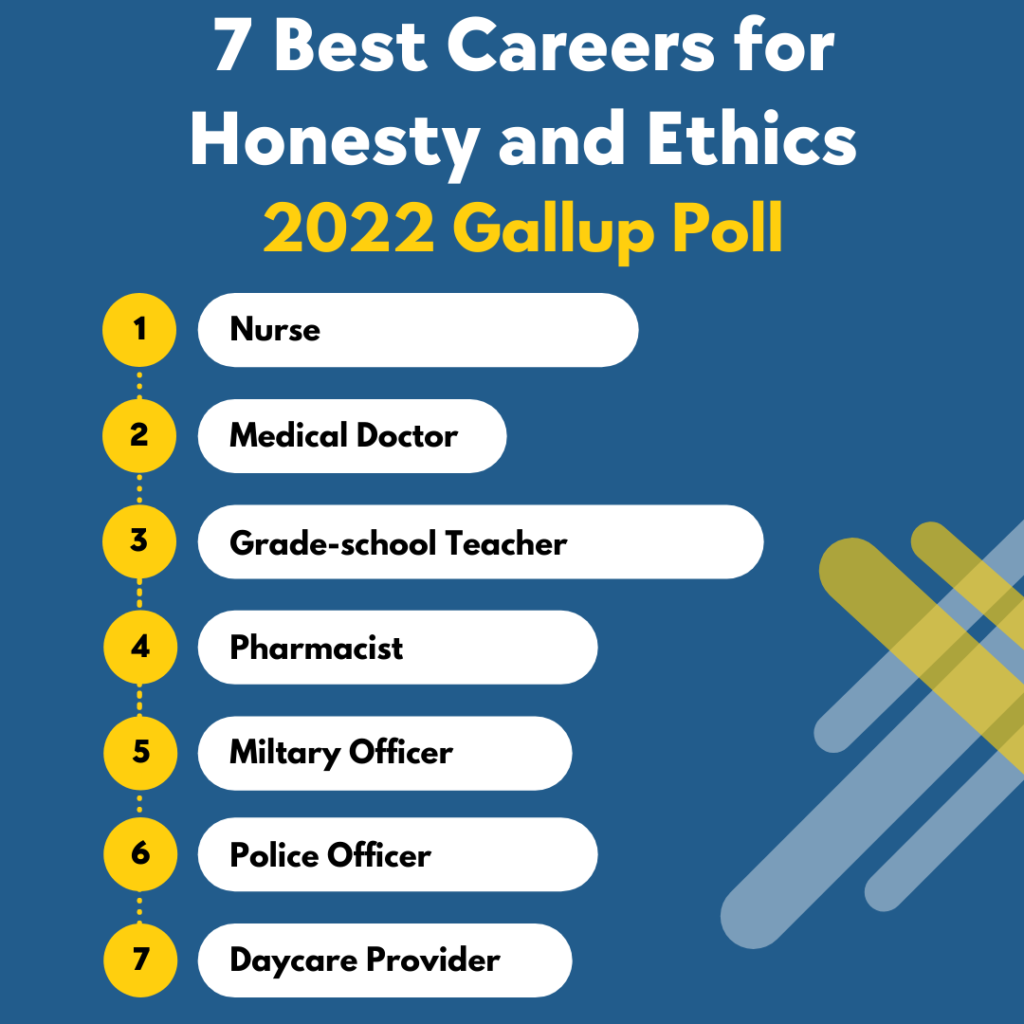 7. Daycare Provider
Varies by state and employer.
Good daycare providers have built a solid reputation as honest and ethical people. After all, who would want to leave their small children with somebody they couldn't trust?
Individual states and institutions set minimum educational requirements for daycare employees. Most daycare workers hold at least a high school diploma. Many caregivers, however, possess a post-secondary background in early childhood education.
Employers often value a vocational certificate, associate degree, or bachelor's degree. Having one can lead to better job prospects, expanded responsibilities, and greater pay.
Many in this profession obtain a Child Development Associate (CDA). This nationally recognized credential involves coursework, hands-on experience with children, and a period of being observed by a reviewer. The CDA must be renewed every three years.
Prospective daycare providers should expect to undergo a background check and a physical. They also may need to take a CPR (cardiopulmonary resuscitation) class. The
median pay for childcare workers
in 2020 was $25,460, per the BLS.
6. Police Officer
High school diploma or higher.
Public scrutiny of this profession has increased dramatically in recent years. Still, more than half of the population holds a positive view of police officers in terms of honesty and ethical behavior.
Individuals wishing to pursue this career should receive instruction at a police academy. The program lasts about six months and covers subjects such as state and local laws, the Constitution, civil rights, and police ethics. On-the-job training follows graduation.
States set minimum requirements to get into a police academy. The educational component for admission is often 30 college credits. Many candidates possess either an Associate or Bachelor's Degree in Criminal Justice. Other requirements include U.S. citizenship, being age 21 or older, physical fitness, and no felony convictions.
The BLS reports the
median annual wage of police officers
in 2020 as $67,290. Those working for the federal government posted higher salaries than counterparts at the state or local level.
5. Military Officer
Entrusted with a great deal of responsibility and power, military leaders should display honorable conduct that reflects well on the nation they represent. On the basis of the Gallup Poll, six out of ten citizens view officers as doing an above-average job of upholding these standards.
The military requires a high school diploma to enlist. Those aspiring to officer positions, however, usually need a bachelor's degree. Some obtain their degree at one of the federal service academies. Others enroll in regular colleges and join the campus's ROTC (Reserve Officers' Training Corps) program. In addition to educational requirements, officers need to be U.S. citizens, pass a background check, and meet physical and age requirements.
The military provides multiple opportunities to have your education covered, from the ROTC program, GI bill for military and veteran students, and military tuition assistance.
Each military branch operates its own Officer Candidate School (OSC) to further instruct up-and-coming leaders. These programs last 10-17 weeks and cover areas such as leadership, management, physical training, military culture, and military law.
Military pay depends on numerous factors, including rank, time in service, location of duty, and job specialty. Newly commissioned officers earn a base pay of around $38,250. They also receive housing and food allowances plus benefits such as health insurance.
4. Pharmacist
Doctor of Pharmacy (Pharm.D.) and a state license
Charged with important tasks such as accurately filling prescriptions, conveying information on how to take medicine properly, and performing vaccinations, it is reassuring that nearly two out of three people think well of the honesty and ethical standards of pharmacists.
Earning the degree necessary to practice pharmacy typically takes six to eight years of post-secondary study. Many students complete a four-year bachelor's degree program in a related subject such as chemistry, biology, or physics.
Then, they enroll in an accredited four-year Pharm.D. program. Other students pursue four years of pharmacy school after only two or three years of undergraduate studies. Pharmacology, toxicology, public health, and medical ethics are among the subjects commonly covered in pharmacy school.
After graduation, prospective pharmacists must pass two exams to receive their state license. They also need to meet state standards for the completion of internship hours.
3. Grade-school Teacher
Bachelor's or higher, plus state-issued certification if employed in a public school
Responsible for many of our earliest lessons on honesty and upholding principles, it seems fitting that elementary instructors hold a high ranking in this poll. And over the past year or so, remote learning has provided plenty of opportunities to witness the integrity of teachers once again.
The most common route to grade-school teaching is earning a Bachelor's Degree in Elementary Education, which takes four years of full-time study. Student teaching is an important component of such programs. It provides practical experience valued by employers and necessary for state certification.
Many employers favor candidates with a Master's Degree in Education or who are open to pursuing one. Individuals holding a bachelor's degree in a discipline outside of education who decide they want to teach often go back to school to earn a Master of Arts in Teaching (MAT).
2. Medical Doctor
Medical Doctor (M.D.) or Doctor of Osteopathic Medicine (D.O.) plus state licensure.
When it comes to our health, we want to know that the person we trust with our well-being acts in a responsible, ethical manner. Fortunately, two out of three people think physicians live up to these standards.
The long educational journey of doctors starts with four years of study to earn a bachelor's degree. While they can select any major, many choose disciplines such as biology, chemistry, psychology, or follow a pre-med path.
Undergraduate studies prepare them to take the Medical College Admission Test (MCAT) and begin the competitive process of getting into medical school. Those accepted spend four years acquiring a solid foundation in medicine (and medical ethics) through classroom studies, labs, and clinical experiences.
After graduation, they hone their skills in a specific area through internship and residency programs. This stage of training lasts three to nine years, depending on the specialty. Some go on to fellowships of one to three years to perfect a subspecialization.
With all the time and effort that goes into becoming a doctor, it makes sense that the profession ranks among the highest paid. The BLS reports a
median wage for physicians
equal to or greater than $208,000 per year, depending on the specialty.
1. Nurse
Gallup Poll Rankings for Other Careers
Interested in how other professions fared? The following shows the percentage of respondents in the Gallup Poll who deemed a given job as "very high" or "high" when it came to honesty and ethics:
Judges, 38%
Clergy, 36%
Auto mechanics, 35%
Bankers, 27%
Nursing home operators, 27%
Local officeholders, 22%
Lawyers, 19%
Newspaper reporters, 17%
Business executives, 15%
TV reporters, 14%
State officeholders, 12%
Advertising practitioners, 11%
Members of Congress, 9%
Car salespeople, 8%
Lobbyists, 5%