Finishing a bachelor's degree is a major accomplishment in anyone's life. But getting accepted into a graduate school to complete a master's or doctoral degree program is a significant feat in its own right!
Grad schools are also notoriously tough to get into. Applications often require extra materials, such as Graduate Record Examinations (GRE) or Graduate Management Admission Test (GMAT) exam scores. Not all graduate programs require the results of one of these exams, but many do. In some cases, submitting scores isn't mandatory but is optional and may help bolster the applicants' package.
If you're unfamiliar with GRE and GMAT exams, have no fear because this is the ultimate guide on everything you need to know about both!
What Is The GRE?
Let's start with the GRE test since that's the more commonly-taken exam of the two.
Brief History of the GRE
You don't need to know the entire history of the GRE, but in a nutshell, the exam was created in 1936 by four Ivy League university deans in conjunction with the Carnegie Foundation for the Advancement of Teaching.
Initially offered to Ivy grad school applicants, the GRE was introduced to a public school two years later, eventually spreading across the nation as a means to measure applicant suitability.
By 1948, the newly-founded nonprofit Educational Testing Service (ETS) took over management of the GRE and has revised it substantially over the years. Today the GRE General Test is used by countless colleges and universities around the country to help screen graduate school applicants.
There are also GRE Subject Tests offered in the following subjects:
Chemistry
Mathematics
Physics
Psychology
Previously, there were subject tests for Biology and Literature, but those were discontinued in 2021.
Okay, history lesson over!
What is the GRE General Test Used For?
There are many sites offering details on what the GRE test is and isn't, but let's hear it straight from the source — ETS!
Essentially, grad school is hard, and schools want to ensure they only accept students who are most likely to succeed and graduate. The GRE General Test is merely a tool to help assess an applicant's ability to do those things.
Now it's important to note that not every school requires GRE test scores.
What's on the GRE?
The GRE General Test is designed to test the following four skill areas:
Verbal reasoning
Quantitative reasoning
Critical thinking
Analytical writing skills
Test takers have a total of three hours and 45 minutes to finish the six-part test, and are allowed one 10-minute break in the middle.
Although there are six parts to the test, the main content is broken into three sections:
Analytical Writing
Verbal Reasoning
Quantitative Reasoning
The test will actually alter the difficulty of the test questions in a second subsection based on how well the test taker performed in the first subsection.
In other words, the better you do, the harder the test becomes.
There is also a "mystery" component to the GRE — an "unidentified unscored section" that "may be included" and "may appear" after the Analytical part. It's a mystery, so there isn't much more we can say on that.
And finally, there's an "identified research section that does not count toward your score" placed at the end of the test, which is only for ETS research purposes.
In summary, these three main content sections measure the test takers' abilities as follows:
Who Needs to Take the GRE?
In general, any student likely to pursue a graduate degree should consider taking the GRE…unless you're 100% sure that you plan to attend a business school.
If you only see business school in your future, the GMAT may be a better option for you – but we'll discuss that in a bit. It's important to note that even grad school business programs can accept the GRE; they can simply convert the scores.
Do All Graduate Schools Accept the GRE?
In the US, the GRE General Test is the testing standard, and therefore it is "accepted at thousands of graduate, business and law schools."
But let's keep a few things in mind:
Some colleges or universities have a separate application process for getting into grad school vs. getting into a specific graduate program. When this happens, the school itself may have a different requirement than the program, in terms of minimum GRE scores needed, so make sure to do your research
Not all grad schools or programs even ask for a GRE (or a GMAT) score
Why don't all grad schools ask for a GRE?
There's no single reason why some graduate schools want GRE scores while others don't, but the pandemic made forgoing the test more widely acceptable.
Again, the primary purpose of the exam is to help the admissions staff screen for applicants who are most likely to succeed in a challenging program. No school wants to accept someone who won't be able to finish what they started, because that is a waste of resources and can also impact programs where student cohorts must progress together.
Now let's look at a few reasons why a grad school would NOT need to see your GRE score:
Some schools are overwhelmed with submissions and use the GRE as a tool to screen applicants out. However, other institutions who are less competitive may recieve fewer submissions and can be more accommodating to take in more students.
Programs with higher graduation rates may worry less about screening for indicators of future success. For instance, some liberal arts degrees may have lower "washout" rates than highly technical programs and therefore don't worry as much about their students leaving the program before graduation.
Online programs often have less at stake when screening applicants since the class size limit is much higher, and thus can more frequently waive GRE requirements. That doesn't necessarily mean their programs are any less rigorous, though. Just their admissions.
Where Can I Take the GRE General Test?
Scheduling your GRE General Test is fast and easy, with multiple authorized test sites and other in-network centers around the country — plus a new Test at Home option is now available thanks to COVID. This option does have a lot of additional environment and equipment requirements, so make sure you fully understand the process
How Often Can I Take The GRE General Test?
Sometimes, test takers want to sign up for another try to improve their score. The GRE General Test can be taken once every 21 days, for a maximum of five times during a 365-day period.
As noted by ETS, it is important to schedule your test well before your application deadline. Scores are not sent out to schools until "approximately 10-15 days after your test date." That does not include the time needed for mail delivery nor for paperwork processing by the school itself. Plus, if it's your first time taking the GRE, you may want to allow an additional buffer in case you need to retake it.
What Is A Good GRE Score?
The point of taking the GRE General Test is to obtain high enough scores that they will help your graduate school application. The higher the scores, the more competitive your package is to the college or program.
In some cases, schools and programs may have minimum score requirements to even qualify for consideration. But meeting minimums is no guarantee of acceptance. If all the applicants meet the minimum score, they'll still only be able to choose the top candidates.
For example, Harvard University likely has a higher score they're looking for than your local college since they have more applicants and need a way to narrow down the candidates. It even varies by program. Even at Harvard's Graduate School of Arts and Sciences, they refer students to check out the individual pages of the programs they're interested in, as each program now shows that the GRE is either: Required, Optional, or Not Accepted.
Here's a quick look at how different the requirements can be from a few West Coast universities:
UC Berkeley states, "The GRE is no longer required nor accepted."
Stanford Graduate School of Education also doesn't list a minimum GRE score, and notes that due to COVID, "GSE will not require the GRE for admission for the 2022-2023 academic year. However, some GSE programs will provide the opportunity to submit GRE scores if you have taken the test and feel that your scores would enhance your application."
University of Washington states "The Graduate School does not require the Graduate Record Exam (GRE). Graduate programs determine whether or not to require the GRE for the admissions review process. Contact the graduate program to learn if GRE scores are required."
So bottom line…do your research into your particular program.
How Is The GRE Scored?
To give you a brief answer to the question of 'what is a good GRE score,' each of the three sections are scored individually, and you are given three separate scores. Here are the score ranges:
Analytical Writing: 0 – 6
Verbal Reasoning: 130 – 170
Quantitative Reasoning: 130 – 170
Once you receive your three scores, each are scaled based on how other people performed on those sections, much like a curved grade back in high school. So, if you got a 150 on your Verbal Reasoning, that may have been better than 54% of the people, putting you in the upper 50%. Your score is then turned into a percentile (54%), and you are ranked among other GRE test takers.
When it comes to the GRE, you want to beat out as many people as possible since other applicants are literally your competition. That's why your goal should be to study hard, practice often, and do the best you can to obtain the highest score possible.
Explaining how the GRE is scored is enough information to be its own article, so we wrote one to answer all your questions.
How Much Does the GRE General Test cost?
Unfortunately, the GRE General Test isn't free to take. However, ETS offers a Fee Reduction Program to help offset costs for test-takers with financial needs. Per ETS, here are the current GRE General Test fees (as of July 1, 2021):
Standard Test Administration — GRE General Test
All areas of the world except China and India = $205.00
China = $231.30
India = $213.00
Note, fees are subject to change without notice, and "special handling" requests (such as rescheduling or changing test locations) will likely lead to extra costs.
What is the GMAT?
The Graduate Management Admission Test, or GMAT, is a popular option for students applying to MBA programs or business-related graduate degrees. The GMAT is best described as an adaptive exam taken on a computer and designed to assess various knowledge of business-related topics.
Brief background on the GMAT
In case you're a history buff, here is the history of the GMAT and why it was developed. Created in 1953 by what is now the Graduate Management Admission Council (GMAC), the GMAT has been touted as "a valid and reliable predictor of success in graduate management programs worldwide." The purpose of making the test was to help business schools assess applicant aptitudes using different criteria than those offered by the GRE.
Made via a collaboration of just nine schools, the test was soon used by 54 schools before exploding in popularity.
What is the GMAT Used For?
The rigorous 3-hour exam is used to weed out candidates that don't seem likely to complete or survive a highly intensive business graduate program.
As noted by GMAC, over 6,100 programs around the country use the GMAT as a "consistent, objective way to compare aspiring students worldwide — no matter what their education, age, gender, or citizenship — and to evaluate whether they are prepared for the rigors of a graduate management program."
In other words, the purpose of the GMAT is very similar to that of the GRE, except that the GMAT focuses on business programs while the GRE can be used for anything.
What's On The GMAT?
The GMAT has four general test sections:
Analytical Writing Assessment ("AWA")
Integrated Reasoning
Quantitative ("Quant")
Verbal
The test is taken via individual computer workstations, and the questions adapt based on how well the test taker is doing, adjusting difficulty accordingly. Much like the GRE, the better you do, the harder the questions get.
How Long Is the GMAT?
The GMAT is a long test, running over 3 hours with only two, 8-minute optional breaks. Below is a breakdown of each GMAT section:
| | | | |
| --- | --- | --- | --- |
| Section | Number of Questions | Question Types | Time Limit |
| Analytical Writing Assessment (AWA) | One topic | Analysis of an Argument | 30 Minutes |
| Integrated Reasoning | 12 | Multi-Source Reasoning, Graphics Interpretation, Two-Part Analysis, Table Analysis | 30 Minutes |
| Quantitative | 37 | Data Sufficiency, Problem Solving | 75 Minutes |
| Verbal | 41 | Reading Comprehension, Critical Reasoning, Sentence Correction | 75 Minutes |
Who Needs To Take the GMAT?
Although the GRE can usually count for most graduate programs, including business-related ones, the GMAT was specifically made for business programs.
Students who intend to pursue an MBA or related graduate business degree might want to sign up for the GMAT instead of the GRE.
The decision largely depends on whether or not you intend to apply only to business programs, or if you might apply to both business and non-business programs at the same time to increase your odds of acceptance.
Do All Graduate Business Schools Accept the GMAT?
What type of grad school will the GMAT help you get into? Depending on your score, almost any business school!
As noted by Vanderbilt University's Owen Graduate School of Management, there's no need to take both the GRE and GMAT because the "GMAT is pretty much accepted universally by all business schools."
That being said, "more than 1,200 business schools now accept the GRE to help applicants avoid taking both tests." Essentially, business schools can simply convert GRE scores into GMAT equivalents.
Where Can I Take The GMAT?
The GMAT is usually taken at an authorized center, but now GMAC offers an Online GMAT, which is still proctored but can be taken at home.
Taking the GMAT In-Person
GMAC allows users to schedule a test at a Pearson VUE Test Center at any number of locations around the world on "almost any day of the year." It is suggested to review the GMAT Handbook in advance.
Upon arrival at the test center, you'll be asked to do the following before beginning the test:
Show your ID
Provide a "palm vein scan (where permitted by law)"
Digitally sign all the legal terms and conditions paper
Have a photo taken
MBA also allows students to request accommodations for individuals with ADHD, learning and cognitive disorders, physical or psychological disabilities, or sensory disabilities such as vision or hearing impairments.
How Often Can I Take The GMAT?
Test takers can take the GMAT once every sixteen days, which a maximum of five tests in a rolling twelve months. You also can only take the test a maximum of eight times in total. The GMAT At Home can only be taken twice, and they do count toward your number of attempts.
Candidates can mix and match the in-person and at-home tests in order to take more than one in a 16 calendar day period.
What Is A Good GMAT Score?
A "good" GMAT score depends on the school and program you're trying to get into. Kaplan Test Prep outlines the scores as follows, and we have a full guide to GMAT scoring for more information:
Information from Kaplan Test Prep
But such labels are subjective since it will really depend on where you're applying. Graduate schools and programs each have their own range and vary in selectivity. What's good for one program may not make much of a splash at a top university being flooded with applicants submitting 710s, 720s, and higher.
Graduate programs are tough, and the more elite they are, the harder they can be to get accepted into. Admissions boards screen carefully to look for the best possible matches. Higher scores demonstrate greater capacity for success in rigorous business courses.
How Much Does The GMAT Cost?
The cost of the GMAT varies by country. In the US, the GMAT exam costs $275 (as of 2022). There are additional fees for other services, like the following:
Enhanced Score Report = $30
Additional Score Report = $35
Cancel score (online after you leave the test center) = $25
Reinstate score = $50
AWA Essay Rescoring = $45
Rescheduling fees can range from $50 – $150
Note, GMAC offers a limited number of GMAT fee waivers to schools to use at their discretion, to "help economically disadvantaged test takers." Students must request waivers from their schools, not from GMAC. It is also often worth the time to seek scholarships or grants that can help pay such test fees.
GRE vs. GMAT Overview
The GRE and GMAT were never designed to be in competition with one another. In fact, the GRE existed long before the GMAT, which was later created by business schools for graduate business program admissions. Thus, the only real time the two tests should be compared is when a person wants to apply for an MBA or other grad-level business degree.
The tests share a few things in common, along with unique distinctions. Below is a brief overview of the basics.
Similarities and Differences between the GMAT and GRE Tests
GRE: ~3 hrs, 45 mins
GMAT: ~3 hrs, 7 mins
GRE: $205
GMAT: $250 in US
GRE: Analytical Writing, Verbal Reasoning, Quantitative Reasoning
GMAT: Analytical Writing Assessment, Integrated Reasoning, Quantitative Verbal
GRE: Verbal test is harder than GMAT's version, GRE sections adapt in difficulty
GMAT: Quant is harder than GRE's version, GMAT questions adapt in difficulty
GRE: 2 essay questions, 80 questions
GMAT: 80 questions
GRE vs. GMAT Practice Tests
Test takers are well-advised to pack in as much study and practice as possible before taking either the GRE or GMAT. There are numerous free and paid practice tests and other resources available. Below are a few of the "official" options suggested by ETS and GMAC.
GRE Practice Tests
GMAT Pratice Tests
GRE and GMAT Test Dates
The GRE and GMAT can be taken virtually anytime throughout the year, but you want to bear in mind a few important timeframes…
Prep/study time = up to 4 months
Time for tests to be scored = 3 weeks or more
Time for scores to be sent to the schools you're applying to = at least a week
Application dates vary, and some schools have rolling dates. But in general, grad schools may list December or January application due dates for programs starting in the Fall.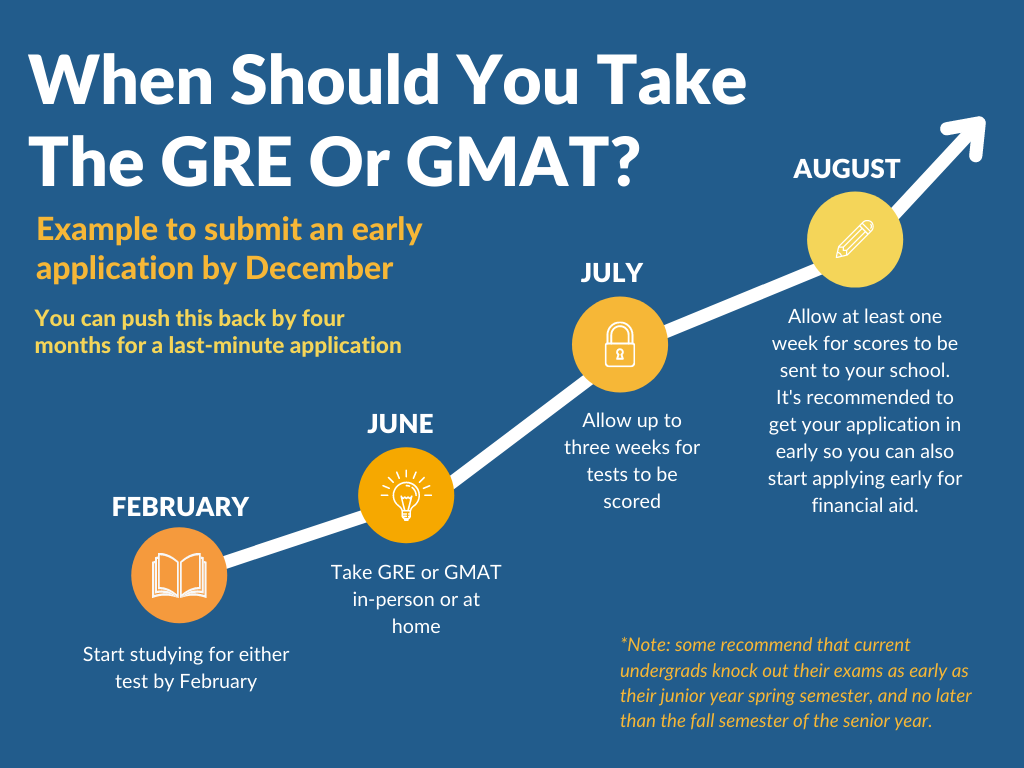 Which Schools Accept the GRE?
Not all graduate schools in the US require either a GRE or a GMAT. Of those that do require such tests as a mandatory part of their application packages, most accept the GRE because it is more comprehensive. Even business schools will generally accept the GRE, because they can convert GRE scores into GMAT scores.
Some schools state that GRE scores are optional, meaning students may submit them if they feel the scores can boost their applications. When scores are listed as optional, there is no penalty if the applicant chooses not to submit them. Due to the COVID pandemic, some schools have suspended GRE requirements for the time being.
Which Schools Accept the GMAT?
Since the GMAT is specifically geared toward graduate business programs, most business schools will accept it over the GRE. Indeed, many prefer the GMAT because of its emphasis on business-related subject matter.
However, due to the pandemic, many schools have also suspended the GMAT requirement until further notice. It is important to check the current and projected status for any school or program you intend to apply for since preparation for the GMAT is very time-consuming. There's probably no need to take the exam if it isn't going to be required during the times you plan to apply, unless you feel the scores could help your package.
Choosing Between the GRE vs. GMAT
The GRE and GMAT are both important tests in their own right. Broadly speaking, they both have the same purpose — to help schools assess an applicant's potential for academic success in a graduate program. But their relative value varies because each graduate school and program has different criteria. In fact, many schools or programs don't require either test score to be submitted, and others make it completely optional.
As a result, there's no one-size-fits-all right answer to the question of which test is better. Instead, the rule to thumb is to decide which test is better for the particular school or program being applied to. And now, due to COVID, even that rule depends on whether or not the school has temporarily suspended all GRE/GMAT requirements.
With that in mind, here's a brief step-by-step guide to help you as you traverse the test taking process.
Step-by-Step Guide for GRE and GMAT Test Takers
Carefully review the most current application guidelines for the grad school you are interested in applying to. Take note of listed GRE or GMAT requirements and minimums, if any.
Review any additional requirements listed for applying to the school's graduate program that you're interested in (because sometimes students must be accepted to both the grad school and the program itself).
Decide which test (if any) is needed to apply. If it is an MBA or business program that accepts either a GRE or GMAT, you should choose to take only one test (usually the GMAT, in such cases…unless you may apply to non-business programs, too).
Once you've decided which test you'll take, go to the applicable websites to gather all the necessary study information. Review the testing information and decide if you'll take your exam online or in-person.
Schedule your test date and pay any applicable fees. Make sure to allow for ample study and prep time. Ensure your test date is early enough that your test can be scored and mailed out (at least a month before application due dates).
Spend a few months studying, taking practice tests, and getting ready for test day! Average recommended study time is four months.
A few days prior to testing, double check that you have read and understood all pertinent information. If testing in-person, make sure you have everything that you will need to take with you ready to go. If testing online, ensure your computer and test environment meet all specifications.
Decide if you want scores sent right away. On test day, test takers can designate which schools they want scores sent to. For the GRE, they can send your scores to up to FOUR schools for free. For the GMAT, they can send your scores automatically to up to five schools, as soon as they're scored. Test takers can also request additional scores to be sent out.
However, some students choose to wait so they can review scores for any issues. If needed and time-permitting, you may opt to retake the test.
If, on your test date, you didn't request scores to be sent out, then you must log in later to request that. When you are satisfied that your scores are ready to submit, ensure scores are sent out to potential schools early enough to arrive prior to the application deadlines.
GRE vs. GMAT FAQ
Which is easier: GMAT or GRE?

The GRE Verbal test is harder than GMAT's version, but the GMAT's Quant is harder than GRE's version. GRE sections adapt in difficulty, while GMAT questions adapt in difficulty.

Is it better to take the GRE or GMAT test?

For general graduate school admission, the GRE is more widely used. However, the GMAT is more common for MBAs and other business programs.

What is GMAT?

The Graduate Management Admission Test (GMAT) is an adaptive exam designed to assess knowledge of business-related topics. It's a popular option for students applying to MBA programs or related graduate business degrees.

What is GRE?

The GRE General Test is used by many colleges and universities around the country to help screen graduate school applicants.