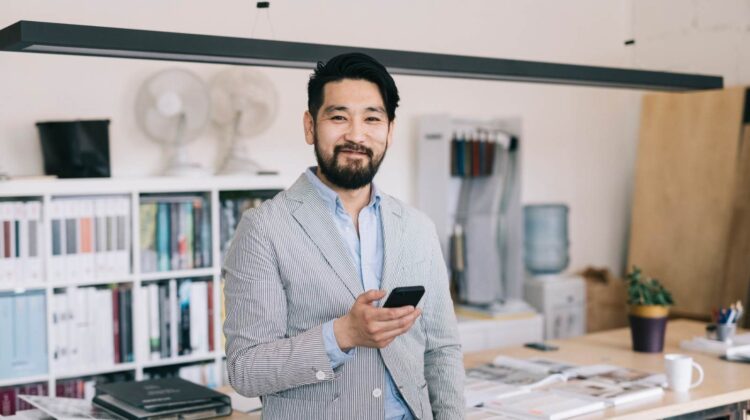 More than 31 million entrepreneurs currently own small businesses throughout the United States, accounting for almost 16% of all workers. Pursuing a career as an entrepreneur allows motivated and determined individuals the opportunity to create a future that aligns with their professional, financial, and ethical ideals — all the while filling a gap in the economy. 
Entrepreneurs pursue many different academic routes to business ownership, including degrees in entrepreneurship. Interested students can learn more about the path to becoming an entrepreneur, what it takes, and where to find support at every step of the way.
Jump To a Section:
What Does an Entrepreneur Do?
Entrepreneurs' days rarely look similar from one day to the next, but their general job is to identify an unmet need in the marketplace and create a product or service to meet it. While entrepreneurs shoulder the burden of risks involved with starting a new business, they also get to enjoy the rewards of a successful business. Some common responsibilities include:
Setting business goals and directing employees to accomplish those goals
Studying market trends and forecasting how those will affect the business
Identifying roles that need to be filled and hiring new employees
Looking for ways to bring in more new clients and keep existing clients
Forging new connections, both with prospective clients and employees
Creating a safe, ethical place for people to work
After completing an entrepreneurship degree, not all graduates immediately start a business. They may work as managers, business consultants sales directors, or even recruiters for a time before going out on their own.
Entrepreneur Salary and Career Outlook
An entrepreneur's salary can vary dramatically based on the size of the company they own, how many people they employ, and how well their product or service sells. It can also vary based on the amount of experience they possess, where the business is based, and how much education they have.
According to the Bureau of Labor Statistics, chief executives earned median annual wages of $185,950 as of 2020, with those in manufacturing and professional, scientific, and technical services earning the highest at more than $208,000 per year. That said, chief executives in the bottom 10% of earners brought home less than $62,780 annually. 
It's normal for businesses to earn less money when they're first started, meaning entrepreneurs early in their careers will also earn less than those with established companies.
How to Know if You Would Enjoy a Job in Entrepreneurship
It takes a special person to shoulder the weight of starting a new business from the ground up while putting their all into making sure it succeeds. Before diving into a career as a business owner, think about whether your personality traits fit within this path. 
Entrepreneurs are known for being tenacious go-getters who don't get discouraged when they hit a dead end; rather, they just look for an alternate route. They also demonstrate flexibility to make things work, rarely taking a my-way-or-the-highway approach — unless they feel it weakens their business. Entrepreneurs are self-motivated, possessing the determination and focus to put in hundreds of hours of work to see their vision through. 
Lastly, entrepreneurs are persuasive. Whether convincing a potential client to use their product or service, or making sure they hire only the best employees, entrepreneurs know how to convince others to believe in their vision.
Steps to Becoming an Entrepreneur
Becoming an entrepreneur requires hard work, determination, and focus. Simply put, it is not for the faint of heart. That said, many entrepreneurs begin their businesses while in school or directly after graduating, making it a great option for motivated learners with a clear vision of what they want to create.
Step One: Earn a Degree
Because no clear cut path to becoming an entrepreneur exists, future entrepreneurs undertake a wide spectrum of undergraduate degrees. For instance, someone interested in starting a digital marketing firm may decide to pursue a marketing degree with a business minor. It's important to consider what knowledge and skills will be needed for the particular focus on a venture and pursue a degree that provides a relevant curriculum.
Step Two: Earn Professional Experience
Before would-be entrepreneurs strike out on their own, working for another business owner can help provide the real-world skills that are harder to gain during college. In these settings, recent graduates can observe leadership in action, get a clearer sense of the way finances in small businesses work, and learn about common pitfalls to avoid when it's time to start a new company.
Step Three: Consider an MBA in Entrepreneurship
Pursuing an MBA in entrepreneurship provides the advanced business skills needed to start a business that defies the odds and makes it past the five-year mark. These programs take between one and two years to complete and provide opportunities to hone skills needed by successful entrepreneurs. Many schools offer MBA in entrepreneurship programs both online and in-person for maximum flexibility.
Step Four: Network and Build Connections
Successful business owners know that they need both clients and qualified employees. One of the best ways to get both is to network and make connections. Whether speaking to a trade show about your product/service or staying active on LinkedIn to learn about professionals in your area, taking time to complete this important step can make the difference in whether your business succeeds or fails.
Step Five: Create a Business Idea and Start Your Own Business
When creating a business idea, entrepreneurs need to be aware of what the market wants. Before ever launching a concept, take time to conduct market research and identify if the product/service is needed or designed by potential clients. If not, it's time to go back to the drawing board.
It's also important to create a solid business plan that addresses topics such as starting costs, marketing, staffing needs, overhead, and how long the business can go on before turning a profit. By anticipating the hard parts of starting and owning a business on the front end, there's a much greater chance the business will succeed.
How Long Does it Take to Become an Entrepreneur?
The amount of time it takes to start a business can vary between entrepreneurs. The most important component students should consider is making sure they possess the knowledge, skills, and focus before trying to get their business concept off the ground.
Some entrepreneurs may launch their business idea while still in college, while others may spend years after graduating gaining the requisite skills needed for their type of company. There's no one size fits all approach to becoming an entrepreneur.
Best Degrees to Become an Entrepreneur
As students begin their search for a degree in entrepreneurship, they will likely notice that these programs exist at the bachelor's, master's, and doctoral levels. Additionally, some schools offer concentrations to further hone knowledge in areas such as logistics, innovative leadership, or human resources.
At the very least, most entrepreneurs will need a business degree. Those looking to continue building their skills may decide that an MBA in entrepreneurship best suits their career goals.
10 Best Schools For Entrepreneurs
Universities.com uses a comprehensive methodology designed to rank colleges based on factors that matter to students, both while in school and after they graduate. Some of the metrics we consider when finding the best entrepreneurship programs include admissions, retention and graduation, instructors and faculty, and financial resources. A full list of schools can be found on our entrepreneurial studies hub page.  
Where Can I Learn More About Becoming an Entrepreneur?
National Association for the Self-Employed: Whether an entrepreneur is looking to grow their business or take advantage of new opportunities, NASE connects them with resources.
National Federation of Independent Business: NFIB works to strengthen independent businesses and their owners by providing industry research, advocacy efforts, and legal information.
National Association of Women Business Owners: Joining NAWBO provides members access to continuing education, conferences, local chapters, and business mentorship from established women entrepreneurs.
United States Association for Small Business and Entrepreneurship: USASBE supports entrepreneurs at every stage of their careers, from when still in college through to being a successful business owner.
Entrepreneur FAQs
How do I become an entrepreneur with no money?
If you want to start a business but are low on funds, consider options with little overhead and upfront costs for getting started, such as writing.
Do entrepreneurs get paid?
Yes, entrepreneurs do get paid. As the owner of the business, they set their monthly/annual pay rate in accordance to how much money the company brings in.
What should I study to become an entrepreneur?
Entrepreneurs come from myriad academic backgrounds, meaning you can't really go wrong. That said, entrepreneurship programs provide specialized training.
What entrepreneur job makes the most money?
The amount of money an entrepreneur earns depends fully on the size of their business, their product, chosen industry, and countless other factors.
Katy McWhirter is an American writer who possesses more than a decade of experience working in education, both domestically and abroad. She holds a bachelor's degree in social entrepreneurship from Belmont University and a master's degree in modern history from the University of York.