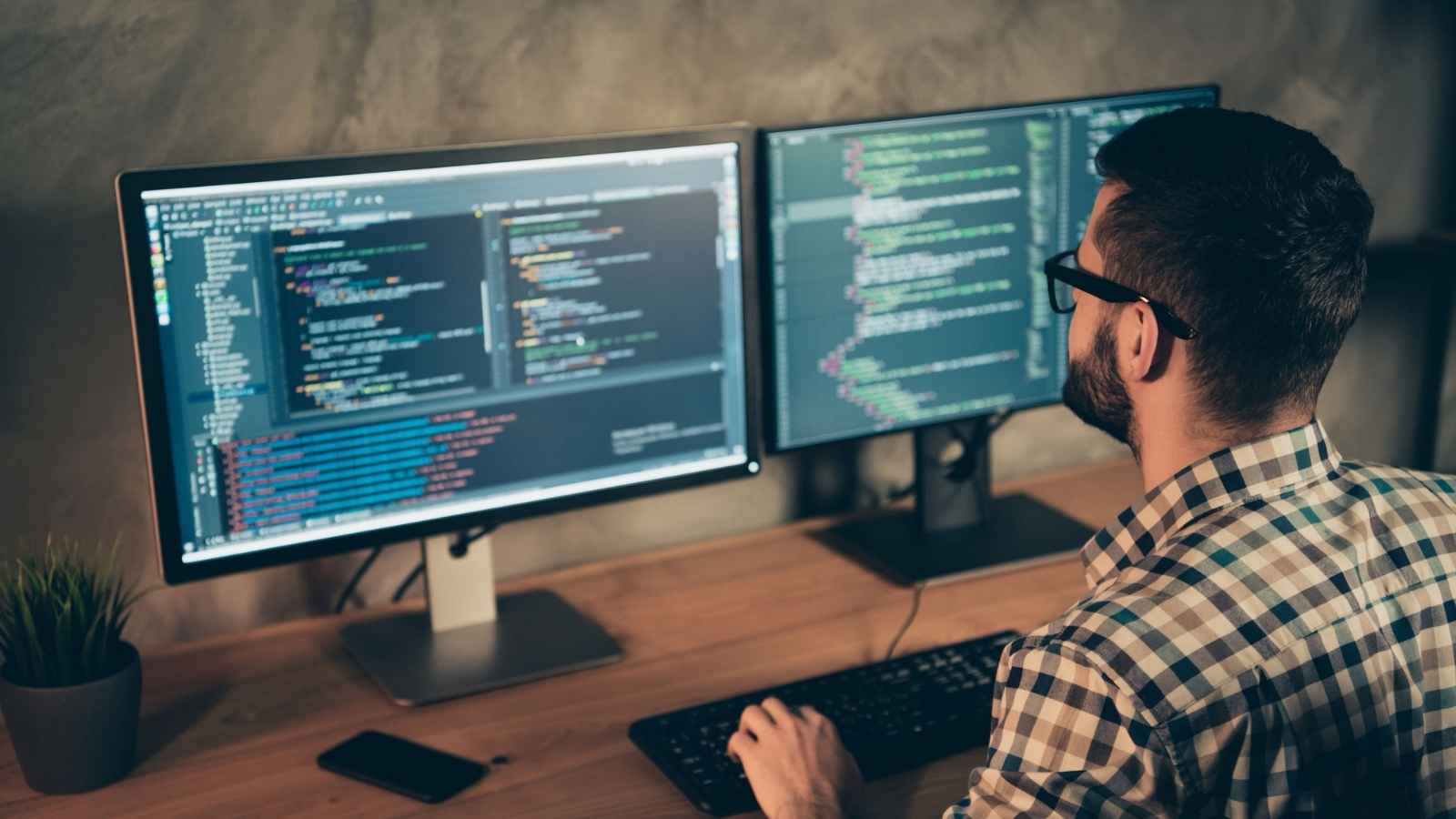 Computer science is emerging as one of the most important and growing professions in the 21st Century. Current projections estimate the field could grow 13% between 2020-2030, much faster than the average for other occupations.
Many colleges and universities now offer online master's degrees in computer science that promote paths to many specialties. A few include computer security, data science, software engineering, and network administration. These online programs provide full-time, advancement-focused professionals with a flexible, cost-effective alternative to on-campus learning.
What is an Online Computer Science Degree?
An online computer science degree closely resembles an on-campus degree except online, full-time learners benefit from flexible courses. The online program curriculum is rooted in theory, critical thinking, mathematics, and computer processes. Curriculum exposes students to various components of the field including computer systems, engineering, and data science.
These experiences prepare students for a robust career in many different areas and fields of technology that span over public and private industries.
The length of online computer science degrees depends on the type of degree you pursue, but most online degrees take you anywhere from 1-5 years for a master's degree or 4-5 years for a doctorate.
10 Outstanding Schools that Offer Online Degrees in Computer Science
Online computer science degrees are becoming more abundant and popular among working professionals, especially at the master's level.
Below are just some of the institutions that offer an online master of computer science degree. Please note that the perfect school for you may vary depending on your schedule and individual needs.
Stanford University – The program consists of 45 units, and part-time students typically finish the program in 3-5 years. The program must be completed within 5 years.
Rice University – Their online program is designed specifically for working professionals. Its 10 courses can be completed anywhere from 12 months to 3.5 years depending on your schedule.
University of Southern California – Students take a broad range of courses and also select a specialization such as artificial intelligence, computer networks, and game development. Full-time students can earn a degree in 1.5-2 years, while part-time students typically take 2.5-3 years to complete the program.

University of San Diego – There are multiple master of science degree options in various computer science fields, including applied artificial intelligence, applied data science, cyber security engineering, and cyber security operations and leadership. USD's program length is 20 months.
University of Illinois Urbana-Champaign – This program is also designed for busy computing professionals. With only eight courses, students can complete the program in as little as 12 months but have up to 5 years to complete the program.
North Carolina State University – This program consists of 10 courses, and students typically take two courses a semester. 

Arizona State University – Students can complete their degree in cybersecurity or big data. The programs consist of 10 courses and are typically completed in 18-36 months.

University of Pennsylvania – This Ivy League program is tailored to non-computer science majors. The program consists of 10 courses, and students can enroll on either a part-time or full-time basis. Students typically take 20-40 months to complete the program. 
If you're looking for other schools that offer online Computer Science degree programs, check out the Find Your Perfect "U" tool. You can search over 6,000 colleges and universities with 11 different filters to find the perfect school for you!
What Can I Do With a Degree in Computer Science?
Computer science is an umbrella term that encompasses many fields of technology that may offer high-demand career opportunities.
An online master's degree in computer science can prepare students to become a:
Computer and Information Systems Manager
Computer and Information Research Scientist
Computer Network Architect
Software Development Engineer
Software Developer
Information Security Analyst
Database Administrator
Computer Systems Analysts
Network and Computer Systems Administrators
Web Developer
How Much Do you Make with a Computer Science Degree?
As a booming field with a high demand for expertise, an education in computer science can lead to one of many high-paying careers.
Recent BLS1 statistics show that computer and technology professionals earn an average annual income of $91,250 compared to the median annual wage of all occupations of just $41,950.
Depending on your location, experience, education level, and industry type, a career in computer science can earn you anywhere from $73,000 to over $125,000 per year. Some fast-growing areas, such as cloud computing, big data storage and analytics, and internet security could lead to even more prolific careers.
Computer Science Job Projections
As technology advances, the demand and critical need for experienced computer science professionals continue to grow. The U.S. Bureau of Labor Statistics (BLS) projects that 667,600 new computer-driven jobs could be added in the next 10 years. Although these projections do not guarantee job growth or a career for graduates, the career path for those with computer science degrees looks very promising.
Potential Computer Science Careers
Technology jobs encompass a variety of different roles, career paths, and even specific niches, depending on your experience and interest. These roles range from high-level management and executive positions that focus on big-picture IT goals to roles responsible for the intricacies of a specific project, including design, development, and programming.
According to BLS, the following is an overview of a few roles that are typically held by someone with a computer science degree.
| | | | |
| --- | --- | --- | --- |
| Career | Median Salary | Projected Job Growth (2020-2030) | About the Position |
| Computer and Information Research Scientist | $126,830 | 22% (much faster than average) | Be on the cutting edge of computer science research by inventing and designing new computer technology. |
| Computer Programmer | $89,190 | -10% (decline) | Computer programmers write code for computer applications and software programs. |
| Software Developer | $110,140 | 22% | Software developers create the backbone system that runs our apps and computer devices. |
| Database Administrator | $98,860 | 8% | Database administrators oversee the storage, organization, and security of data that is captured by the company. |
| Computer Network Architect | $116,780 | 5% | Computer network architects build data communication networks such as LANs and WANs. |
Source: BLS
Earning A Degree in Computer Science
Depending on your career goals, there are many educational paths to obtaining a degree in computer science that include both traditional and online programs to accommodate professionals in all stages of life.
Associate and bachelor's degrees are available both on-campus and online, and many colleges are also beginning to offer online computer science degrees at the master's level. This change allows current professionals to advance their careers through education while maintaining full-time jobs or busy home lives.
Types of Computer Science Degree Programs
Many public and private colleges and universities offer multiple degrees in computer science. Depending on the school, you can obtain an associate, bachelor's, master's, or doctoral degree in computer science.
An associate degree focuses on computer programming, web development and design, and data science. Program length is typically two years for full-time students.

A bachelor's degree explores more advanced topics, including engineering, complex mathematics, and niche sectors of computer science. Program length is typically four years for full-time students.

A master's degree helps current professionals and recent college graduates begin or enhance their careers in computer science and often choose online programs that focus on a speciality. Program length is typically 1.5 to 2 years for full-time students.

A doctorate or PhD is the highest level of education in computer science and focuses mainly on research and theory. Most people who obtain a PhD go on to pursue careers in writing, research, and teaching. Program length is typically 4-5 years for full-time students.
Online Computer Science Specializations
Some colleges and universities also break down the computer science department further and offer online degree programs that specialize in niche fields of computer science. Specializations also offer students a chance to study the part of computer science that interests them most. Potential specializations include:
Computer Programming
Computer Development
System Analyzing
Computer Security
Data Science
Software engineering
Artificial intelligence
Game development
High performance computing and simulation
Intelligent robotics
Multimedia and creative technologies
Computer Science Degree Coursework
Curriculum and courses can vary depending on the type of program, degree, and specialty, but certain courses build the framework and foundation for professional success in computer science. Here are some course examples:
Principles of Computer Networks
Database Management Systems
Calculus
Cybersecurity Fundamentals
Software Engineering
Data Structures
Programming Languages
Web Programming
Data Mining and Machine Learning
Java Concepts
Analysis of Algorithms
Computer Architecture
Skills Learned in a Computer Science Program
The nature of computer science and technology requires someone to come into the major with an ability to think critically, creatively, and analytically. This career requires you to tackle complex problems and challenges.
The curriculum and coursework build on these skills, and students gain experience mastering the following fundamental skills that make up the backbone of computer science:
Programming and coding languages (C++, Java, Python)
Data analysis
Software development
Technical writing
Mathematics (calculus and statistics)
Web development
Choosing The Best Online Degree In Computer Science Management
With an abundance of programs to choose from, deciding where to obtain a degree in computer science can be both exciting and overwhelming.
Some of the most important factors to consider when choosing a program include online vs. on campus, accreditation, price, and the application process.
Online vs. On Campus Computer Science Management Degrees
Online computer science programs are becoming more abundant, and many offer the option to complete the degree on a part-time or full-time basis to accommodate busy schedules.
The coursework and curriculum are typically the same as in-person programs but with a schedule that is more flexible and accommodating to those who work full-time or have family obligations.
The biggest benefits of online learning include:
Flexibility and self-paced learning
Better time management
Improved virtual and communication and collaboration
No commute
Faster graduation times
Ability to work from anywhere
Accreditation
Accreditation is critical for any educational institute. It certifies that the school and its curriculum meet the appropriate standards outlined by the U.S. Department of Education and/or the Council for Higher Education accreditation. Choosing an accredited school gives your degree the credibility and validity required by employers.
Many programs and departments within a school may have a separate certificate of programmatic accreditation. This elevates the credibility of the program and showcases the department has designed a program that meets a standard of excellence.
Programmatic accreditation also ensures that students will receive the appropriate training and knowledge to be successful in their given fields.
Applying To Online Computer Science Programs
Admissions requirements for online computer science programs depend on the type of school, degree, and program modality desired. Prerequisite classes, letters of recommendation, certifications, degrees, GRE results, and prior grades are a few examples of typical computer science degree application requirements
Admissions Requirements for Computer Science Programs Online
Letters of recommendation – usually from 3 people who are familiar with your technical skills (professor, supervisor, advisor, coworker)
GRE – Many master's degree programs require a GRE score as part of the application. Some schools may waive this if you have three or more years of computer science work experience.
Statement of purpose – a cover letter that highlights your experience and why you want to obtain a degree in computer science
CV or Resume – Highlighting your work experience
Transcripts from all colleges and universities attended
Bachelor's degree in a STEM field for those applying to a master's program
Proficiency exam – some programs will require you to take an exam as part of the application process
Paying For An Online Computer Science Degree
Deciding to go back to school is not only a big-time commitment, but it is also a big financial commitment. Tuition costs can vary depending on the school, program, required units, and projects.
There are many avenues of financial assistance available to help with tuition costs including financial aid, scholarships, grants, internships, work-study programs, and corporate reimbursement from your current company.
Financial aid – The process is typically the same for online or campus-based programs. You can take advantage of federal, state, or school based financial aid programs that usually range from merit-based to needs-based assistance by completing your FAFSA.

Scholarships – There are an abundance of organizations that offer scholarships specifically for computer science students to help supplement tuition costs. Unlike loans, scholarships do not need to be repaid. More detail on scholarships is provided in the next section and available with our scholarship search tool.
Grants – Applying for a grant is a great way to raise funds for your education, and like scholarships do not need to be repaid. Consider applying for a Federal Pell Grant or a Federal Supplemental Educational Opportunity Grant.10 State and local government, universities, and non-profit organizations are also great places to look for grant opportunities.

Internships – Compliment your resume and work experience with an internship11. Paid internship opportunities are dependent on the company or institution but offer experience and knowledge while getting paid!

Corporate reimbursement programs – If you are currently employed, check with your human resources department to see if educational reimbursement programs are available to you as an employee benefit.
Scholarships For Computer Science Students
Many scholarship opportunities are available for computer science students. Here are a few avenues to consider.
Career Resources For Computer Sciences Managers
Professional organizations are a great way to stay up-to-date on current computer science trends as well as a place to seek networking and educational opportunities. Here are a few options:
FAQ
What can you do with an online degree in Computer Science?
There are many career paths you can pursue with a computer science degree within a multitude of different industries. Roles include computer programming, computer development, system analyst, system architect, computer security, data analyzing, software engineer, as well as executive and leadership positions. 
Is it worth getting a degree in Computer Science?
The job projection and outlook for computer science are very promising for both income and challenging job opportunities.  
How long does it take to earn a Computer Sciences degree online? Is it faster or slower than on-campus programs? 
The online curriculum and coursework are typically very similar to what you would take for an in-person degree. The length of an online program depends on the school and degree type, but many online programs provide a faster track to graduation in as little as 12 months.
What skills does a Computer Science student gain?
A student taking computer science classes can expect to gain technical skills in computer programming and language, data analysis, software development, technical writing, mathematics (calculus and statistics), web development. Students will also gain soft skills including critical thinking, problem-solving, project management, and team collaboration. 
What are some other things I can do to improve my chances of landing a great job with this degree?
Some good ways to improve your resume and chances of landing a great job are to obtain work experience, complete computer science-related certifications, receive excellent grades, network with professors, classmates, and company prospects, and position yourself as a great team member and collaborator. 
Sources:
https://www.bls.gov/ooh/computer-and-information-technology/home.htm
https://online.stanford.edu/programs/computer-science-ms-degree
https://www.cs.rice.edu/academics/graduate-programs/online-mcs
https://online.usc.edu/programs/computer-science-ms/
https://onlinedegrees.sandiego.edu/
https://online.illinois.edu/online-programs/graduate-programs/computer-science
https://online-distance.ncsu.edu/program/master-of-computer-science/
https://asuonline.asu.edu/online-degree-programs/graduate/computer-science-mcs/
https://gradadm.seas.upenn.edu/masters/computer-and-information-technology-mcit-online/
https://studentaid.gov/understand-aid/types/grants/pell
https://www.internships.com/computer-science
https://www.northeastern.edu/graduate/blog/benefits-of-online-learning
https://www.usnews.com/higher-education/online-education/articles/financial-aid-for-online-programs-what-to-expect
https://www.northropgrumman.com/corporate-responsibility/corporate-citizenship/global-cyber-education-and-workforce-initiatives/
https://www.bestcollegereviews.org/lists/five-computer-science-associations-to-join/
https://www.ams.org/home/page