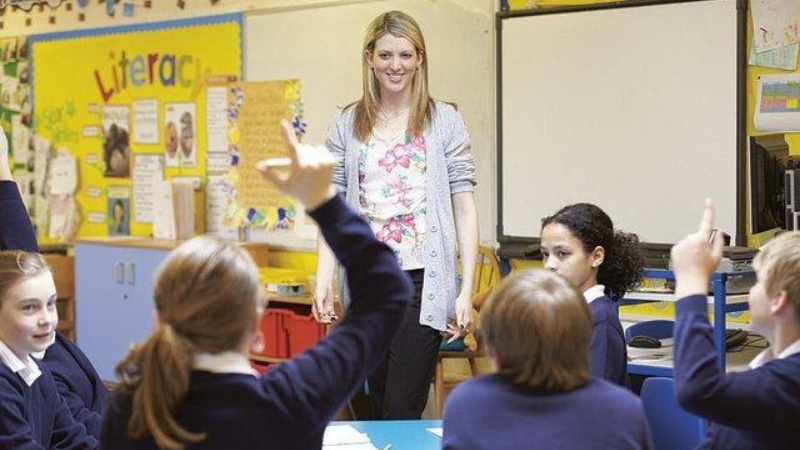 Master's in ESL/ELL Degree Overview
Earning a master's in ESL/ELL is an affordable and rewarding way to expand career opportunities and positively affect the education of children and adults. An ESL instructor is responsible for helping students improve their English skills and navigate the curriculum from other courses.
This degree can be used on various audiences:
Primary school students
Adults in community colleges
Other community organizations
Students abroad
ESL is one field with a huge gap in demand and supply. In fact, there is only one ESL teacher for every 150 students learning English in the US.1
What is a Master's in ESL/ELL Degree?
A master's in ESL is typically a two-year program that focuses on designing and implementing curriculum for students learning English. Students will focus on the following:
Childhood education
Adult education
Curriculum development
Teaching English as a foreign language (TEFL)
Navigating cultural differences
Helping students acclimate to a new environment
Incorporate technology in the classroom
Best Schools with Master's in ESL/ELL Degrees in the US
While there are many ESL/ELL programs to choose from, these schools have earned a reputation for providing an outstanding education.
Pepperdine University – Pepperdine has a robust education program with a variety of specialities for those looking to pursue different ESL studies. Full-time students can take advantage of on-campus housing and department scholarships.

University of Pennsylvania – The TESOL program at the University of Pennsylvania is one of the oldest in the country and has over 1,300 active alumni across the world. Students gain experience through the PEDAL@GSE program, which works directly with the West Philly community.6

The College of New Jersey – Students can choose from several certification programs and continue their education after graduation through summer workshop programs. The college also partners with different non-profits in the community to offer paid internships.
New York University – This program offers both full and part-time studies as well as the opportunity to work in New York City schools. Students can take advantage of several study abroad opportunities to build on their intercultural perspective.

Vanderbilt University – A full 100% of graduates were employed within four months of completing their degree. In addition, the program only requires 30 credit hours, which is less than other programs that require up to 44.
Purdue University – Purdue's masters in ESL program is research oriented. Students are encouraged to explore a variety of areas to shape their own studies. Teaching assistantships are available for additional financial support.
Xavier University – TESOL students are required to complete 18 credit hours and 100 hours of field experience in the classroom. However, this last requirement can be waived with proof of three month teaching experience in an ESL environment. This means that some students can accelerate their studies.

Kansas State University – Students can choose from different degree paths. For example, adding a master's report or master's thesis to their studies can reduce the required number of credit hours and allow for a more self-guided educational experience.
Arizona State University – As a state university, ASU offers lower tuition than other programs. The university is also known for its innovation and diverse population.

St. John's University-New York – This accredited program is offered exclusively online. Students enjoy full access to libraries, resources, mentoring opportunities, scholarships, and much more.
If you're looking for other schools that offer Master's in ESL/ELL programs, check out the Find Your Perfect "U" tool. You can search over 6,000 colleges and universities with 11 different filters to find the perfect school for you!
What Can I Do with a Master's in ESL/ELL?
Typically, professionals with a master's in ESL spend their time in the classroom. While many work with children in K-12, others teach at community colleges or other community organizations that provide services to non-native speakers.
Also, combined with years of experience, this degree can also be used to design curriculum and write textbooks for other ESL teachers. Others have used the degree to work as an ESL program director, school administrator, or researcher.
Master's in ESL/ELL Salaries
Salaries for teachers vary according to location and previous experience. However, those in urban areas tend to earn more. Typically, a master's will raise the base salary anywhere from $5,000-$10,000.2 Those teaching K-12 and earning in the 50th-90th percentile can expect a salary that ranges from $60,000-$98,000. Taking on a leadership role will also reflect a boost in pay.
Master's in ESL/ELL Job Projections
Despite the fact that there aren't enough ESL teachers to meet the needs of students, projections are showing a 10% decline in job growth into 2029.3 At the same time, some schools are offering signing bonuses and other perks for ESL instructors.
While the field may not be exploding as a whole, there is a clear demand in certain areas of the country.
Master's in ESL/ELL Career Paths
As mentioned above, most professionals with a master's in ESL choose a career in teaching and work in the classroom with small groups of children or adults.
However, there are also opportunities for leadership positions and work outside academia. You could design a curriculum, write textbooks, or work in the community with different organizations. Earning a master's can also open the door to principal positions.
| | | | |
| --- | --- | --- | --- |
| Career | Salary | Projected Job Growth (2020-2030) | About the Position |
| Curriculum Designers | $66,970 | 10% | An ESL curriculum designer is in charge of developing instructional materials and helping ESL students master English. |
| ESL Instructor | $55,350 | -5% | An ESL instructor spends their time in the classroom working with students. Daily tasks include designing materials, providing instruction, and giving feedback to parents and administrators. |
| Principal | $98,490 | 8% | Principals oversee all aspects of a school's operations. This can range from maintaining facilities and teacher training to meeting with parents and school boards. |
| Parent and Community Liaison | $69,600 | 15% | People in this position coordinate and manage programs designed to support the community. |
Data from BLS
Earning a Master's Degree in ESL/ELL
Many students enter a master's in ESL program with a bachelor's degree, teaching certification, and classroom experience, and students can expect to spend two years completing their degree. Ultimately, earning a master's in ESL increases earning potential and opens the door to additional leadership opportunities.
Types of Master's in ESL/ELL Degrees
Here are some different specialties that students can pursue with a master's in ESL:
TESL – Teaching K-12 students in English-speaking communities
ESOL – Teaching English to adults
TEFL – Teaching abroad in countries where English is not the primary language
Courses in Master's in ESL/ELL Programs
Coursework will vary according to specializations. For example, TEFL students may take more classes in cultural concepts so they are better prepared to work in a foreign country. Regardless of concentration, there are certain core classes that can be expected.
Cross-Cultural Studies – ESL students come from various backgrounds and countries. It is important to be aware of the cultural norms of their students. This helps instructors avoid being disrespectful or offensive.

Teaching Methods for ESL – With a focus on the historical and theoretical elements of ESL, students learn effective teaching methods and best practices for incorporating technology in the classroom. Lesson plan design and implementation are also on the curriculum.

Sociolinguistics – This course looks at the connection between language and society. Students learn about different accents and dialects to better understand the social implications of language.

Second Language Acquisition – This course class examines the process of how people learn a second language. You'll study different factors that influence the learning process and how to teach a variety of students.
How Long Does it Take to Get a Master's in ESL/ELL Degree?
Typically, a master's in ESL program requires the completion of 30-40 credit hours, which takes about two years. There are part-time or accelerated programs available for those who want to continue working while they study. It is important to keep in mind that most programs require a bachelor's, teaching certification, and some classroom experience.
I have a BA in Education. If you have already completed your undergraduate degree and received a teaching certification, a MA in ESL will take 15-24 months with a full course load.
I have a BA in an unrelated field. If you have a BA in another field, you will need to work with your program to earn a teaching certificate. This will prolong the amount of time it takes to earn a MA in ESL.
I have a BA in Education and want to work while taking classes. If you enroll in a part-time program, it can take 3-4 years to earn your degree.
I don't have a BA. Earning a BA in education and a teaching certificate typically takes five years with a full course load. Then, you can expect to spend about two years completing your MA in ESL.
Skills Learned in a Master's in ESL/ELL Program
You can expect to learn the following how-to skills during a master's in ESL program:
Bridge cultural gaps
Lead classrooms
Understand ESL pedagogy
Design and implement curriculum
And much more
These skills are helpful both in the classroom and beyond as all industries become more globalized.
As a result, a master's in ESL is a great degree for those who want to work in the classroom or professionals wanting to take their skills into the community and business world.
Choosing the Best Master's in ESL/ELL Degree
Choosing the best program is an individual choice and depends on many factors. In addition to cost, students should consider:
What specializations appeal to them
Whether they are looking for an on-campus experience or the convenience of an online degree
How quickly they would like to earn their degree
Reputation and accreditation status of potential schools
Master's in ESL/ELL Specializations
Fortunately, master's in ESL programs provide opportunities for students to pursue their interests and specialize in different areas. Here are just a few examples:
| | | |
| --- | --- | --- |
| Specialization | Description | Potential Career Paths |
| Adult Education | This is an instructional position that works with adult learners to help them master the English language and learn about cultural differences. Students come from a variety of backgrounds. | Typically, this specialization works in community colleges and other higher education institutions. Professionals can also work at community organizations and become department heads. |
| Curriculum Development | Students will learn how to design curriculum to support ESL programs. This includes learning best practices for using technology in the classroom. | With this specialization, students are well positioned for leadership positions at a variety of educational institutions and other programs. They can also work for textbook publishers and other producers of educational materials. |
| K-12 | ESL students learn about the needs of students in the age group and how to best instruct them in learning English. | K-12 instructors can become principals and superintendents. |
Online vs. On Campus Master's in ESL/ELL Degrees
Schools across the country offer a variety of on-campus, online, and hybrid ESL programs. Some students enjoy the flexibility of studying online, which eliminates the need for a commute and allows them to attend schools in other states. On the other hand, the on-campus experience does offer certain social and networking opportunities.
Should I Complete Courses Online
Online courses can be a good option for people who want to continue working while they study. While some students prefer the in-person experience and small class sizes, accredited online programs offer the same quality of education and rely on the same faculty to teach courses. It really comes down to personal preferences and whether an on-campus program is feasible between work and family.
How Long do Online Courses Take to Complete?
Online programs vary by school. Certain programs host synchronous courses, conducted in real-time for a more in-person feel. This means you'll be on a set schedule.
However, there are also asynchronous courses that require some self-discipline as they are completely pre-built and allow students to study at any time and at their own pace.
Students attending a school in their area may also have the option of a hybrid program with both online and classroom instruction. This can be one way to expedite the degree. There may also be the option of entering an accelerated online program.
It is important to understand what types of courses are offered with each program to better understand how quickly you can earn your degree. At the same time, schools may cap the length of time it takes to complete a degree. Full-time students typically take two years to earn a master's in ESL, and some schools want part-time students to finish within four years.
Accreditation
Perhaps the most important thing to look for in a master's in ESL school in the accreditation. If a school is accredited, they have been reviewed by a professional organization that determined their program meets certain educational standards. Those interested in specific specialties should also look for program accreditation to ensure the best possible educational experience.
The Accrediting Council for Continuing Education and Training4 is responsible for national accreditation, and the Commission on English Language Program Accreditation handles program accreditation.5 It is important to keep in mind that attending a school that hasn't been accredited can limit professional opportunities in the future. In addition, many financial aid resources are only available to those applying to accredited schools.
Applying to Master's in ESL/ELL Degree Programs
Candidates will need to gather a variety of materials to apply to ESL programs. Common requirements include:
Transcripts
Application
Letters of recommendation
Application fee
Graduate Record Examination (GRE), applicable for some schools
Essay, applicable for some schools
Every school may be a little different, so it is important to pay attention to the details to ensure everything is in place before sending off an application.
Admissions Requirements for Master's in ESL/ELL Programs
Admissions requirements can vary, but most programs will require:
Bachelor's degree – A BA in education is preferable but may not be a required.
Teaching certificate – Some schools allow students to earn their certificate during the master's process.
Teaching experience – Having a BA in education and some teaching experience will significantly improve a candidate's chances of gaining admission.
Some experience with a second language – Again, this isn't always the case, but it can make applications stronger.
Paying for a Master's in ESL/ELL Degree
Cost can be a major consideration when choosing a master's in ESL program. While an advanced degree is a good investment in the future, there are different ways to reduce costs.
In-state tuition will cost less than out-of-state tuition, and online courses generally come with fewer extraneous costs even if tuition is the same. Fortunately, there are scholarships, grants, and student loans to help cover costs.
How Much Does a Master's in ESL/ELL Degree Cost?
Typically, programs will charge by the credit hour, and each credit can cost between $400- $750. That means a full-time student can expect to pay $6,000-$12,000 per academic year at a public university.
Students can also expect to pay certain student fees and hundreds of dollars on textbooks. On-campus students should be prepared for expenses like parking permits, student association dues, and other fees associated with access to resources and technology.
Scholarships for Master's in ESL/ELL Students
Individual schools and programs often offer scholarships to incoming students. This is the best place to start looking when trying to find scholarships. ESL professional organizations may also offer funds to students in the form of grants and scholarships.
Master's in ESL/ELL Career Resources
Master's in ESL/ELL FAQs
What can I do with a master's in ESL?
Professionals with a master's in ESL can work as a teacher, textbook editor, program manager, school administration, or curriculum designer. 
Is getting a master's in ESL worth it?
Yes, it is a great way to gain access to new opportunities and increase earning potential.
Are ESL teachers in demand?
Yes, one in five kids speaks a language other than English at home. This means a large portion of the student population may need help in an English speaking school.
What degree do you need to teach ESL?
ESL teachers must have at least a bachelor's degree and a teaching certificate. 
Sources:
https://www.gse.upenn.edu/academics/programs/tesol-masters#pedal
https://gsep-programs.pepperdine.edu/programs/master-of-arts-in-teaching-english-to-speakers-of-other-languages-tesol/?utm_medium=cpc&utm_source=eslteacheredu.org&utm_campaign=affiliates&utm_content=banner_ad&utm_vendor=xyz
https://www.gse.upenn.edu/academics/programs/tesol-masters
https://tesl.tcnj.edu/
https://steinhardt.nyu.edu/degree/ma-teaching-english-speakers-other-languages-grades-k-12-initial-certification
https://peabody.vanderbilt.edu/programs/english-language-learners-med/
https://www.cla.purdue.edu/academic/english/gradstudies/esl/index.html
https://www.sxu.edu/catalog/current/graduate/ans/edu/tesol.asp
https://www.k-state.edu/mlangs/programs/masters/TEFL.html
https://asuonline.asu.edu/online-degree-programs/graduate/master-teaching-english-speakers-other-languages/
https://www.stjohns.edu/academics/programs/tesol-master-science-education