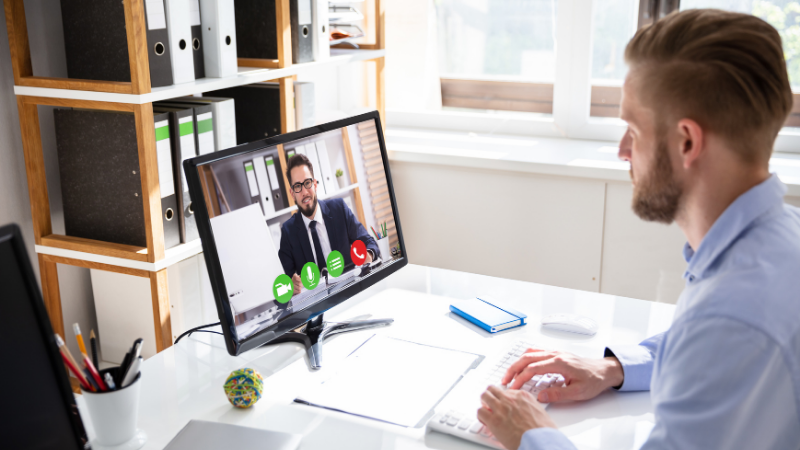 An online master's degree in educational administration prepares you to work in an administration role in the education field. Some of the most common roles students pursue with this degree are vice-principal or principal at an elementary, middle, or high school, which garners an average salary of $98,490 per year, according to the BLS.1 Other graduates go on to become superintendents or instruction coordinators. The BLS also notes that education administrative jobs are growing at a faster-than-average rate of 8%.
Why choose an online master's degree in educational administration? Well, a position in educational administration generally requires work experience in the field, which means that an online master's degree offers the most convenience as you work and attend school.
An online degree lets you continue working full-time while balancing your responsibilities, such as raising a family and a busy schedule, with your school schedule. Additionally, as far as graduate degrees go, a master's in educational administration is an affordable degree that can raise your career earning potential.
What Is An Online Master's Degree In Educational Administration?
An online master's degree in educational administration teaches skills such as
Leadership for your school district and staff
School administration and supervision techniques
Curriculum development
Educational research and application
Administration finance
Typically, in order to earn your master's degree in educational administration, you will need to first have a bachelor's degree. Many people pursuing this degree already have a bachelor's in elementary or secondary education.
In addition to a teaching degree, you'll also need teaching experience––some schools may have a minimum requirement, which is usually at least three years as a full-time teacher.
An online master's degree in educational administration takes anywhere from 1-3 years, depending on if you go full-time or part-time. Education professionals who already have a master's can also pursue this additional degree and may be able to complete an accelerated certificate program in as little as one year.
Best Schools That Offer Online Degrees in Educational Administration
The following are schools that offer affordable, online educational administration degrees. We selected schools based on standards set by our team, and the perfect school for individuals varies based on personal needs.
Check out Universities.com's full 2022 list of Educational Administration schools.
If you're looking for other schools that offer Master's in Educational Administration, check out the Find Your Perfect "U" tool. You can search over 6,000 colleges and universities with 11 different filters to find the perfect school for you!
What Can I Do With a Master's Degree in Educational Administration?
The most common positions that someone with a master's degree in educational administration finds are VP, principal, or supervisor of a technical training school. Someone with this degree may also move into other administrative positions, such as a superintendent of a school district, or use the degree to move directly into a PhD program.
What is the Expected Salary of Someone with a Master's Degree in Educational Administration?
Principal or Vice-Principal. The highest-paid position you can have with a master's degree in educational administration will be––not surprisingly– an administrative role such as a principal or vice-principal. According to the BLS, elementary, middle school, and high school principals make an average of $98,490 per year with ~5 years of experience.
Superintendent. Although many have a PhD, some superintendents only have a master's in educational administration. On average, school superintendents make $95,410 under the category of postsecondary education administrators, although they can make significantly more.
Teacher. Teachers who earn a master's in EA and remain at the instructional level (meaning you continue to teach students in a classroom and don't transition into an administrative role) generally make less than those who go on to become educational administrators.
Teachers typically follow a set pay scale by their school that lists how much they earn with any advanced degree; this means that once they receive a master's degree of any kind, they will earn X more of an increased salary per the pay scale. According to the National Council on Teacher Quality8, on average, teachers with a master's earn an additional $2,760 and an average of $7,358 more per year after they have maxed out on the pay scale.
Some schools require all teachers to earn a master's, so the pay range for teachers at the instructional level with a master's in EA may not be as competitive as other positions that require a graduate degree.
If your goal is to continue teaching but earn your master's for a higher salary, you may want to consider a specialized master's degree in the subject area you teach. This can free you up to teach at the post-secondary level, which may lead to more money than continuing to teach at an elementary or high school.
Dean/Provost. A dean or provost will be in charge of supervising admissions or the academic organization of a secondary institution. This position, according to the BLS, does have a faster than average growth of 4% and makes an average of $95,410, although that figure is very variable. A dean of admissions at a large university, for instance, may make well over that figure.
Educational Administration Job Projections
As the BLS explains, the projected job growth for educational administrators is around 4%, which is faster than average for projected careers. The fastest-growing jobs are in instructional coordination and training management, while the lowest growth potential lies in childcare and preschool administration.
However, all career paths will have individual nuances that could impact the actual opportunity in each position. Additionally, projections do not guarantee job growth, and factors such as geographical location and experience will play a role in what type of employment opportunities are available as well.
Potential Career Paths with a Master's in Educational Administration
There are many career paths that you can take with a master's in educational administration, from working directly at the school level as a principal or moving into the post-secondary field with a college or university. You can choose to work where you feel your strengths lie, whether that's based on curriculum, admissions, or leadership.
The following are all potential career paths that you can take with a master's in educational administration, along with average yearly salaries and projected job growth.
| | | | |
| --- | --- | --- | --- |
| Career | Salary | Projected Job Growth (2020-2030) | About the Position |
| Provost | $97,500 | 8% | A provost works at a college or university level and oversees the academic and financial operations. In contrast to a dean, who focuses more on the individual departments at a school, the provost is in charge of the academic direction of the school. |
| Principal | $98,490 | 8% | A principal oversees all of the operations of the school, including student and faculty affairs, budgets, and community relations. |
| Preschool and Childcare Center Director | $49,160 | 11% | The director of a preschool or childcare center would be in charge of both the day-to-day operations of the facility, including staff and training, budgets, policies, regulatory adherence, and academic programs. |
| Instructional Coordinator | $66,970 | 10% | This role focuses on overseeing and recommending curriculum, along with providing implementation strategies and assessment tools to faculty and staff. |
| Postsecondary Administration | | | Outside of roles in admission or as a dean, postsecondary administrators can work in the registrar's office, student affairs, or organizing various campus and school activities, such as graduation. |
| Training and Development Manager | $115,640 | 11% | This role will work on the coordination and planning for professional development for faculty and staff. |
| Dean of Admissions | $97,500 | 8% | A dean of admissions typically works in a postsecondary institution and oversees the application and admission process of which students are admitted to the school. |
Source: BLS
Earning a Master's Degree in Educational Administration
There are a few different ways to earn your master's degree in educational administration. At the very minimum, you likely need a bachelor's degree in education and typically at least three years of teaching experience to be admitted to a master's program. So, you could decide to go back to school after working a few years as a teacher to earn your master's, which is a very common route.
Or, you may have already earned a different graduate degree, such as a master's in instruction and curriculum design or another master's in education degree and decide you'd like to pursue an administrative position. In those situations, you may be able to earn an accelerated master's in around 12 months. There may also be some individuals who will choose to move directly into a doctoral program from a bachelor's degree.
Types of Educational Administration Degree Programs
Depending on the school you choose and the exact program you enroll in, the name for your master's in education administration might be a little different. Here are a few of the different types of degrees you will find:
Master's of Education Leadership and Policy
Master's in School Leadership
Master of School Administration
Master's in Leadership in Pre K to 12 Education
Master's in Organizational Leadership and Learning
As you can see, some of the degrees are geared more for certain career paths, such as K-12 leadership, administration at the secondary instruction level, or positions in higher education. It can be helpful to find a degree that suits the career path you are interested in.
However, if you're not entirely sure what career path you wish to take with your master's, a general master's of education administration can propel you forward with all the necessary skills you need.
Graduate Educational Administration Degree Coursework
While the courses you take while earning your master's in educational administration will vary, most programs require specific foundation courses. Some of the courses you can expect to find while enrolled in a master's of educational administration program include:
Educational Leadership Foundation
Education Law
Education Finance
Shaping School Culture
Empowering Instructional Leaders
Strategic Leadership and Management
Research in Education
Community, School, and Parent Partnerships
Frameworks for Student Learning
Instruction Improvement and Supervision
Ethics of School Leadership
Human Resources and School Organization
Skills Learned in an Educational Administration Program
Within this degree program, you will learn skills necessary to serve as an education administrator, including leadership and educational ethics. Some of the specific skills you will focus on during your training include:
Organizational culture guidance
Ethical decision-making
Foundational principles of administration
Education best practices
Change management
Leadership strategy
Curriculum design and management
Educational research, including design, assessment, and implementation
Educational best practices
Choosing the Best Online Master's Degree in Educational administration
The best online master's degree in educational administration will be the one that fits your needs. Things to consider when picking a program include:
Is it fully online or hybrid?
Can you make any on-campus requirements work?
Does the schedule fit with your current work and life commitments?
With an online degree program, you'll also want to be sure the program is fully accredited (more on that later) and one that meets your budget with financial aid options available.
Online vs. On-Campus Educational Administration Degrees
Some master's of education administration programs are fully online and require no physical presence from you on campus. However, many degrees are set up as hybrid programs, meaning that in addition to online coursework, you will be required to attend campus some of the time.
Many programs are set up with an intensive 2-3-week requirement or have an orientation or pre-graduation capstone weekend. With the majority of work online, you'll want to be sure that the benefits of choosing an online degree outweigh any potential pros for you.
Here are some of the benefits of choosing an online degree you should consider:
Flexibility – An online degree allows you to attend class and complete coursework on your own time, such as evening classes and discussion boards you can respond to when you're at home after work.
Time-saving – Without a commute, you'll save time and money, along with reduced wear-and-tear on your vehicle.
Money-saving – Additional cost savings will include things like eating at home (those on-campus dining options can get pricey. Also, you can keep working your day job to bring in income.
Childcare – If you have children and are limited on childcare options, online school can help you work around your child's schedule
Accessibility – Online school can be more accessible to you if you have any accessibility or mobility limitations. Location also doesn't matter, as you can attend school from anywhere in the country.
Accreditation
One of the most valuable things you can do when picking your online master's program is to ensure that the program is accredited. Choosing an accredited program means that you are enrolling in a program that has been designed to meet the highest curriculum standards set by the accreditation organization.
A school that is accredited has been thoroughly reviewed and assessed in aspects such as curriculum, professors, graduation, and student outcomes. The regional accreditations for schools that teach education programs will be granted by the Department of Education and the Council for Higher Education.
Additionally, education schools can earn programmatic accreditation through the Council for the Accreditation of Educator Preparation (CAEP).9 A CAEP accreditation means that the program specifically meets the licensure and certification requirements that an education administrator would need. Thus, when choosing a master's program in education administration, it is in your best interest to look for a school that has both regional and CAEP accreditation for its program.
Applying to Master's in Educational Administration Programs
The good news about applying for a graduate degree in educational administration is that you typically don't need to take the GRE. However, there are some additional stipulations you should be aware of before you apply. For instance, most master's in educational administration programs require you to have at least three years of actual teaching experience before applying.
In your application, it would be good to focus on what you plan to do with the advanced degree. This can help your chances of getting admitted into a program.
Admissions Requirements for Graduate Educational Administration Programs
The specific admissions requirements for each school may vary, so be sure to follow the admissions checklist for any programs you want to apply. In general, here are some requirements you might expect to see during the application process:
Bachelor's degree in an appropriate field (i.e. education)
Completed graduate school application and fee
Official transcripts from your undergraduate school
GRE may be required, but not all master's in educational administration programs require it
Letters of recommendation may be required
Statement of purpose/CV
International students may be required to take IELTS and TOEFL tests
Proof of field experience (typically three years of teaching)
How Much Does a Master's in Educational Administration Cost?
The average cost of a graduate degree varies widely, with some degrees costing over $100,000 and others significantly less than that. According to the most recent data from the National Center for Education Statistics10, most graduate students graduate with $54,500 of debt from public schools and $71,900 of debt from private nonprofit schools.
The exact amount you pay for a master's in educational administration depends on a variety of factors, including:
In-state vs out-of-state program
Program tuition and fees
Other associated fees (books, any on-campus requirements, registration, etc.)
Financial aid package
Additionally, you may be able to pay less for a master's in education administration if you choose an accelerated certificate program (available to students who already have a master's degree in education or an applicable field) that only takes one year instead of the full two years.
How Long Will it Take to Get a Master's in Educational Administration?
Most students enrolled full-time in an online or in-person master's in education administration program finish the program within two years while continuing to work full-time. In fact, because students must have hands-on education experience, the programs are designed to be completed with participants who are still working full-time. Most students are enrolled full-time, but if you choose a part-time course load, the program can take up to three years.
Also, you may be able to earn a principal licensure in as little as three semesters if you already have a master's degree in education or another applicable field.
How long does it take to get a Master's in Education Administration?
I have a high school diploma: If you are just starting your college journey and would like to be a school administrator, you can expect to be in an undergraduate program for 4-5 years and then teach for a minimum of three years before applying for a master's program. Once enrolled, you should be able to earn your graduate degree in about two years.
I have a Bachelor's in Education and just started teaching: You will need to teach for at least three years to be accepted at most schools for a master's in education administration. Once you are enrolled, most students can finish within two years while working full-time.
I have a bachelor's in education and have been working as a teacher for more than three years: You can enroll in a master's program right away and expect to finish in about two years.
I have a master's degree in another education speciality: you can apply for an accelerated program that can grant you a licensure in education administration.
Paying For A Master's in Educational Administration
Many graduate programs encourage students to speak with a financial aid officer at the school before deciding on enrollment, because the final cost can be significantly less than the per-credit-hour rate you see on a website. There are many different avenues available to help pay for a master's in education administration, such as:
Scholarships – look for both local and general scholarships
Grants – unlike a loan, a grant does not have to be paid back, so they are ideal for graduate degrees
Student loans – your complete financial aid package will include what student loan options are available to you based on your income and factors such as work and dependents status.
Internships and work-study programs – again, financial aid can help direct you to any work-study or internship programs through the school and education program
Corporate reimbursement – check if your current employer offers any type of tuition assistance or reimbursement
Payment plan – your financial aid officer may be able to help you set up a payment plan that works for you, especially if you continue to work while you're in school
Choosing an affordable school – choosing a school that is closer to home (to help you get that in-state rate) or offers a lower rate than one that may appear more prestigious can help you save a lot in the long-term. As long as you choose an accredited degree program, you can be assured you will receive a quality education.
Scholarships For Master's in Educational Administration Students
Your college or university's financial aid office will have a list of scholarships that are available to you, including both general and degree-specific. Some scholarships may be offered through the school, while others may be instituted by local organizations dedicated to higher education. Additionally, the American Association of School Administrators Scholarship Award11 is offered annually for students pursuing their master's in educational administration.
Career Resources For Education Administrators
FAQ
What can you do with a master's degree in educational administration?
A master's degree in education administration prepares you to take on administrative roles in a school setting, such as principal, vice-principal, superintendent, dean, provost, or instructional coordinator. 
Is it worth getting a master's in human resources management?
If your goal is to be an education administrator, you will be better equipped to choose a master's in education administration or a similar degree to learn industry-specific skills. 
How long does it take to earn a master's in educational administration? 
Most programs take around two years. However, if you already have a master's degree, you may be able to complete an accelerated degree in around 12 months. 
What skills do you gain by obtaining a master's degree in educational administration?
You'll gain the skills necessary for running an educational institution, from faculty management to curriculum design to implementing best practices in education. 
What are some other things or experiences I can do to improve my chances of landing a great job with this degree?
Experience in teaching and leadership roles will help you succeed as an educational administrator. 
Sources