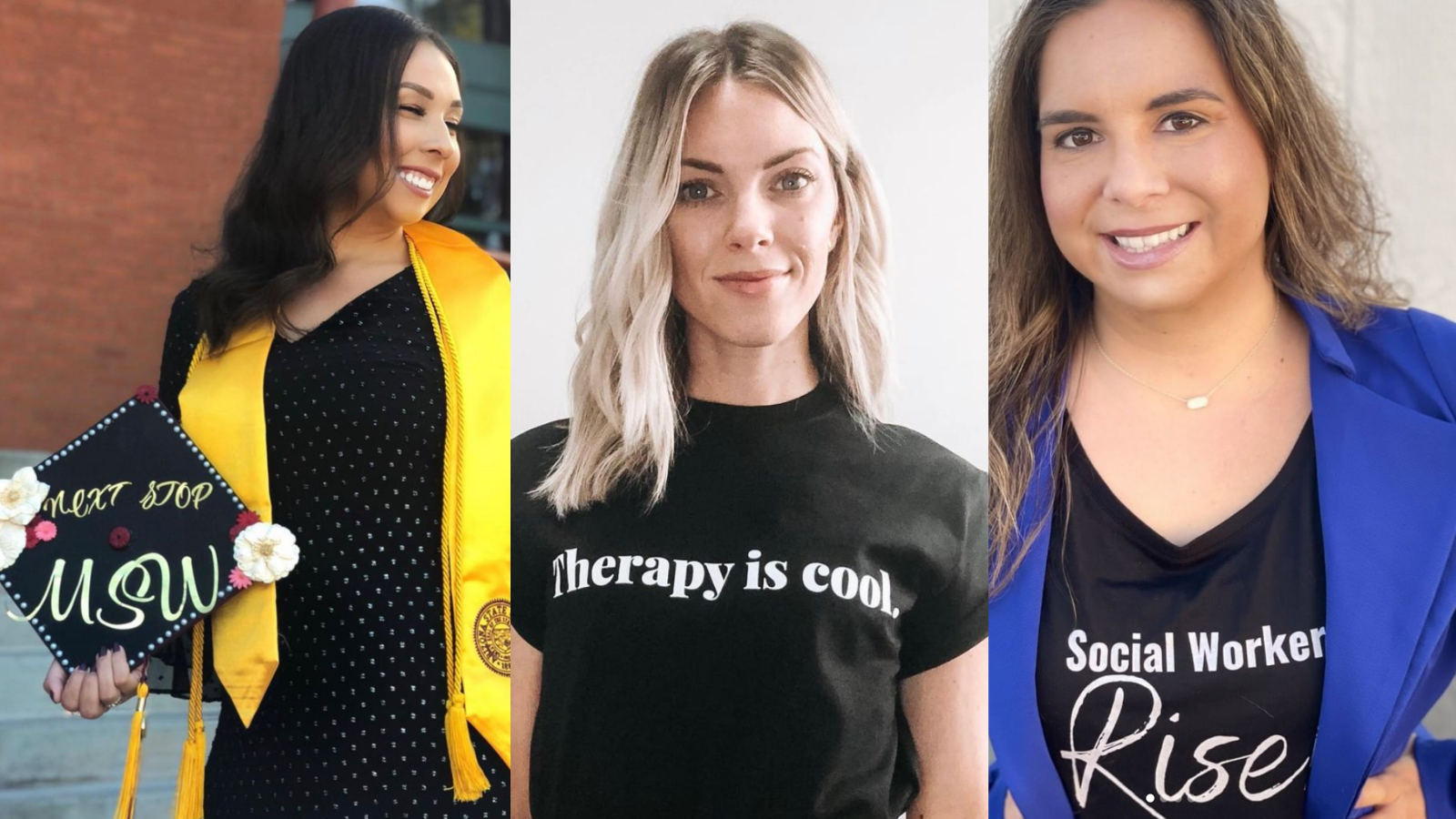 By Chaunie Brusie
If you've ever wondered what life as a social worker looks like, we're here to break it down for you. We caught up with three real-life social workers to learn more about the field.
Elyce Mandich, LCSW
Sara Isabela Mavis, MSW, LMSW
Catherine Moore, LCSW
In this article you'll hear all about their,
Individual choices for entering the field,
What motivates them to put in the work every day
What advice they have for those considering this rewarding career path
What is a Social Worker?
According to the BLS, being a social worker boils down to being someone who helps people deal with the problems in their everyday lives. If that sounds like it could be pretty broad, that's because it is. Social workers can work in many different settings, from mental health clinics providing counseling to hospitals working with medical patients to private practices to children's social services. There are typically four main areas that social workers work in, although there are many other types of specialties as well: 
School settings
Medical settings
Clinical settings
Family/child settings
Education requirements
In order to become a social worker, you'll need at least a Bachelor's Degree in Social Work. However, in order to be a clinical social worker, you'll need state licensure along with a master's degree and 2 years of post-master's experience in a supervised clinical setting. 
Why Social Work?
There are few key reasons to consider a career in the social work field, which include:
High demand
As the BLS notes, social work is an in-demand career field. Expected job growth is 13%, which is much faster than average and in 2019 alone, there were 713,200 social worker jobs. And you can guess what life post-pandemic will do for the demand for social workers as well. (Hint: it's only going to increase it.)
Personal inspiration
And while career stability is certainly a benefit to becoming a social worker, as the professionals we interviewed can tell you, many are drawn to the field as a direct result of a significant impact that someone had in their own lives, so there is a huge personal component to this work.
For instance,
Elyce was inspired to become a social worker after she lost her mother to suicide as a child.
Sara watched her mom provide therapy to services to the community.
Catherine was touched when others helped her family when her childhood home was burned down in a wildfire.
"I had many moments in my life where someone helped me expecting nothing in return and I felt the impact of their kindness," Catherine notes. "Their kindness was life-changing. I wanted to continue to give back and help others when they want it."
Career versatility
Catherine explains that social work is a versatile field that offers many different career paths and opportunities.
"The skills you learn to become a social worker are extremely versatile and can be adapted to most other industries," she points out. "Social workers are needed in every aspect of our society, not just nonprofits and government but also technology, business, finance, entrepreneurship, entertainment, and any other industries that aim to serve others."
Societal impact
Lastly, social work can make a lasting impact on society with widespread change as well. "Social workers are one of the most underutilized advocacy groups we have in the world," Catherine says. "Social workers are passionate, driven, highly educated, and have direct knowledge of the changes that need to happen on both societal and individual levels to increase wellness among all people."
A Day in the Life of a Social Worker
What does an average day in the life of a social worker look like? Well, how you spend your time as a social worker will depend on what career path you choose – and, there are many different careers. But one thing remains the same: at the heart of your work is people.
Let's take a look at the typical day at work in Catherine, Sara and Elyce's lives.
Catherine: Clinical Social Worker
Well, for Catherine, who works clinically, a typical day involves:
Checking and responding to emails and calls
Planning out visits for the day
Completing assessments
Providing therapeutic support
Ending with the day thorough documentation
"What I like most about working as a social worker is that every day is different and I leave work knowing that I have made a difference in the lives of the people I worked with that day," Catherine describes. "Not many other professions can feel that."
Sara: Hospital Social Worker
For Sara, on the other hand, who works as an inpatient hematology/oncology hospital social worker, her day includes:
Going to rounds with other practices
Completing psychosocial assessments
Supportive visits with patients
Consults for substance use or mental health concerns
Charting
Providing resources as needed
Performing crisis intervention
Discharge planning
End of life/hospice conversations
Elyce: Child Welfare Services turned High School Social Worker
Elyce started her career 8 years ago. Working for Child Welfare Services (also known as CPS or DCFS.) She worked long horse (10-14 hour day) investigating allegations of child abuse and neglect.
Elyce currently works in a high school where she,
Provides individual and group therapy
Attends meetings
De-escalates crisis (or 2 or 3 or 10)
Social work boils down to seeing the "humanness" in people, says Elyce Mandich, LCSW, to "Social work really encompasses everything about a person–their upbringing, their environment, their culture, their EVERYTHING (hello ecomaps and genograms–amiright?)," she notes. "I love the opportunities that I have had to really be with someone experiencing and sharing their biggest vulnerabilities, life challenges, traumas, etc. It's a beautiful thing to get to be in that space with someone–something very unique that not many people get to be a part of in the same capacity that we do."
"I love the ability to be in a space where teens are every day," she notes. "Sometimes that availability really removes the barrier to getting necessary support. Plus, I get to be involved with a lot of the fun things too, like attending football games!"
Advancing Your Career as a Social Worker
The primary pathways for becoming a social worker look something like this:
Bachelor's in Social Work
Master's in Social Work (MSW)
Fieldwork requirements
State licensure–either as a LCSW or a MSW
Is it beneficial to obtain a Licensed Clinical Social Work (LCSW) certification?
Becoming a LCSW is not a required part of being a social worker, but all of our social workers agree: it's the single best way to advance your career. Both Catherine and Elyce have their Licensed Clinical Social Work (LCSW) certifications, while Sara plans to add hers in the near future. 
What are the benefits of earning a Masters Degree in Social Work?
Earning a Master's Degree in Social Work is crucial for career advancement and salary increase potential as well. 
For instance, Sara explains that almost all social work positions outside of case management require a MSW.
"Most importantly, an MSW and licensing will provide you the opportunity to grow within the field," she says. "After earning my license, I am now able to apply for medical positions, provide therapy services under clinical supervision, and potentially hold management level positions."
"Having my masters degree and my licensure has allowed me to expand the scope of my practice, get jobs that would not otherwise be available, and allow me to offer clinical therapy," adds Catherine.
What Continuing Education Units (CEU) are social workers required to obtain?
Social workers also have to regularly practice continuing education to maintain their certification. For instance, in order to maintain her LCSW, Elyce has to complete 36 hours of continuing education every two years, including a law and ethics exam each renewal.
Advice For Students Considering Social Work
Seek out self-care resources, for yourself: For those considering a future in social work, Catherine advises that it's important to be ready to do your own self-care work to avoid burnout.
Don't become a social worker to "save" people: It's important to understand that you don't become a social worker in order to "save people." "People do not need saving," Catherine says firmly. "They need resources to help them accomplish their goals and they need a human who is able to emotionally support them through difficult times."
Go into the field for the right reasons: All three social workers point to the importance of ensuring that you are going into the field for the right reasons so you can come back to your "why" at the end of some of the hard days. "I know at the end of the day, as cliché as it may be, I am helping people navigate some really challenging and pivotal moments in their lives," says Elyce.
Connect with a Mentor in the field: It's helpful if you can speak directly to a social worker whose career path is one you'd like to emulate so you can get advice from them on how they got there, as social worker positions can vary greatly. "It's important to take time and research what is needed for your specific career path," says Sara.
Utilizing Social Media To Make an Impact
Social media has become a platform for these social workers to not only share more about their field, but to extend their profession by educating others on the importance of addressing mental health and well-being.
You can check out our featured social workers on their platforms and visit professional organizations that can help guide you:
Catherine Moore, LCSW:
Elyce Mandich, LCSW:
"My social media account started as a passion project I have been working on, and eventually turned into a representation of me, the work that I do, and making mental health information accessible and relatable," Elyce describes. "Not everyone can afford therapy, or they may be resistant to therapy. Social media is not a replacement for therapy or a therapeutic relationship, but it does provide content for people to get mental health psychoeducation and motivation."
Sara Isabela Mavis:
For more information about how to become a social worker or to learn more about the field read our complete guide How To Become a Licensed Clinical Social Worker