On March 7, 2023, New York City Mayor Eric Adams released a comprehensive playbook to address the Big Apple's ongoing challenges brought on by an influx of international asylum seekers. The proposals include a pilot program that supplies job training and housing for asylum seekers awaiting work authorization. Crafted in partnership with SUNY Sullivan and NYC's Office of Asylum Seeker Operations, this prospective initiative would also offer 12 months of classes, along with room and board, to an estimated 100 migrants.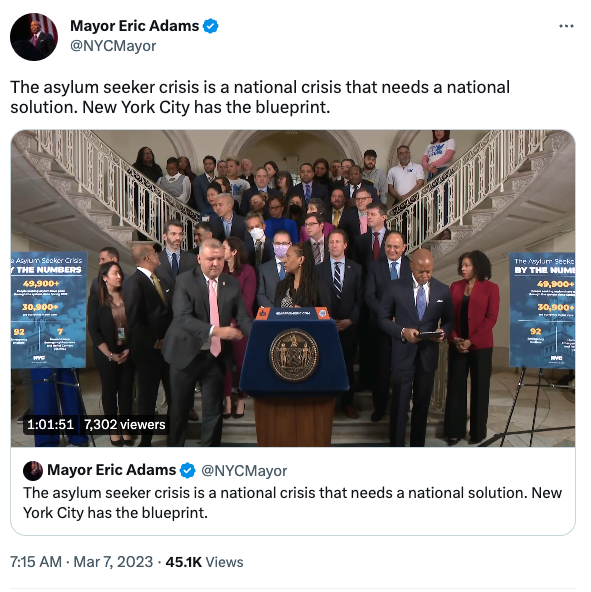 Addressing the challenges that come with an estimated 50,000 asylum seekers since last spring, the city's new agency is tasked with developing solutions for the practical issues stemming from the influx of migrants. As New York's shelters filled to capacity, the administration sought creative solutions to housing, considering everything from hotels to the Brooklyn Cruise Terminal in order to ensure safe shelter.
As New York City struggles to manage the influx of asylum-seeking migrants, their problem mirrors a nationwide increase in immigrants. According to the Pew Research Center, the monthly encounters between migrants and the U.S. Border Patrol have skyrocketed to the highest numbers in decades—the U.S. Border Patrol documents over 300,000 encounters in December 2022 alone.
NY Asylum Seeker Crisis Blueprint
New York's blueprint for addressing the asylum seeker crisis can be viewed here.
The resettlement plans include a partnership between The Center for Discovery and SUNY Sullivan.
The migrant worker training pilot offers the chance for asylum seekers to,
Relocate to Sullivan County

Live in the school's residence halls

Work toward a higher education degree or technical certificate

During their temporary stay, migrants also work with The Center for Discovery to develop professional skills in areas spanning from agriculture and culinary arts to healthcare and human services.
In addition to offering solutions to New York's housing challenges for asylum seekers, the city's leadership stated that they see this initiative as a model program ripe for replication around the Empire State. The city is also working with national nonprofits to develop an extensive network of relocation options.
About SUNY Sullivan Community College
SUNY Sullivan is a public community college that serves over 1,500 students and sits about 100 miles to the north of New York's City Hall. Alongside bridge programs that offer a direct pathway to four-year SUNY institutions, Sullivan provides technical training in areas like the culinary arts, computer programming, and criminal justice and law enforcement administration. Like other SUNY schools, SUNY Sullivan holds accreditation by the Middle States Commission on Higher Education (MSCHE).
NYC 2024 Budget
New York City's budget for the 2024 fiscal year eclipses $102 billion, with $1 million earmarked for this prospective program, and about 100 asylum seekers will be chosen for this relocation initiative. The prospective beta test of this relocation project involves 100 migrants with a total cost of about $1 million, or 1/102,000 of the New York City budget.
Mayor Adams released the following statement as part of his introduction to the Blueprint:
"[A]s we have so often, cities will lead the way. Our city's practical and compassionate approach to the asylum seeker crisis will set the standard for how we welcome those fleeing violence and hardship. This plan provides a way forward—and will ultimately lead to greater opportunity for progress for the entire country."
Get all the Universities.com's college news, advice, updates, financial aid, and more straight to your inbox.