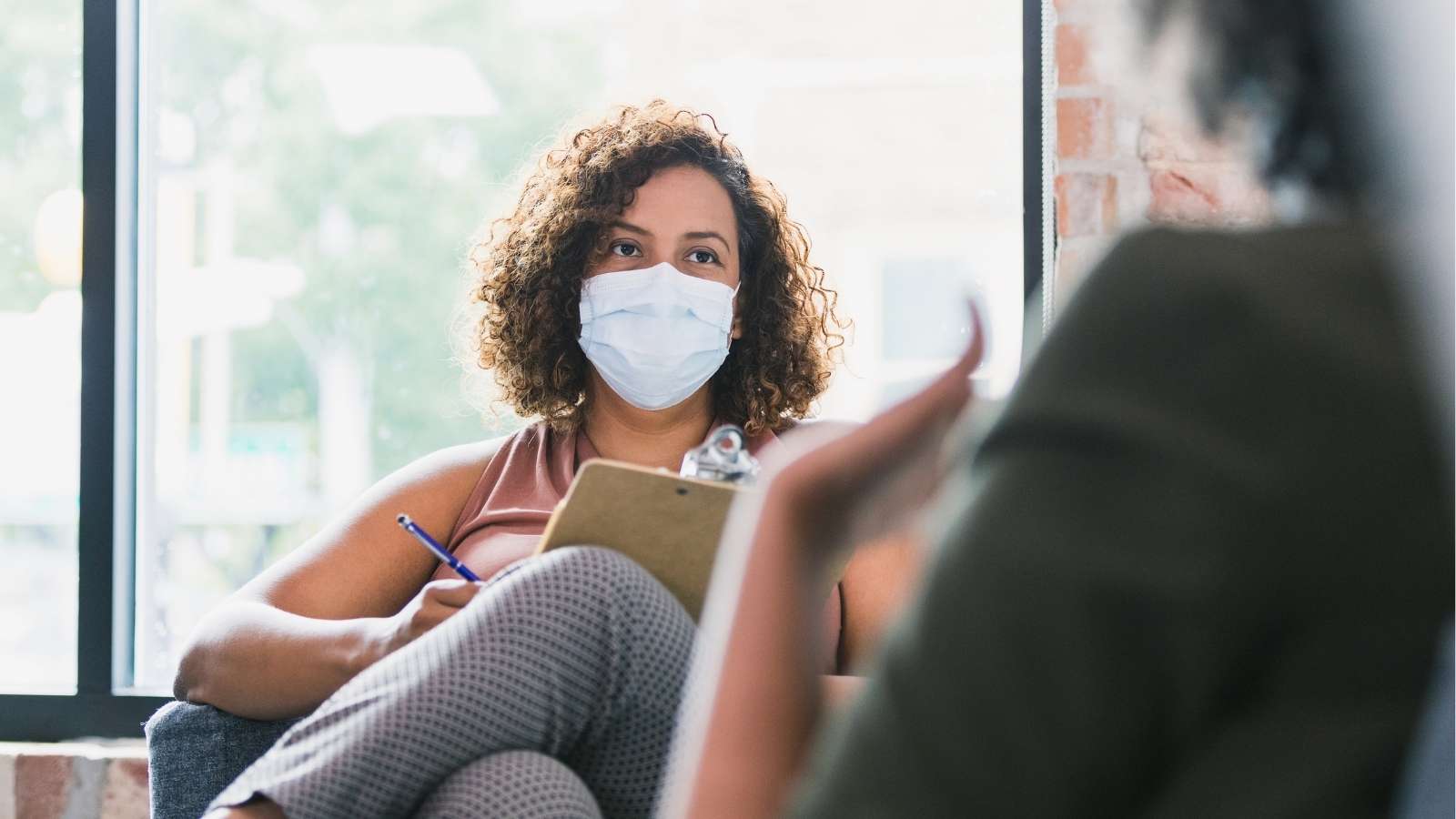 As we start to recover from the isolation brought on by the COVID-19 pandemic, the negative effects of long-term mental health symptoms are now at the forefront of the national discussion on public health.
Now is a great time to advance your counseling education and career as the U.S Bureau of Labor Statistics (BLS) projects that the profession will grow 3% between 2019 and 2029. This resource covers everything you need to know about a PhD in Counseling including career outlook, salaries, and program requirements. 
What is Counseling?
The American Counseling Association defines counseling as a professional relationship between individuals, families, and groups to achieve mental health, wellness, education, and career goals.
A Doctor of Philosophy (PhD) in Counseling typically requires both a bachelor's and master's degree in psychology. There are many counseling specialities to pursue including school counseling, marriage and family therapist, mental health counselor, and professor.
What Can I Do With a PhD in Counseling?
While a master's degree in counseling allows you to become a licensed professional counselor and have a private practice, a doctorate degree is needed to obtain high-level positions with:
Universities
Hospitals
School system
Community centers
A doctorate degree expands the counseling scope of work, and allows you to provide your patients with more treatment options, and types of researched based therapy.
PhD in Counseling Salaries and Career Outlook
The specialized area of counseling, industry, and job location help determine your salary. According to the BLS, the median salary of a counselor in 2019 was $79,820 with jobs in government and healthcare paying the most.
The career outlook for people holding a PhD in psychology is good with a projected growth of 3% from 2019-2029. However, this projection is not a guarantee of industry growth.
Counseling PhD Career Paths
PhD graduates looking for to begin their counseling profession have many career opportunities, including the following:
| | | | |
| --- | --- | --- | --- |
| Career | Salary | Projected Job Growth (2019-2029) | About the Position |
| School Counselors | $58,120 | 8% | School and career counselors help students with social and academic skills that will help them both in and out of the classroom. |
| Rehabilitation Counselors | $37,530 | 10% | Rehabilitation counselors help people with physical, mental, and emotional disabilities live an independent life |
| Counseling Professors | $80,790 | 9% | Counseling professors teach college and university students theory and foundation on how to become a counselor |
| Marriage and Family Therapists (MFT) | $51,340 | 22% | MFTs use tools and proven techniques to help couples and individuals work through emotions, behavior, and thoughts to better their lives and relationships. |
Source: BLS
Earning a PhD in Counseling
Earning a doctorate degree in counseling is a commitment to advancing both your skills, expertise, and scope of work as a counselor while also opening up many career paths and opportunities in the field of psychology.
There are many things to consider when considering a doctorate school program including the pros and cons, coursework, what skills you'll master, and the required time commitment.
Pros and Cons of Counseling PhD Programs
A PhD in counseling offers different specialty areas that you can choose from. While a master's degree in counseling allows you to work in clinical practice, having a PhD allows you to work in professional practice.
The pros of obtaining a PhD in counseling include:
Diversity of career paths
Job opportunities available
Projected growth of the industry
The opportunity to help people
Possibility to earn a good income
The cons of obtaining a master's degree in psychology include:
Potential stress
Requirement to work odd hours
The financial burden of attending school
The amount of time it takes to obtain a graduate degree
Doctoral Degree vs. PhD in Counseling
When deciding to get a Doctoral Degree in Counseling, you have the option of pursuing either a PhD program or a Doctor in Psychology (PsyD) degree program.
The main difference between the two degrees is the area of focus.
A PhD program is the most popular option and is rooted in conducting research and theory, while a PsyD program is rooted in clinical applications and patient interactions. 
A PhD program requires a master's degree to apply. However, there are a few PsyD programs that will accept students with only a bachelor's degree. This program typically combines earning both a master's and doctoral degree with one program.
Both PhD and PsyD programs typically require a dissertation or research project on a specific topic.
Courses in Counseling PhD Programs
PhD program curriculum may vary based on what program you specialize in.
However, there are many general core classes that are usually required for all types of psychology programs. These doctoral-level classes may include:
Counseling theory
Human behavior
Group therapy
Social issues
Research
Abuse and trauma
Substance abuse
Assessment
Interpersonal relationships
Programs also conclude with a research-based practicum or dissertation.
Skills Learned in a PhD in Counseling Program
The skills you will learn in a PhD program will help guide your career as a counselor and help you make a significant impact on your clients or patients.
A few of these vital skills include:
Problem Solving
Leadership skills
Interpersonal skills
Project management
Organizational skills
Self management
Written and oral communication skills
How Long Does it Take to Get a Counseling PhD?
On average, a PhD program usually takes about 4-8 years to complete. This timeline depends on:

Whether you study online
Full-time or part-time learning
Previous education
Your specialization
How long it takes to complete your dissertation
PhD programs in counseling typically require 90-150 semester credit hours depending on area of concentration and program modality.
Choosing the Best PhD in Counseling
Your decision on what PhD program to pursue is highly individual and should focus on your career goals, financial situation, family obligations, and whether you will be working while attending school.
Counseling PhD Specializations
There are many areas of focus for those with a PhD in counseling and can include:
Marriage and family therapy
Education/school
Mental health counseling
Substance abuse
Rehabilitation
Professor
Program director
Researcher
Online vs. On Campus Degrees
Online PhD programs are becoming more abundant, and many schools allow students to complete the degree on a part-time or full-time basis. The biggest benefits of online learning include:
Flexibility and self-paced learning
Better time management
Improved virtual and communication and collaboration
No commute
Faster graduation times
Ability to work from anywhere
However, many students may choose to complete an in-person program for its networking and social aspects.
How Long do Online Courses Take to Complete?
On average, an online PhD degree in counseling usually takes about 4 years to complete. However, this timeline is dependent on if you study full-time or part-time, as well as previous education completed.
Accelerated programs are also available that allow you to complete the program less time, but are faced-paced and rigorous.
Counseling Certifications and Licensure
Many careers in counseling also require a license or certification to practice or obtain a job. It is important to research requirements for your desired career path, and choose a school, program, and speciality that prepare you to meet your career goals.
The specific license or certification required varies by state. Make sure to check your desired field's requirements before you commit to a school or program.
Accreditation
Accreditation is critical for any education institute as it certifies that the school and its curriculum meet the appropriate standards and qualifications outlined by the U.S. Department of Education and/or the Council for Higher Education accreditation.
Choosing an accredited program is extremely important as it gives degrees credibility and is valued by employers.
Many programs and departments within a school may have a separate accreditation called programmatic accreditation. This accreditation elevates the credibility of the program and shows that the department has designed a program that meets industry standards.
Programmatic accreditation, such as from the Council for Accreditation of Counseling and Related Educational Programs (CACREP) also ensures that students receive the appropriate training and knowledge to be successful in their given fields.
Applying to Counseling Programs
Admissions requirements for PhD in counseling degree programs depend on the type of school, degree, and program modality desired. A master's degree, letters of reccomendation, GRE score, work experience, and prior grades are a few examples of typical application requirements.
There are many resources available to help you find schools, research financial aid packages, and apply to college programs. For example, the Common App is a one-stop-shop for planning your educational future.
Admission Requirements for PhD in Counseling Programs
Admission requirements for a PhD in counseling degree program typically include:
Transcripts (high GPAs are preferred)
Master's degree
Essay
Resume of work and experience
2-3 Letters of recommendation
GRE score
Formal interview
Criminal background check
Application fee
Paying for a PhD in Counseling
Deciding to go back to school is not only a big-time commitment, but it is also a big financial commitment. Tuition costs can vary depending on the school, program, required units, and projects.
There are many avenues of financial assistance available to help with tuition costs including financial aid, scholarships, grants, internships, work study programs, and corporate reimbursement from your current company. 
Financial aid – The process is typically the same for online or campus-based programs. You can take advantage of federal, state, or school-based financial aid programs that usually range from merit-based to needs-based scholarships.

Scholarships – Many organizations offer scholarships specifically for psychology students to help supplement tuition costs. Unlike loans, scholarships do not need to be repaid. 
Grants – Applying for a grant is a great way to raise funds for your education and, like scholarships, grants do not need to be repaid. Consider applying for a Federal Pell Grant or a Federal Supplemental Educational Opportunity Grant. State and local government, universities, and non-profit organizations are also great places to look for grant opportunities.

National Health Service Corps (NHSC) Loan Repayment Program – Is a loan forgiveness program that grants $50,000 to work in an underserved location for two years.
Counseling PhD Degree Costs
Tuition costs for a master's program depend on if the school is private or public and instate vs. out-of-state residence status. Depending on this criteria, one can expect to pay in the range on average $30,000 a year to complete a PhD program.
Scholarships for Counseling Students
Many scholarship opportunities are available for counseling students. Here are a few opportunities to consider.
Counseling Career Resources
Professional organizations are a great way to stay up-to-date on current psychology trends as well as a place to seek networking and educational opportunities. Here are a few options:
Counseling PhD FAQ
Is it worth getting a PhD in Counseling?
Yes. As mental health becomes a more prominent and talked about public health issue, job opportunities for counselors will be on the rise. Having a PhD in the field opens up many options and career paths. 
What can you do with a PhD in Counseling?
There are many career options for someone with a PhD in counseling including; professor, researcher, school counselor, program manager, mental health counselor, and marriage and family therapist.
How much does a counselor with a PhD make?
The BLS estimates that a counselor with a PhD on average will make $79,820.
How long does it take to get a PhD in Counseling?
The average time it takes to get a PhD is usually between 4-8 years depending on whether you study full or part-time, whether you work while in the program, and how long it takes to finish your dissertation. 
Sources: