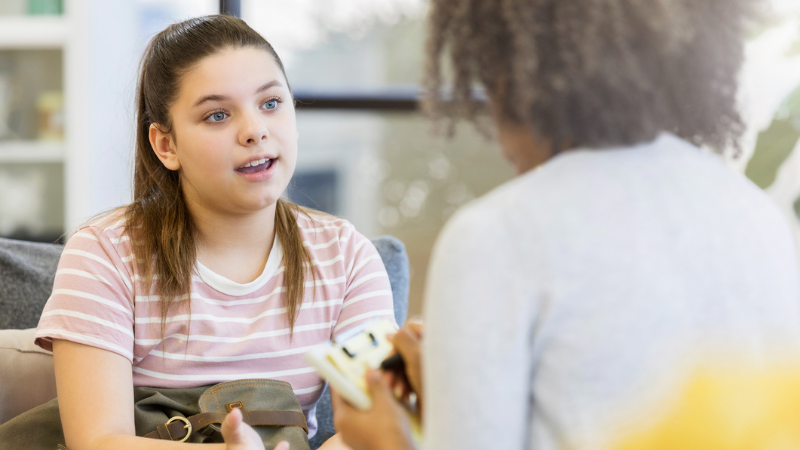 Virtually every elementary, middle, and high school employs one or more school counselors. These professionals provide an array of emotional, social, academic, and career services that boost student achievement.
While always vital to educational institutions, the importance of school counselors became abundantly clear during the COVID-19 pandemic. Students, families, and faculty members turned to them in droves to help with issues ranging from mental health to improving virtual learning.
The need for such support services looks unlikely to wane anytime soon. In fact, the Bureau of Labor Statistics (BLS) projects employment of school counselors to grow 8% between 2019-2029.1
Might you have what it takes to fill one of those openings? Here's a look at what's involved in becoming a school counselor.
What Does a School Counselor Do?
School counselors work to maximize educational outcomes for all students. To that end, common duties include:
Meeting with students individually or in small groups to discuss academic, personal, or social problems
Acting as a sounding board for students who want to talk to a trustworthy adult
Helping students with special needs or behavioral issues receive the support they need for success
Directing students and their families to potential resources, such as social service organizations, therapists, or substance abuse programs
Organizing assemblies and other programs on applicable topics, such as bullying, stress, and study habits
Assisting students in choosing classes appropriate to their interests and academic competency
Helping teenagers formulate post-graduation plans, including college selection and career exploration
Guiding students through the college application process (securing letters of recommendation, signing up to take standardized tests, filling out financial aid forms, etc.
School Counselor Salary and Career Outlook
According to the BLS, school counselors earn a median annual wage of $58,120. The highest paid in the occupation make more than $97,910, while the lowest paid earn less than $35,620.
Realize that a variety of factors influence school counselor salary. These may include:
Geographical region
Years of experience
Education
Type of institution (private, public)
Job market
While projections do not guarantee job growth, the future looks promising for those interested in school counseling. The BLS estimates 8% employment growth in the field between 2019-2029, which is double the average for all occupations, at 4%.
How to Know if You Would Enjoy Being a School Counselor
Sometimes, it's hard to know if you'll truly like a job until you're in it. However, the following factors make it likely that a position as a school counselor might be a good match:
You want a career helping others
Working in an educational environment sounds appealing
You're comfortable interacting with a variety of people, including students, parents, and staff members
You like to offer advice and assist people in finding solutions to problems
You're an excellent listener
How to Become a School Counselor
One does not become a school counselor overnight. The path to the job involves a mixture of education, practical experience, and licensure.
Step One: Earn a Degree
Start by earning a bachelor's degree, which typically takes four years. Many aspiring school counselors major in education or psychology as undergraduates.
Step Two: Earn Additional Experience
Some master's programs in school counseling require teaching certification and prior classroom experience. Gaining these things before applying to graduate school increases institutional options and can make you a more attractive applicant.
Step Three: Complete a Graduate Degree
Future school counselors need a master's degree. Graduate programs in school counseling involve a mixture of coursework and hands-on experiences such as practicums and internships.
Step Four: Become Certified/Licensed
Obtain a state-issued credential, which may be called a certification, a license, or an endorsement depending on the state. To apply, you'll need a master's degree in school counseling, a supervised internship, a passing score on a comprehensive test (such as Praxis), and a successful criminal background check. Since specifics vary by state, check out the exact qualifications for your geographical area.
How Long Does It Take to Become a School Counselor?
Becoming a school counselor starts with earning a bachelor's degree, which usually takes four years. Then, aspiring school counselors seek a master's degree. Graduate programs in school counseling require completion of 48-60 credit hours. In terms of time, this translates to 2-3 years of full-time study. Obviously, part-time students progress at a slower pace. Upon completion of graduate studies, factor in some time to pass a licensing or certification exam.
What Are the Pros and Cons of Being a School Counselor?
Every job contains both pros and cons, and school counseling is no exception.
Pros:
The job definitely offers the chance to make a difference in the lives of others.
The pay is among the best in the education field.
Job prospects look promising.
Cons:
It takes a significant amount of education and training to become a school counselor, which means less time, energy, and money for other endeavors.
Caseloads in some schools are very high, which can lead to busy and stressful days.
Certain students (or their parents) may tax a school counselor's patience.
School counselors may get frustrated by bureaucracy, limited resources, and other factors influencing how well they can do their job.
Best Degrees to Become a School Counselor
You need a master's degree to become a school counselor. Obtaining a Master's of Education in School Counseling is a common route. Such programs are available both online and on-site. Students working toward this degree usually have previous experience in school settings and want to gain what they need for career progression.
Some institutions award a Master of Science in School Counseling or a Master of Arts in School Counseling. Compared to MEd programs, which often focus on practical experience, they put a greater emphasis on therapies and behavior modification techniques. A research project or thesis may be part of the graduation requirement. Individuals with an MA or an MS oftentimes go on to obtain licensure to work as a school counselor while others pursue doctoral studies.
Universities.com's Top Schools for School Counselors
No single "best" school exists for prospective school counselors. Individuals must evaluate their career goals, personal circumstances, and finances to choose an institution that suits their needs. However, many great options exist, including these schools identified by Universities.com:
University of Missouri – Columbia
The state school board wants to lower the student-to-counselor ratio in Missouri from 400-1 to 250-1, and "Mizzou" is ready to help. Already respected for excellence in school counseling, the university recently added a fully online MEd program. Graduates are license-eligible at both the elementary and secondary levels. Students looking to work outside of Missouri should check for reciprocity acceptance.
Combining online studies with hands-on experiences, Capella offers students the opportunity to develop a solid knowledge base and put what they learn into action. The Master of Science in School Counseling program includes 18 required courses, 100 hours of practicum, and 600 hours of internship experience. Brief residency requirements allow students to directly engage with faculty members and peers.
The online program at this public institution leads to an MEd in School Counseling. Students come out strongly prepared in crisis intervention strategies and counseling multicultural populations. A valuable aspect of UWA's online program is assigning each student an alumni mentor who can assist in educational and career development.
KSU's 48-credit-hour program leads to a Master of Science in School Counseling and licensure. It involves a combination of online and on-campus coursework and may be completed in 24 months. Options exist for students who do not already hold a professional teaching license to become school counselors through additional field experiences.
This public institution offers a Master of Education in Professional Counseling, with school counseling being one of the three options of study (clinical mental health counseling and college student affairs are the other two). Students need a minimum of 60 semester hours to graduate. About a third of the program gets completed online, with the rest delivered face-to-face or hybrid.
The University of Texas at San Antonio
Counseling theories, career development, human development, and clinical assessment strategies are just a few of the courses students in UTSA's Master of Education in School Counseling program take toward the 48 semester credit hours needed for graduation. Those wishing to become professional school counselors in a Texas public school also apply to UTSA's School Counseling Certification Program.
Whether you choose to study online or attend the beautiful campus in Alabama, you'll be ready to fulfill career ambitions after completing this public institution's program leading to a Master of Education in School Counseling. In addition to coursework in areas such as group counseling and crisis intervention, students get plenty of hands-on experience through practicums and internships. Graduates receive recommendation for Class A Alabama professional educator certification.
An interesting aspect of GWU's master's program is the practical experience students receive by working in the institution's Community Counseling Services Center in Alexandria, Va. The center provides confidential, low-cost services to students in the Washington, D.C., metro area. Students further put their classroom knowledge into action with a year of immersion training in a local K-12 public, private, or charter school.
Indiana University – Bloomington
Students who complete this hybrid program earn an MSEd in Counseling and Counselor Education. The degree requires a minimum of 48 credit hours and involves both coursework and field experiences. Graduates leave ready to take on positions as school counselors in PreK through post-secondary school settings.
University of Nevada – Las Vegas
Classes in this Master of Education in School Counseling program meet once a week in the late afternoon or evening. Such scheduling accommodates student work and internship schedules. Most classes meet on-site, though some online and hybrid options exist. Graduates can sit for the National Counselor Examination in order to qualify for the National Certified Counselor credential.
Where Can I Learn More About Becoming a School Counselor?
American School Counselor Association – This organization with a current membership of over 40,000 professionals has been supporting school counselors since 1952. The group is particularly focused on advocacy, professional development, and effective school counseling practices.
American Counseling Association – This not-for-profit dedicates itself to the growth and enhancement of the counseling profession. Its website has a special section of resources and motivational material specifically for school counselors.
Association for Child and Adolescent Counseling – Members stay abreast of current topics related to counseling youngsters from birth through teenage years through the organization's newsletters, blogs, conferences, website, and journal.
Council for the Accreditation of Counseling and Related Educational Programs – CACREP accredits master's and doctoral degree programs in counseling. Choose an accredited program in school counseling to ensure what you're learning meets standards set by the profession.
FAQ
Is a school counselor a psychologist?
School counselors are great listeners and helpers who assist with various personal, academic, and social problems. Though they may offer short-term help for mental health issues, they are not psychologists.
Is a school counselor better than a psychologist?
The answer depends on the circumstance. Oftentimes, a student experiencing problems turns to a school counselor. Together, they may seek ways to boost grades, handle social situations, or map post-graduation plans. A student experiencing a mental-health issue such as anxiety or depression may obtain better results from seeking the services of a psychologist.
Is a school counselor different than a college counselor?
School counselors focus on obtaining the best educational outcome possible for each student. Interaction may include assistance with future college or occupational plans but is not limited to that area. By contrast, a college counselor concentrates solely on post-graduation guidance and steps necessary to get there.
Is a school counselor the same thing as a guidance counselor?
The term "guidance counselor" harkens back to the days when the job mostly entailed offering vocational guidance. Since today's professionals perform a multitude of other duties, the American School Counselor Association prefers use of the newer, broader term "school counselor."
Sources:
Beth Braccio Hering is an honors graduate of Northwestern University and has been a freelance writer for more than 25 years. In addition to extensive contributions to various Encyclopaedia Britannica products, her work has been published by outlets such as Business Management Daily, CareerBuilder, Walt Disney Internet Group, and Chicken Soup for the Soul.